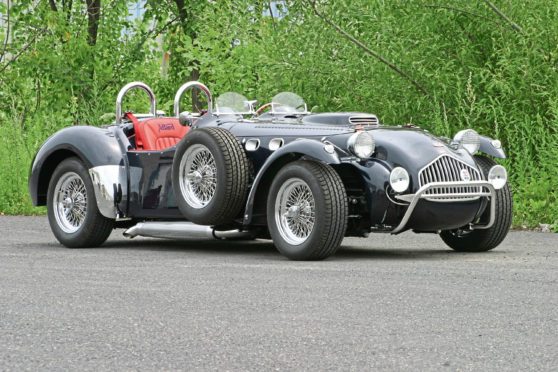 For decades Britain was arguably the birthplace and spiritual home of the two-seater sports car.
These ranged from the high-volume and relatively inexpensive (MGBs and Midgets, Austin-Healey Sprites, Triumph TRs) to the costly and high-performance McLarens, TVRs and Ginettas—and many others such as Morgan in between.
Many small independent firms started making fibreglass bodyshell kits that could be fitted to a new chassis or frame (or a used stripped-down car), plus engine and suspension mods (such as bigger carburettors and stiffer dampers) to enhance performance and handling.
From the 1950s to the 1970s, such kit cars enjoyed lower taxes than fully-assembled ones, which made them very attractive to young DIY mechanics and enthusiasts. But in the early 1970s, that tax loophole was scrapped and many kit car makers struggled and closed.
One revered name that stopped making cars as early as 1958 was Allard. It was launched in 1945 by Sydney Allard in Clapham, south London, and over a decade and more produced about 1,900 cars, many of which have survived and are big attractions at classic car shows and attract princely bids at classic auctions.
Sydney Allard had a good track record when he set up in 1945. In the 1930s he speed-tweaked and upgraded various cars and sold them to enthusiasts. During the 1939-45 war he accumulated a lot of Ford engines and other components with which he built his first Allards, mostly on Ford V8 Pilot chassis units. As sheet steel was rationed, he—like many others—built aluminium bodies, lightweight and therefore faster.
Each Allard model was given a letter, the first model being J and subsequent models being K, L and so on. The first Js were competition cars and an Allard J2 came third in the 1950 Le Mans. J, K and L models all had a striking front grille with vertical bars. Short-chassis variants were two-seaters, slightly longer ones three-seaters (often with a "dickie seat") and long-chassis models four seaters.
Sadly, some models (such as the stylish Safari estate car) failed to sell and car production stopped in 1957-8, although Sydney's son, Alan, produced modified Ford Anglias (yes, the Harry Potter model) and Ford-based Allardettes for some years. In 1966, Sydney died the same night the company works in Clapham burned down and the site is now a council housing estate. However, the Allard name lives on.