Stuck for an idea of what to get your car loving partner for Christmas?
If you've got a spare £165,000 to spend may I suggest you consider one of these.
Lamborghini has unveiled what's being hailed as the world's first "super-SUV," the Urus.
A glance at the figures is all it takes to confirm this status. With no less than 650bhp, its performance is astonishing. Zero to 62mph comes up in 3.6 seconds and top speed is 191mph.
The power is developed by a 4.0 litre V8 engine with twin turbochargers. This is a first for Lamborghini – all its supercars are naturally aspirated but the turbos are on the Urus to develop enough low range grunt for off roading (though how likely even the wealthiest owner is to drive their Urus down a muddy riverbank is anybody's guess).
That 650bhp passes through an eight-speed automatic transmission into a permanent all-wheel-drive system with a locking differential.
In normal use, this splits the power 40/60 front to rear, but it is able to send up to 70% to the front wheels and 87% to the rear depending on the driving mode you've selected and the road conditions.
Four-wheel steering is also in the Urus' bag of tricks, turning the rear wheels by up to three degrees to aid manoeuvrability at low speeds and stability at high speeds.
Other chassis technology includes active torque vectoring and carbon-ceramic brakes, while there are six driving modes the driver can pick from, including off-road, sand and snow modes.
Following tradition, the Urus' name is derived from the world of bulls. The Urus, also known as Aurochs, is one of the large, wild ancestors of domestic cattle.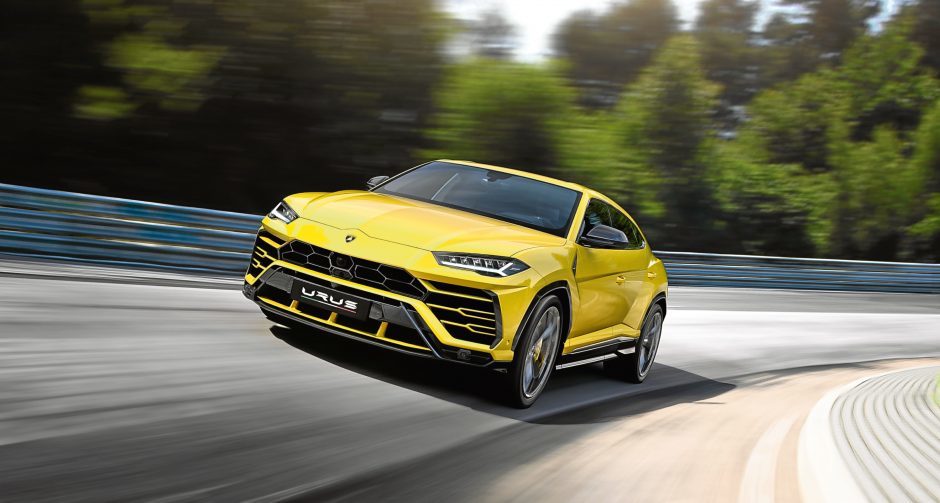 At just 2,200kg, the Urus is more than 200kg lighter than arguably its closest rival, Bentley's Bentayga. In fact, it sits on the same platform as the Bentley, which is also used by the Audi Q7 and Porsche Cayenne.
Despite its supercar-like performance, the Urus is most definitely an SUV. It has raised ground clearance, a high driving position and plenty of interior space. The interior should be light as well, thanks to a body shell that's almost a third glass.
Sales of SUVs and CUVs (cross-over utility vehicles) have increased by 233 percent in the last 10 years, creating a market of 26,47 million units in 2016.
The SUV is expected to double Lamborghini's annual production volume, and the Urus range will expand, probably with the inclusion of a plug-in hybrid version.
It's also geared up for autonomous driving technologies to be added as they are developed and released onto the market.
First deliveries of the Urus are planned for Spring 2018, at prices likely to start from around £165,000.
jmckeown@thecourier.co.uk