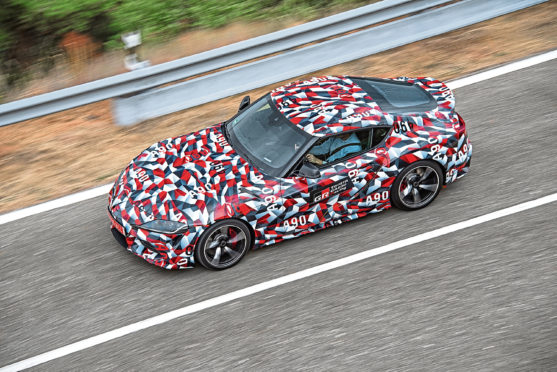 The first example of Toyota's new Supra sports car won't be sold conventionally but is to be auctioned off for charity instead.
The Japanese car maker announced the news alongside yet another teaser image of the car, continuing a campaign of sneak peeks to stir up hype for the eventual reveal. The new Supra revives a name last seen in Toyota's line-up in 2002.
The first new Supra will go under the hammer at the Barrett-Jackson auction in Scottsdale, Arizona, on January 19, just five days after its global unveiling at the North American International Auto Show in Detroit.
The car will be painted in matt grey, with matt black wheels, red mirror caps and a red leather interior. The vehicle itself won't actually make an appearance, but a prototype model will be mocked up to resemble it. The final vehicle will also feature a carbon-fibre badge on the interior, indicating its status as the first off the line.
Toyota also says that the winning bidder will be offered "exclusive experiences" in the future – although there's no word on what they might be.
Proceeds will go to the American Heart Association and the Bob Woodruff Foundation, which helps military veterans and service members as well as their families.
The new teaser image doesn't show much, displaying just the car's mirror with integrated indicator repeater and the back of a red leather sports seat. We already have a fair idea of how the new Supra will look, though, thanks to prototypes and disguised concept models.
The Supra is based on the same underpinnings as the latest BMW Z4 and will share its straight-six engine and rear-wheel-drive layout. Interior technology is also expected to be lifted from the Z4, but Toyota will pursue a more focused feel for the chassis.
It will go on sale in the first half of 2019, with a price tag of around £50,000, as a rival to the likes of the Porsche 718 Cayman and Jaguar F-Type.