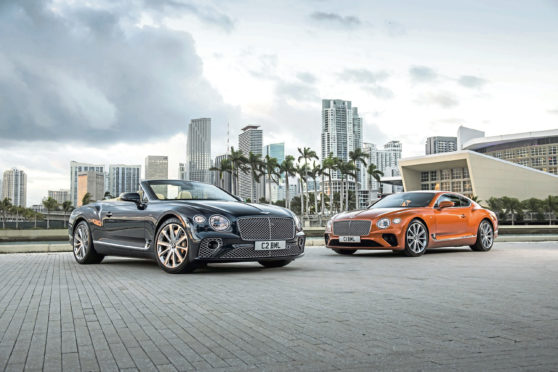 Bentley has announced that its Continental GT and GT Convertible will now be available with the brand's V8 engine, as well as the existing W12.
The 4.0-litre unit is well-known, seeing service across the Volkswagen Group. In the Continental GT, it develops 542bhp and a massive 770Nm of torque.
Though the Continental is more of a grand tourer than a sports car, it's not lacking performance – it will hit 60mph from rest in just 3.9 seconds and go on to a top speed of 198mph. Convertible models, with their increased weight, up this to 4.0 seconds but have the same top speed.
Power is sent to all four wheels via an eight-speed automatic gearbox.
The V8's lighter weight should make it nimbler in the corners and less nose-heavy, while Bentley promises a 'characterful V8 burble'.
Its main appeal, though, is improved range. The new, lighter V8 will be able to deliver better fuel economy than the W12, helping the Continental GT complete cross-country journeys with fewer trips to the pump. Though Bentley hasn't released fuel economy figures yet, it's promised a range between fill-ups of more than 500 miles – around 50 more than the W12 will manage.
Customers will be able to distinguish their V8 Continental from the W12 model by unique 20-inch, 10-spoke alloy wheels, quad exhaust pipes, and subtle badging.
No pricing has yet been released for the Continental GT V8, but expect a reduction on the W12 model's £159,100 asking price.
Meanwhile, Toyota'sPrius has been named as the most accident-prone car in the UK, according to research by GoCompare.
The insurance comparison site analysed government crash data, to discover which of the UK's cars were most likely to be involved in a crash.
The Prius topped the survey, with 111 accidents per 10,000 vehicles on the road. It narrowly edged out the Citroen Saxo (106), the BMW 330D (102) and the BMW 530D (85).
GoCompare's data shows there were over 71,000 Priuses registered in the UK in 2016, and they were involved in 787 accidents during that time.