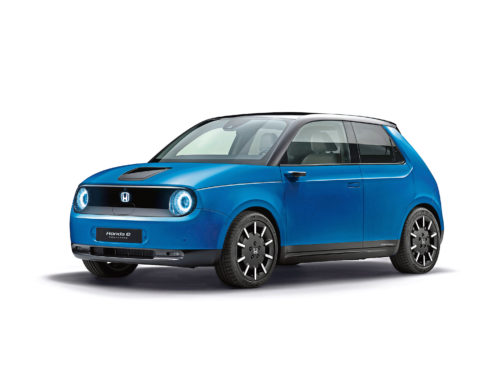 Order books have opened for Honda's first city electric car.
The cute little Honda e has received more than 25,000 registrations of interest across Europe – 6,000 of those from the UK.
First debuted at the Frankfurt Auto Show two years ago, where it was called the Urban EV Concept Car, it endeared audiences with its retro styling.
It's available to pre-order in the UK for a refundable deposit of £800. Buyers can reserve the car in the UK, Germany, France, and Norway using a dedicated online website and first deliveries are pencilled in for the spring of 2020.
The Honda e is styled on the original Civic and is a breath of fresh air in a market where most electric cars feel the need to look absurdly futuristic.
It sits on a new platform Honda has developed especially for electric vehicles. The Japanese firm says it will have a range of around 125 miles. That's a long way down on the 250-300 miles boasted by bigger EVs such as the Tesla Model S and electric versions of the Hyundai Kona and Kia Niro, but then the e is aimed at town and city dwellers.
A single electric motor on the car's rear axle supplies power but Honda has yet to release performance figures.
While the outside is retro the interior is anything but. A pair of 12.3in screens sit side by side to create a single display that stretches across the width of the dashboard and controls the full gamut of in-car functions.
Eagle eyed readers will already have spotted the car has funny looking wing mirrors. They're actually a pair of cameras and beam the view to screens in front of the driver.
One of the reasons the £800 deposit is refundable is buyers don't know how much they'll be asked to pay for the e. Honda hasn't announced pricing for the car yet, but industry figures estimate it will cost more than £30,000.
jmckeown@thecourier.co.uk