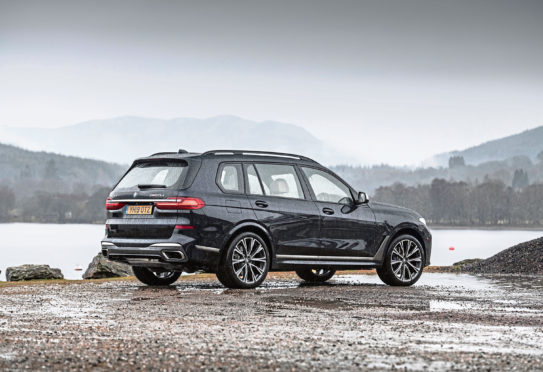 Think the BMW X5 is a big car? Think again – this is its bigger brother, the X7.
It's not shy about flaunting its size either. From the monstrous front grille to the roofline that towers above average people's heads it's a car that wants to be noticed.
Sitting on the same chassis as the 7 Series saloon, the X7 BMW's biggest and most luxurious seven-seater.
Where better to launch such a grand car than Gleneagles Hotel? So it was that a few Mondays ago I set off towards Loch Tay in one of these beasties.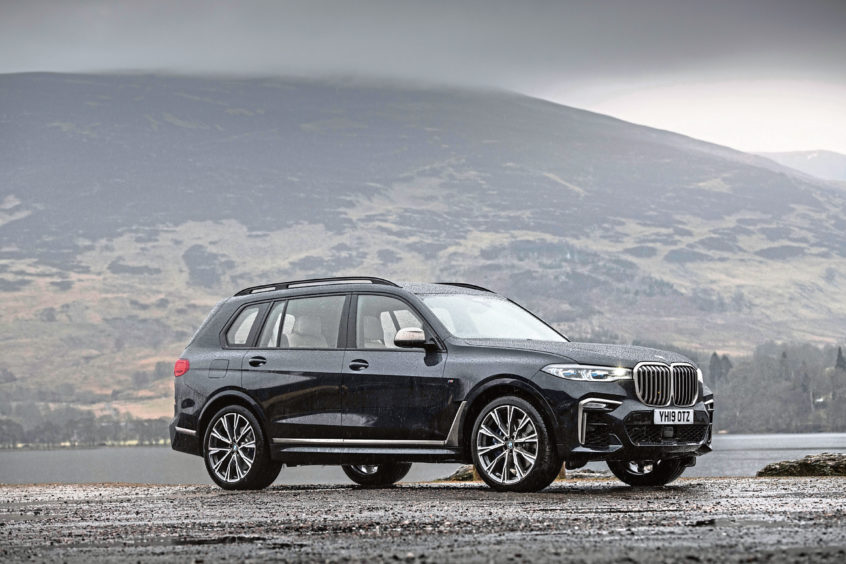 Prices start from £72,195 (info below is for the entry 30d model) and there is a choice of two six-cylinder diesels or a six-cylinder petrol engine.
Its depth and breadth of talents are prodigious. Unlike the smaller X3 and X5, BMW have designed the X7 to be a proper off roader. There's a locking differential and the ride height can increase by 40mm. Its capabilities might not quite match the mighty Range Rover but they aren't far behind.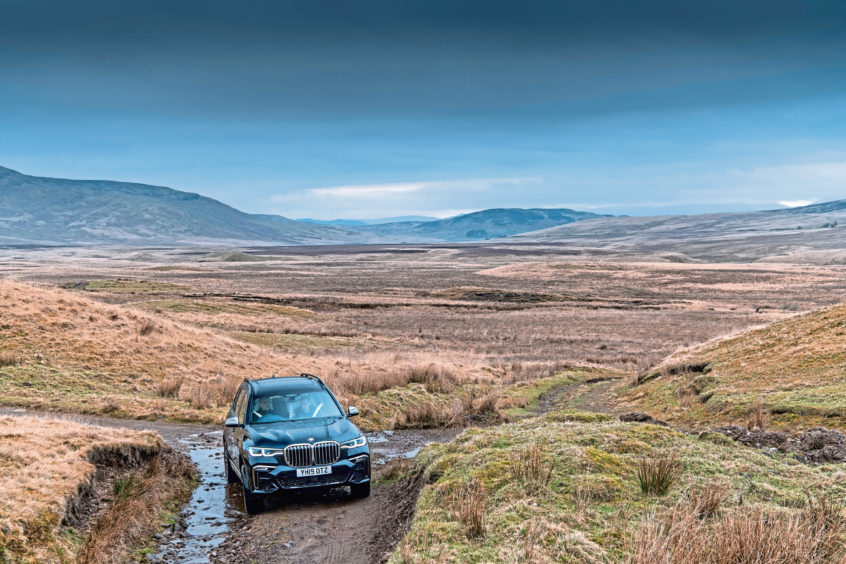 The flagship 400hp M50d model also – amazingly – laps a race track as quickly as the legendary E90 version of the BMW M3. That car, produced from 2007-13 and powered by a 414bhp V8, is held in awe by lovers of super-saloons.
Being well over two tonnes, it's not nearly as agile as an M3 but it handles very well indeed for such a huge car.
So the X7 is superb off road and capable on the track. It's also every bit as comfortable as luxury saloons such as the Audi A8, Mercedes S-Class or BMW's own 7 Series.
I switched into the X7 straight from a Tesla Model X and the difference in refinement was enormous. Where tyre and wind noise infiltrated the Tesla, the X7 was an oasis of calm. The BMW also costs over £10,000 less – although running costs will be higher than the electric Tesla.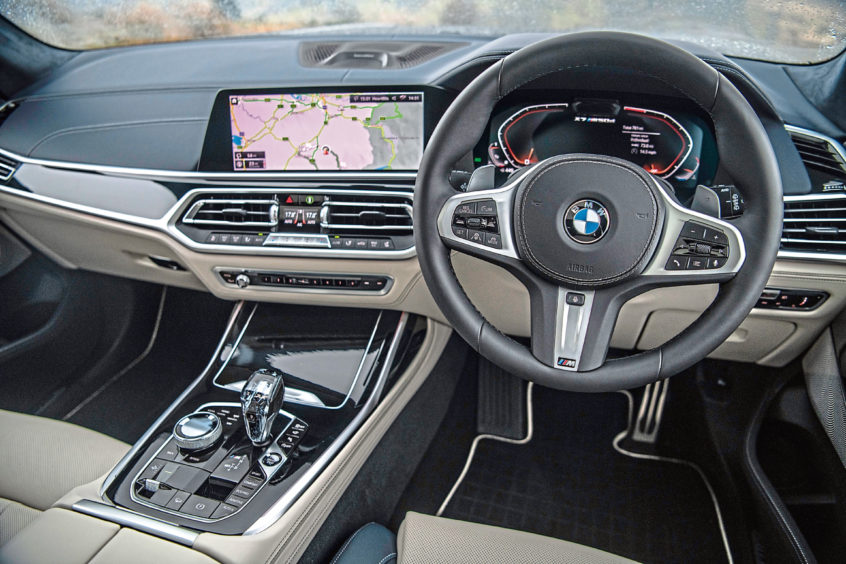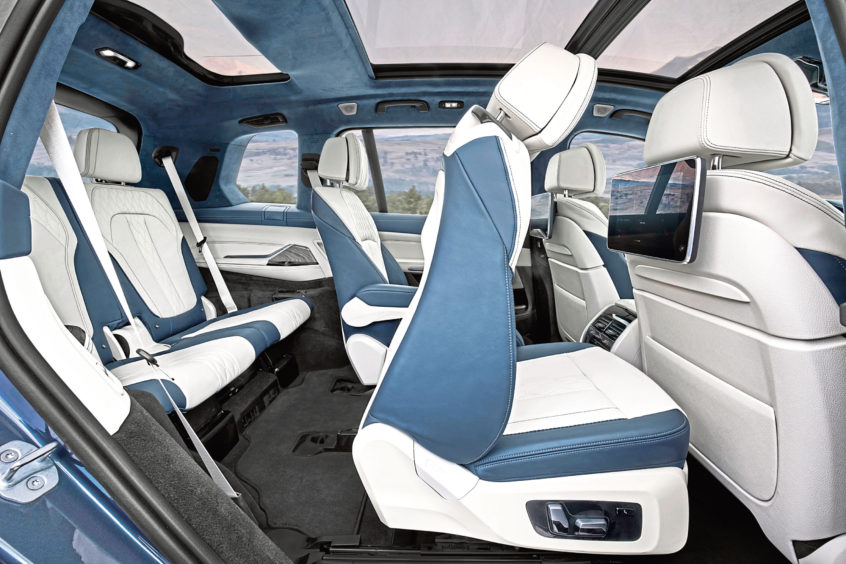 The interior is everything you'd expect from a BMW: well crafted, comfortable and easy to use. The X7 is lavishly equipped, with leather, electric seats, a three-part panoramic glass roof and media controls for rear passengers, among a roster of kit far too long to list here. It's also a proper seven seater, with space in the rearmost seats for full size adults. Fully laden there's 340 litres of boot space and with five occupants an enormous 750 litres.
Many will consider the X7 a vulgarity for its size and ostentation. It's a phenomenally capable car, however, and a superb alternative to a Range Rover.
jmckeown@thecourier.co.uk
---
Price:
72,195
0-62mph:
7.0 seconds
Top speed:
141mph
Economy:
33.6mpg
CO2 emissions:
171g/km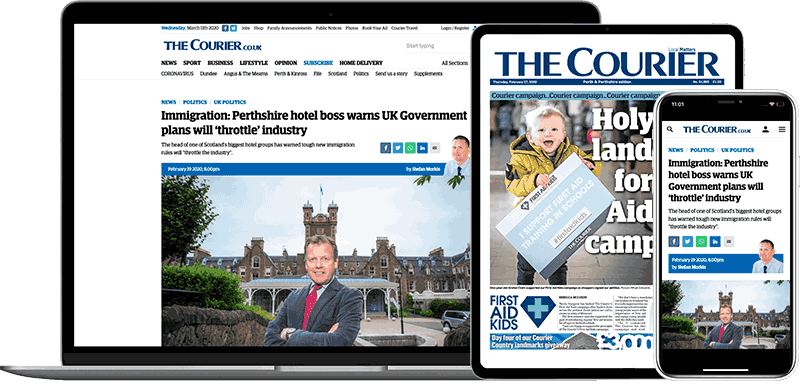 Help support quality local journalism … become a digital subscriber to The Courier
For as little as £5.99 a month you can access all of our content, including Premium articles.
Subscribe