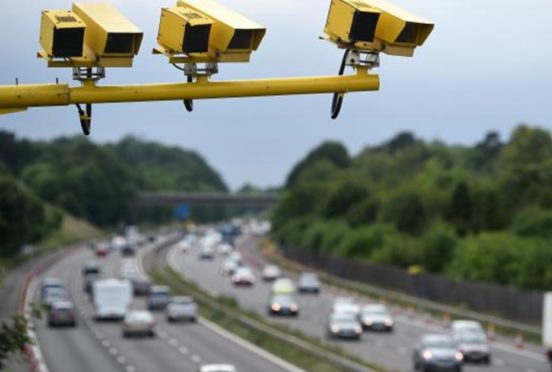 Average speed cameras deployed during construction of the Forth Replacement Crossing caught thousands of motorists in just two years, new figures have revealed.
A total of 1,622 offences were recorded in the final three months before the bridge opened to traffic at the end of August 2017, compared to just 106 recorded after cameras were set up between July 2015 to September 2015.
Almost 1,100 fines were also issued in the final three months, in stark contrast to just 36 in the opening three months of the scheme.
The statistics have prompted renewed criticism of speed cameras as a money-making device rather than a safety measure, although authorities have insisted cameras were installed along three miles of the A90 and M90 for safety reasons.
---
>> Keep up to date with the latest news with The Courier newsletter
---
Fixed penalty notices issued between July 2015 and September 2017 amounted to more than £334,000, while 817 reports were made to the procurator fiscal in that period – either in place of a fine (through excessive speed or a foreign licence) or because fines were not paid.
More than a quarter of those reports also related to the final three months of the construction project.
Neil Greig, director of policy and research for motoring group IAM RoadSmart, called for the figures to be investigated.
He said: "Average speed cameras usually catch very few drivers as the vast majority of drivers understand how they work and comply with the limits.
"Something was clearly not right during the Forth Bridge works and in circumstances like this the Safety Camera Partnership should be investigating such high numbers right away.
"They can then review cameras sites, signposting and publicity to ensure that the cameras are doing what they are supposed to do – reduce crashes, ease traffic flow and protect road workers.
"Simply dishing out fines is not a success in our view as the best cameras should be there to get a safety message across rather than to rack up income."
Four average speed safety camera locations were set up along the length of the A90 between Echline and Admiralty junctions and these were removed when the Forth Replacement Crossing opened.
A statement from the Safety Camera Partnership defended the use of safety cameras during the building work.
A spokesman said: "Safety cameras were deployed to ensure the safety of road users and the workforce during construction on the live road network as part of the Forth Replacement Crossing project.
"Enforcement ceased following the bridge opening and the cameras have since been removed."