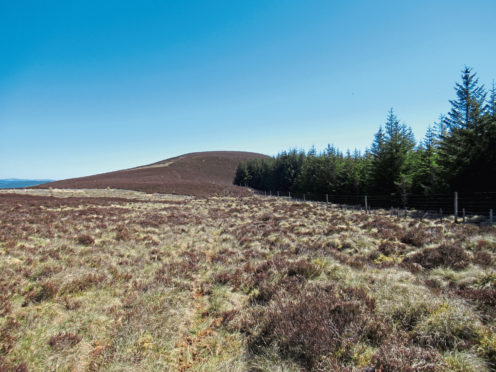 Knockton and her neighbours Cairn Gibbs and Black Hill form a cluster of wee peaks punctuating the border between Perthshire and Angus.
They create a natural upland boundary separating the glens of Shee and Isla and it is this marginal positioning that may or may not hold a clue to a curious marker post atop one of the trio, a mystery I have admittedly yet to resolve.
Knockton is crowned with a stone etched with the letter 'K' which, although apt, is unlikely to have been carved specifically for its summit and might originally have been a boundary stone, a common enough feature in these parts.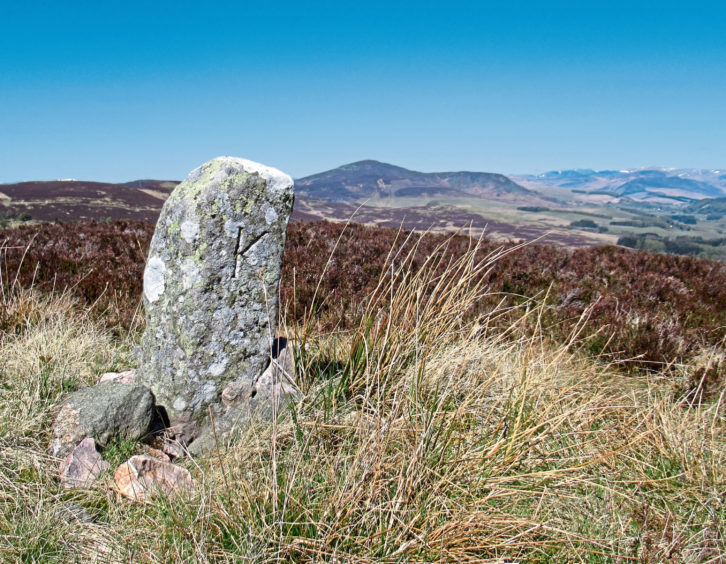 First task, however, was to reach the border and, after travelling to the top of the remote single-track road that climbs from the Angus hamlet of Kilry – something of an adventure in itself – I set off into the forest, unsure exactly what to expect.
My map showed plantations flanking the first two tops of the day – Black Hill and Knockton – and fingers were firmly crossed I could find a way through the conifers.
The main forest track strikes west from the road – the heather-clad dome of Knockton in view ahead – before curving south where it ends abruptly. Fortunately, a slender trail progresses onwards through a fire break.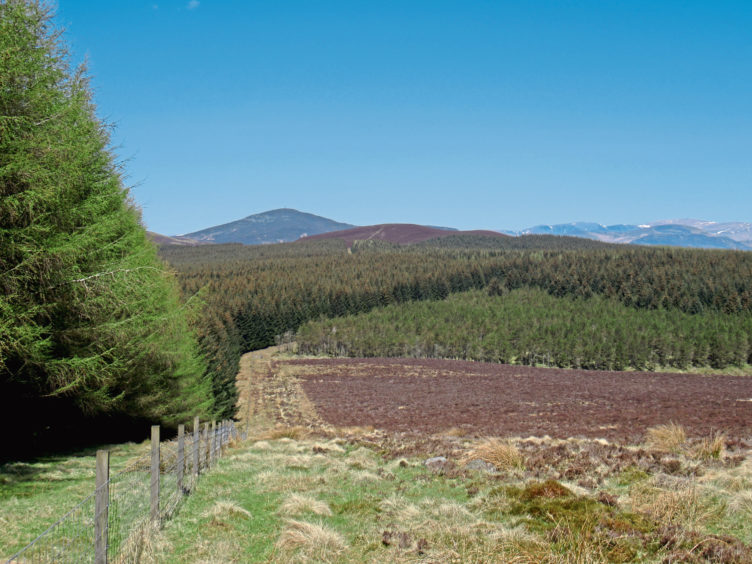 Emerging from the trees, a grassy gully with just a trickle of a stream at its base skirts the periphery of the forest (cross the channel and follow an old fence line above for best underfoot conditions), climbing to a metal gate.
Here I broke south for Black Hill, clambering over the gate and ascending a rough trail running parallel to the fence to the summit, an exposed spot topped with a handful of stones embedded into the ground.
To the north, Knockton beckoned, the shapely form of Mount Blair looming up behind and, more distant, the rugged mountains that ring the remoter recesses of Glen Isla still holding patches of snow in high coires and clefts.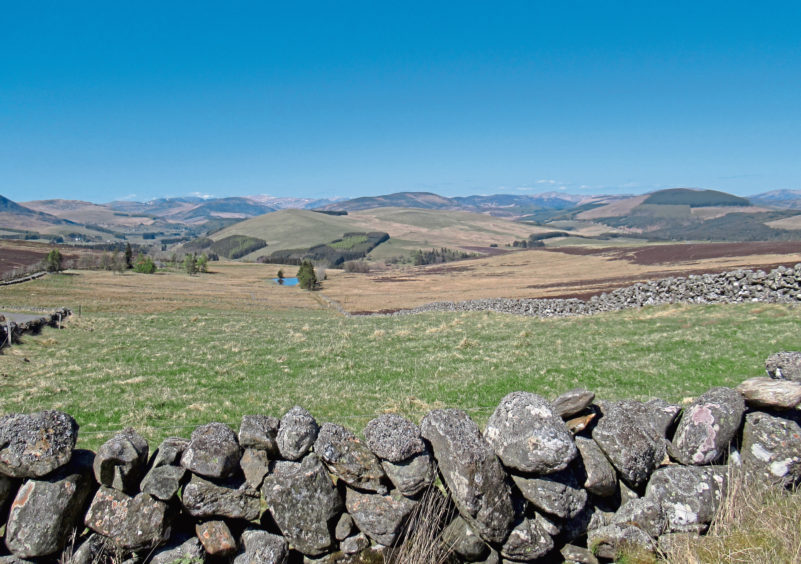 Returning to the gate, I found my way through the dense blanket of pine and spruce, a clear fire break and fence line leading me on, culminating in a final short but steep pull over open heather moor.
Propped up with rocks, the 'K' stone sits in the shadow of a trio of high fences that converge atop Knockton and, on closer inspection, looks as if it may have been transplanted here, perhaps from the parish of Kirkmichael, which borders Glen Isla, to the west, or maybe from Kirriemuir, to the south.
The route can be cut short at this point, a distinct trail descending east, along the northern edge of the plantation, to the road, but I continued west, a path dipping into the col where I side-stepped right to join heathery vehicle tracks rising on to the ridge.
This offers a leisurely enough approach to Cairn Gibbs, the flat, heathery, unmarked summit sitting just above the boundary wall, a second slightly lower top just to the north better defined and a more appealing spot to sit and enjoy the view.
The line of the wall is the most direct route down into the base of the glen where an old estate track – rough underfoot and vague in parts – strikes out across the moor to Auchinleish from where I hiked home along the road.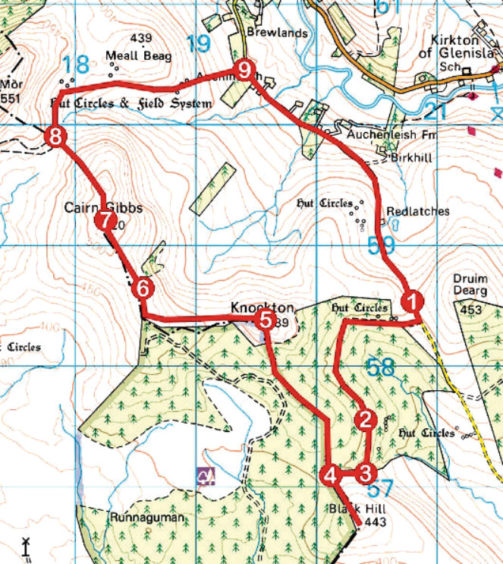 ROUTE
1. Walk 200m south down road then turn right along track to enter forest at gate. Continue along track, bearing left in 600m, and follow track to its end.
2. Proceed ahead through break in trees to edge of plantation.
3. Bear right, ascending along edge of plantation to gate.
4. Go left through gate and ascend by fence to Black Hill summit. Return to gate and proceed north through break in trees, following fence line to summit of Knockton.
5. Pass through gap in fence, turn left and descend path to join heathery track rising west on to ridge. Curve right, continuing along track.
6. Pass through break in wall, proceed to next wall and bear left to junction of walls. Cross and, following wall, ascend Cairn Gibbs.
7. Descend by wall to base of valley.
8. Bearing right, follow rough and, in parts, indistinct track then path north then east to meet road by shed at Auchinleish.
9. Turn right and follow road back to start.
INFORMATION
Distance: 12.4km/7¾ miles
Ascent: 350m/1155ft
Time: 4 hours
Grading: A moderately challenging upland hike over low hills, the route follows tracks and paths, rough and indistinct underfoot in parts, and a stretch of minor road with a long incline at the end. Suitable for fit, experienced, well-equipped hillwalkers. Keep dogs under close control to protect livestock
Start/finish: Layby adjacent to cattle grid at the highest point on the Kilry to Brewlands Bridge road, Glen Isla, Angus (Grid ref: NO 208584)
Map: Ordnance Survey 1:50,000 Landranger sheets 43 and 53; Ordnance Survey 1:25,000 Explorer sheet 381
Tourist Information: Dundee iCentre, 16 City Square, Dundee DD1 3BG (Tel 01382 527527)
Public transport: None
---
Please follow government advice on exercising outdoors.