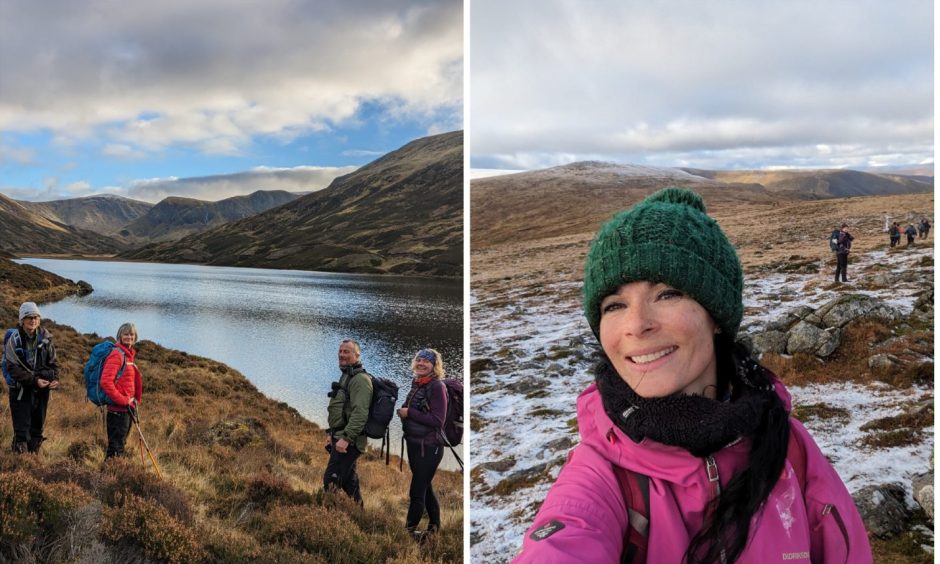 Walking Jock's Road from Glen Doll to Braemar had been on my bucket list for years.
However, the logistics of organising transport at one end or the other of the historic 14-mile trail always put me off.
So when I was invited to join The Grampian Club for a day's hike, with a bus picking us up in either Dundee or Blairgowrie, and collecting us in Braemar, I jumped at the chance.
It was an early start. And I don't do early. I was therefore somewhat shell-shocked as I dragged my knackered body out of bed in the pitch dark at 5.30am, defrosted the car and drove to Blairgowrie.
There were 29 of us on the bus, and some folk were less bleary-eyed than others.
Cruising through Glen Clova
As the bus cruised through Glen Clova, the sun rose, casting a magical, golden glow on the hillside. I realised I didn't feel too bad.
When we reached Glen Doll, we split into groups, with the majority aiming to complete Jock's Road and finish up in Braemar with a pint, and a few going off piste, adding in a series of Munros.
So why is the route, also known as the Tolmounth, called Jock's Road?
Historic right of way
It's often said the historic right of way is named after a shepherd, John (Jock) Winter, who testified against a rich Scot – Duncan Macpherson.
Originally from Inverness, Macpherson had made his fortune sheep farming in Australia.
When he returned to Scotland in the late 19th Century, he bought Glen Doll Estate and tried to ban people from crossing his land.
Like generations before him, Jock had regularly driven his livestock from Braemar to market in Kirriemuir: the route was a vital artery for sheep farmers and cattle drovers.
Jock vs the wealthy landowner
And so Jock was among those who fought Macpherson, with the Scottish Rights of Way Society taking a challenge through the courts all the way to the House of Lords.
Macpherson lost the case in 1888, and it was a landmark ruling, setting a precedent that's protected public access to multiple routes through Scotland ever since.
Striking scenery
Setting off from the car park, we marched through forestry, crossing the tumbling White Water and turning onto a narrow path heading up the glen.
The scenery is striking – wild, lonely, frost-encrusted moorland set against brooding mountains and sweeping corries.
Davy's Bourach
It didn't take long to reach the iconic red door of Davy's Bourach, built as an emergency shelter in 1966 by Davie Glen.
This humble shelter speaks volumes of the tragic history of Jock's Road.
A plaque on a rock nearby pays tribute to five members of the Universal Hiking Club from Glasgow who perished here when a violent storm hit on New Year's Day 1959.
It took until mid-April until the body of the last walker was found.
Tragic history
Davie, a dry stane dyker and hillwalker from Tealing, had been involved in the search missions, personally finding two of the victims.
After the tragedy, he set about building the bourach, and it's been a place where walkers can take refuge ever since.
It's quite dark and dinky inside but I'd certainly be glad to hunker down here in the worst of conditions.
Beyond the bourach, the plateau path becomes pretty exposed as it rises to 900m, just shy of the 920m summit of Crow Craigies.
We pause for a snack stop, but the cold sets in fairly quickly, so we don't hang about.
Knobbly summits
Then it's a case of dropping down to a saddle between the Munro of Tolmount and the series of knobbly summits known as the Knaps of Fafernie.
It's at this point that we cross the Aberdeenshire-Angus boundary.
The views – up the eastern flank of Tolmount, and down towards Glen Callater and its distant, shimmering loch – are outstanding.
Loch Callater
There's bog and mire to navigate, but before long, we're marching along the burn that flows into Loch Callater, arriving at the bothy (Callater Stables) as the sun starts to dip.
I nip up a small mound nearby to find a stone memorial to the Queen's Diamond Jubilee. It certainly commands fine views over the mirror-like loch, with mountains reflected in it.
It's a cracking spot for a picnic before the final yomp down the Landrover track to Auchallater, just off the A93.
We've made good time, and with a few folk still up the Munros, we march on to Braemar, rather than wait in the cold for the bus.
Crossing Clunie Water, we find a quiet back road that takes us through woodland, past the golf course, and finally lands up in the village.
The pub is calling!
When we hit up Farquharson's Bar, we work out we've walked at least 16 miles – well worthy of a pint!
It's great to hang out with such a friendly, welcoming bunch of folk, and I'm keen to head out with them again soon.
However, we don't spend too long in the pub – we get a call telling us the Munro baggers are waiting for us back at Auchallater.
And so we hop on the bus, strip off our sweaty socks and snooze – or chat – on the journey back.
I get off at Blairgowrie and collect my car, but that's no hardship, especially as I pop into Tesco for wine and pizza. What a cracking day!
Founded in 1927, the Grampian Club is a mountaineering, climbing and hillwalking club based in Dundee. It runs day, weekend and indoor meets, plus climbing sessions and social activities.
Membership is £30 a year which includes membership of Mountaineering Scotland. Trips involving bus hire usually cost £16 per person. The club owns two properties – in Torridon and Glen Etive.
For more details see grampianclub.org.uk/