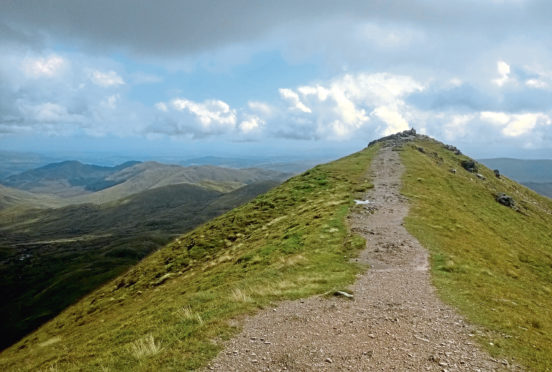 Ben Vorlich is a mountain where east meets west, not in any specific geographical sense but in terms of the walkers you will likely meet along the way, if my experiences climbing this shapely peak were anything to go by.
Rising above Loch Earn on the eastern fringes of the Loch Lomond & The Trossachs National Park, it is a popular Munro and, as I stopped to catch breath and chat to others, there were as many west coast accents as east, which made for a pleasantly convivial outing.
Ben Vorlich is one of the country's more accessible Munros, the route to the top starting at Ardvorlich, on the southern shore of the loch, from where track and then path climb directly to the top.
As with any mountain, go prepared for all eventualities – while it may be warm and sunny down by the rippling waters of the loch, conditions can change as height is gained and it may very well be cold and windy on the exposed crown.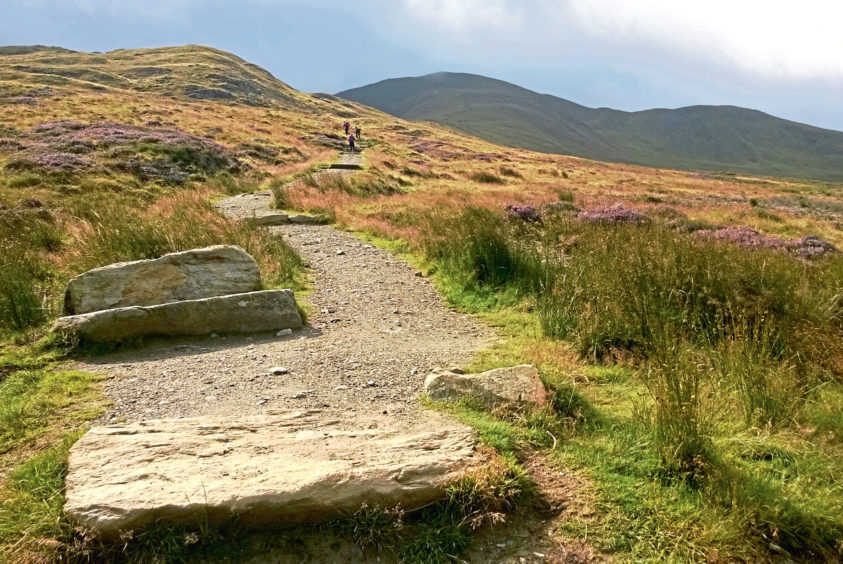 From parking spaces strung out along the road, I headed for the single-arch stone bridge straddling Ardvorlich Burn, beside which there is a small carved headstone known as the McDonald of Glencoe Stone.
It was erected in the 18th century as a memorial to seven men of the clan who were slaughtered during a failed raid on the lands of Ardvorlich, in 1620.
Beyond the bridge, I turned on to the driveway following the burn upstream towards Ardvorlich House, signs guiding walkers to a track climbing above the 18th century mansion.
To the left, the burn tumbles down through a deep ravine, oak and birch cloaking not only some spectacular cascades of water but also a hill garden featuring over 170 different species of rhododendrons. It is open to the public at certain times of the year as part of Scotland's Gardens Scheme.
Passing through a succession of gates accompanied by stiles – one of which features a dog gate – the way enters woodland, crossing a burn before forking right up to a tiny hydro-electric reservoir.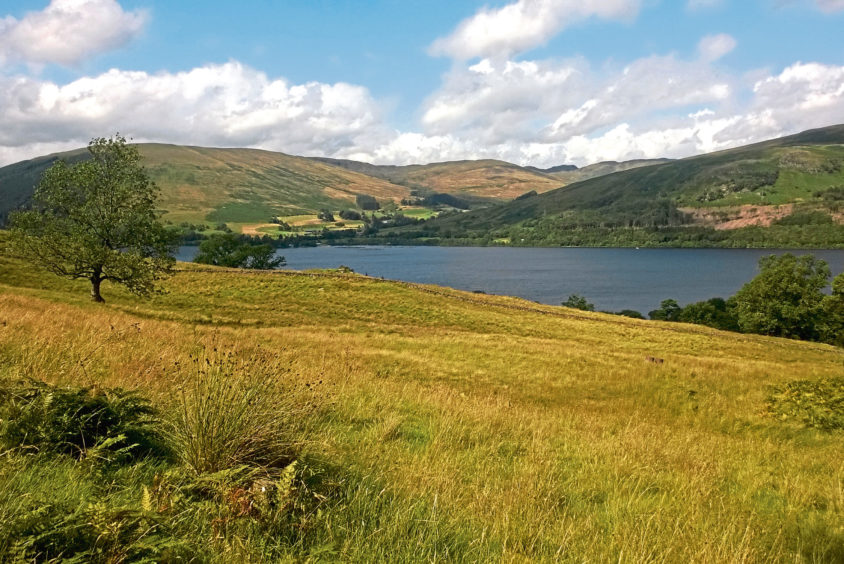 Here the track ends and, after pausing for a rest in the lea of a prominent boulder, I mounted the hill path, a well-constructed trail crossing the once heavily eroded heathery slope.
Higher up, the incline becomes steeper and the stony path less refined as it clambers up on to the northern shoulder of the peak – Sgiath nam Tarmachan, or 'wing of the ptarmigan'.
With the trig point looming above me, I paused periodically to rest weary legs and enjoy the view south over Loch Earn, before making a final break for the summit.
While the concrete column marks the highest point of the mountain, the slightly lower top to the east is worth a visit for its outlook alone.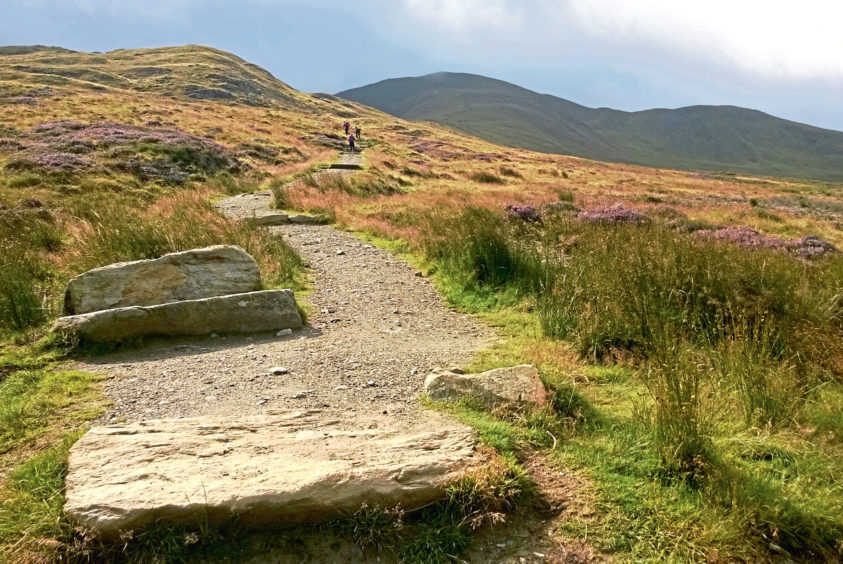 To the south-west, across Bealach an Dubh Choirein, neighbouring Stuc a'Chroin is frequently combined with Ben Vorlich, although it is a less straightforward prospect with a steep, scree-ridden ascent up a rocky buttress entailing some scrambling.
The most direct route home is to simply retrace steps down the main path to Ardvorlich. However, I found descending north-west into the col between Ben Vorlich and Ben Our before dipping east through Coire Buidhe was easier on the knees and, while the peaty path, marked out by slender wooden posts, is usually wet and boggy underfoot, it is a more sheltered way off the mountain.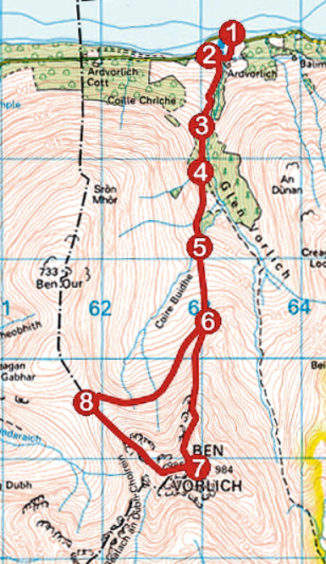 ROUTE
1. Follow road east over Ardvorlich Burn bridge, turn right, pass between stone gateposts and follow track south by stream to junction.
2. Turn right (signed Hillwalkers), cross Ardvorlich Burn, then go left (signed Hillwalkers) up track past brick shed. Pass through metal kissing gate and continue up track, crossing stile by gate higher up then, further on, stile by high wooden gate.
3. Enter woodland at stile by gate and continue up track. Cross stream by stepping-stones and continue to junction beyond sleeper bridge.
4. Fork right and ascend track to its end, by small hydro-electric reservoir.
5. Cross bridge above reservoir and ascend mountain path.
6. Continue up, ascending path over Sgiath nam Tarmachan to Ben Vorlich summit trig point.
7. Descend north-west shoulder into col.
8. In base of col, pick up path descending right into Coire Buidhe and follow it round to re-join mountain path at point 6. Turn left and descend to Ardvorlich.
INFORMATION
Distance: 11km/6¾ miles
Ascent: 850m/2800ft
Time: 4 hours
Grading: Challenging but straightforward mountain hike for fit, experienced hillwalkers, with prolonged, strenuous ascent by track and path to exposed summit. Keep dogs under close control (on lead during spring lambing season) to protect livestock and wildlife
Start/finish: Ardvorlich, 5km east of Lochearnhead on south Loch Earn road (Grid ref: NN 632232). Roadside parking west of bridge over Ardvorlich Burn
Map: Ordnance Survey 1:50,000 Landranger sheets 51 and 57; Ordnance Survey 1:25,000 Explorer sheet OL46 or OL47
Tourist Information: Perth iCentre, 45 High Street, Perth PH1 5TJ (Tel 01738 450600)
Public transport: None