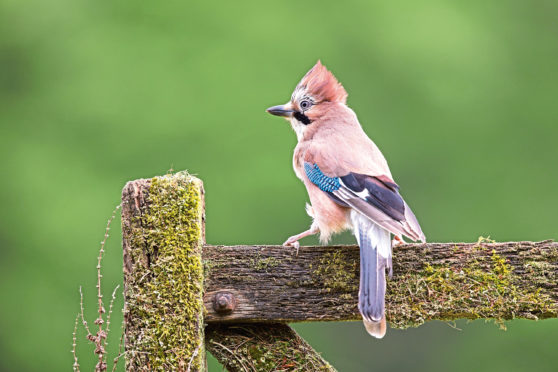 The jay is a member of the crow family and is locally common in parts of Courier country. They love to feast upon acorns in the autumn and will bury them for retrieval later.
A twinkling from the tree tops, and a pair of emerald-tinged siskins bound across the branches, their soft music gently cascading through the air.
Then another call, a harsh shrieking this time and not pleasant at all upon the ears – a jay, and soon I spot the bird high in a tree, its pink-blushed plumage catching the spring light, despite the persistent drizzle.
Two pretty good sightings, and yes, I was rather pleased with myself, especially since I wasn't in some highland Perthshire forest or remote Angus woodland, but instead in Camperdown Country Park in Dundee, where through a gap in the trees I could see the bustle of the nearby Gourdie industrial estate.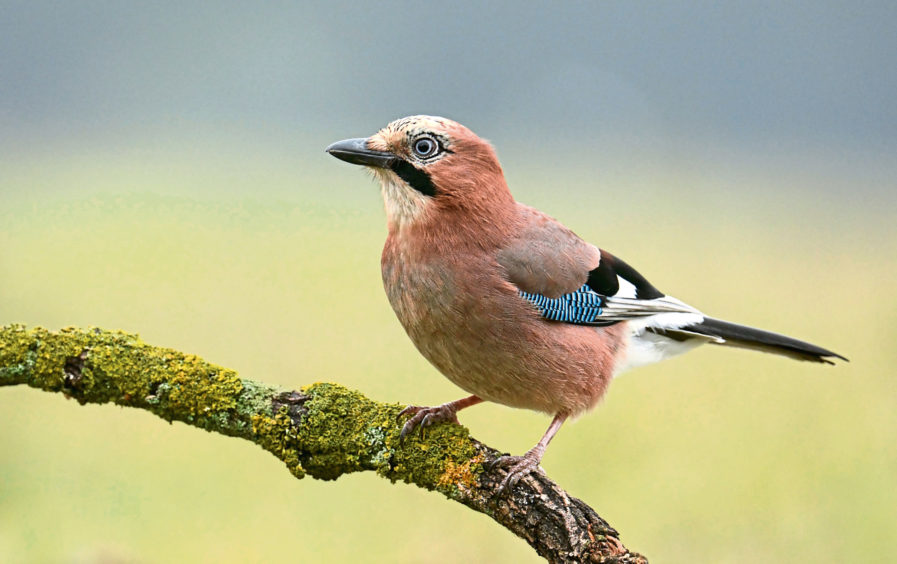 As I watched the jay, I reflected upon the importance of our urban green spaces, as they are often rich places for wildlife, sometimes even more so than country areas. Think Dundee, then think of parks, cemeteries and gardens, the tumbling flow of the Dighty Water, the top of The Law and the shore of the Firth of Tay, all great places for nature to thrive.
Indeed, my love for nature sprung up as a child in suburban Edinburgh where I became addicted to watching foxes and spent much of my time seeking out the wildlife by a disused railway embankment near my home. There was an abundance of wildlife here; blackbirds, song thrushes, greenfinches, hedgehogs and so much more. For a youngster enthralled by nature, it was a truly special place.
Cities offer sanctuary for wild creatures because the patchwork of gardens create productive places to forage, while ornamental bushes and trees providing perfect nesting sites. Spaces under house eaves or roof tiles are snug refuges to spend a cold winter's night, and garden ponds are a rich environment for invertebrates and frogs.
Jays are mighty shy birds, even this one I was observing at Camperdown, and not long after I had brought it into focus through my binoculars, it was up and away in an undulating and floppy flight. I move on, tightening my jacket collar to keep out the rain.
A buzzard swoops along the edge of the park's golf course and settles in a beech. Another remarkable sight if you think about it, a large bird of prey within the city boundary of Dundee. But that's nature, always able the thrive if given the opportunity to do so.
The buzzard took to the air again in a flurry of brown wings and was gone. A great tit called from a hawthorn, a persistent repetitive song, but its singing was quickly drowned by a lorry rumbling along a nearby road close to the boundary wall of the park.
But the lorry went on its way and the air was quiet once more, save for the calling great tit and the patter of raindrops through the trees; sounds of nature complementing each other in perfect harmony.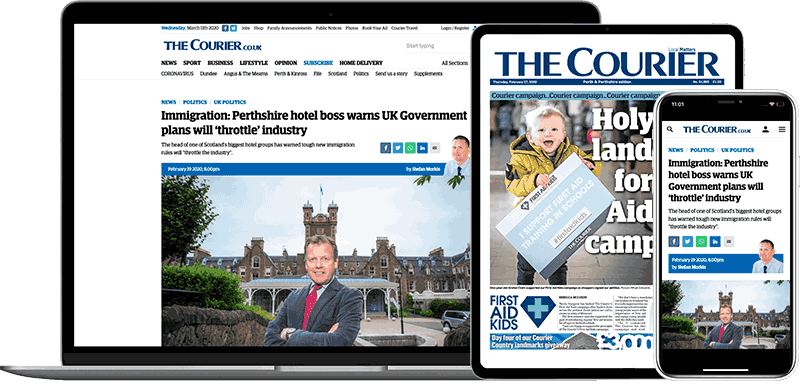 Help support quality local journalism … become a digital subscriber to The Courier
For as little as £5.99 a month you can access all of our content, including Premium articles.
Subscribe