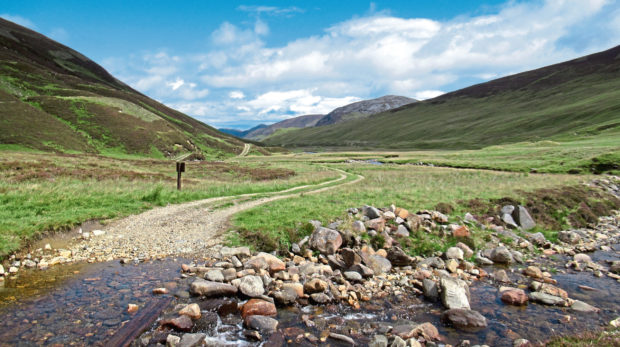 An Socach is a relatively straight-forward Munro but with much of the outing spent at altitude, tramping along its long whaleback spine, it demands a good, clear day.
These are not always guaranteed, even during the summer months, but, after checking the forecast, I was confident conditions would fall in my favour as I set a course for the Cairngorms National Park.
Indeed, the sun was shining as I sought out a place to leave my car on the A93 – the track-end where the walk starts is peppered with 'no parking' notices but spaces can be found along the roadside to the south or at a formal parking area about 500m to the south.
This adds a little to the trek tally, but it is a good opportunity to warm up the legs before striking out along the Baddoch Glen track which, after skirting the edge of forestry and crossing the Cairnwell Burn, curves left to the old farmhouse at Baddoch.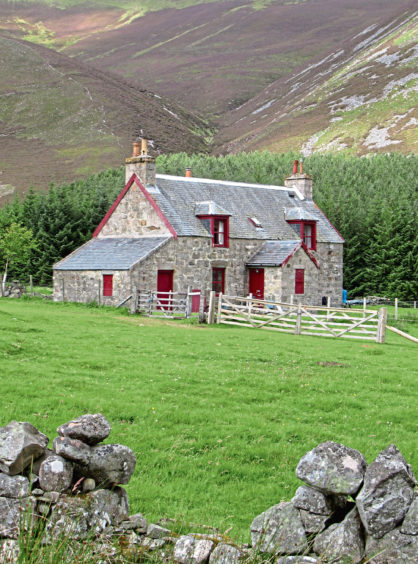 It is the best-preserved remnant of the glen's past occupation, the ruins of farmsteads, cottages and sheep enclosures – the depopulated townships of Dalnacroish and Rienluick – lining the track as it crosses Baddoch Burn and progresses up the now uninhabited and rather lonely valley.
In more recent times, these derelict clusters of collapsed stone have been joined by saplings, Invercauld Estate planting out large swathes of native woodland to breathe new life into the glen.
Stepping across the playful flow of the Allt Coire Fhearneasg, I left the track and embarked upon the ascent proper, a path rising by the burn into the empty coire above, the surrounding mountain tops revealing themselves.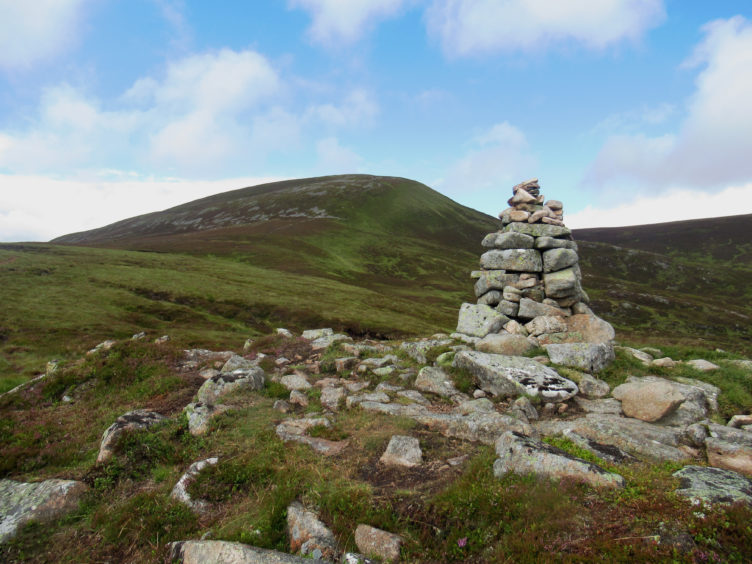 Unfortunately, a great mass of grey cloud also revealed itself at this point, a sudden burst of heavy rain reducing visibility to the point where I feared my day would become a washout.
While the initial section of path is quite steep, the gradient soon eases and, although soft underfoot in places, it is an undemanding hike up the heathery slope to a prominent cairn on the spur of Socach Mor where, thankfully, the precipitation stopped and the sky brightened.
From here, there is a little more gradual climbing over peaty and, in places, boggy terrain before the incline steepens for a spell, stony ground higher up leading eventually to An Socach's eastern top with its windbreak shelter.
The true summit lies a couple of kilometres to the west and, with visibility excellent, I sighted my target and set off along the broad stony ridge, dipping through a shallow col before rising gently towards the top.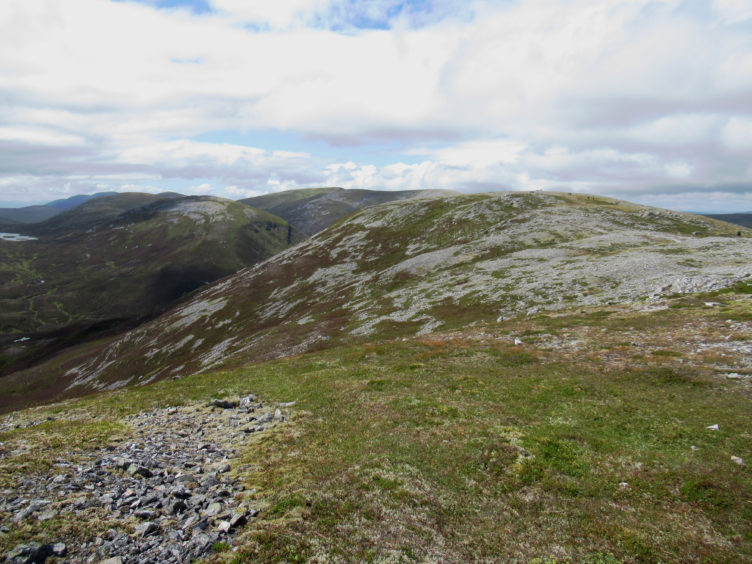 This elevated highway offers some fine views south to the neighbouring Munros of Carn Aosda, The Cairnwell and Carn a'Gheoidh, west to the peaks of Glas Tulaichean, Carn an Righ and Beinn Iutharn Mhor and north to the main massif of the Cairngorms.
The summit has two cairns and a windbreak shelter and, after visiting each in turn and pausing awhile to enjoy the enormous panorama, I returned to the shallow col visited earlier where I branched right, picking up a slender but distinct path that descends south, dipping through a wee gully towards a line of grouse butts below.
Following the trickling Allt Boruiche downstream and running parallel to but some distance from the butts, the trail descends to meet a track in the base of the glen, my route back to Baddoch.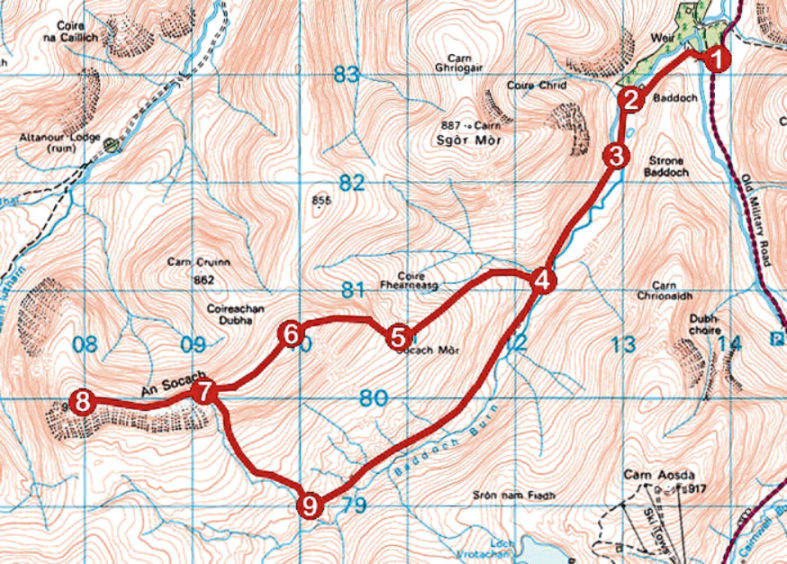 ROUTE
1. Go through gate and follow track west, crossing bridge over Cairnwell Burn. Fork left and continue along track to cottage at Baddoch.
2. Cross stile behind cottage and continue south on track to cross bridge over Baddoch Burn.
3. Continue south along track for 1.3km to ford Allt Coire Fhearneasg.
4. Once over stream, branch right, leaving track, and ascend slim path, running by stream initially. Where path forks at small cairn, go left and ascend path, boggy in parts, to prominent cairn on Socach Mor.
5. Continue up distinct path to An Socach's eastern top.
6. Descend broad ridge south-west into col.
7. Continue west along ridge to summit.
8. Return to point 7, branch right and descend path south to meet track in base of glen.
9. Turn left and follow track down glen.
INFO
Distance: 16km/10miles
Ascent: 625m/2060ft
Time: 4-5 hours
Grading: A challenging mountain hike with strenuous and prolonged ascent, the route follows good tracks and distinct hill paths over exposed high ground. Suitable for fit, experienced, well-equipped hillwalkers. Keep dogs under close control to protect ground nesting birds and sheep
Start/finish: Baddoch Farm track-end on A93, 5km north of Glenshee Ski Centre (Grid ref: NO 138831). Roadside parking and car park 500m to the south
Map: Ordnance Survey 1:50,000 Landranger sheet 43; Ordnance Survey 1:25,000 Explorer sheet OL52
Tourist Information: Ballater iCentre, Station Square, Ballater AB35 5QB (Tel 01339 755306)
Public transport: None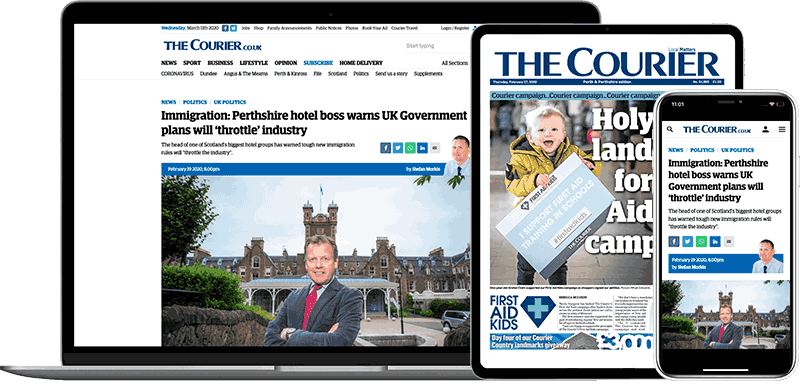 Help support quality local journalism … become a digital subscriber to The Courier
For as little as £5.99 a month you can access all of our content, including Premium articles.
Subscribe