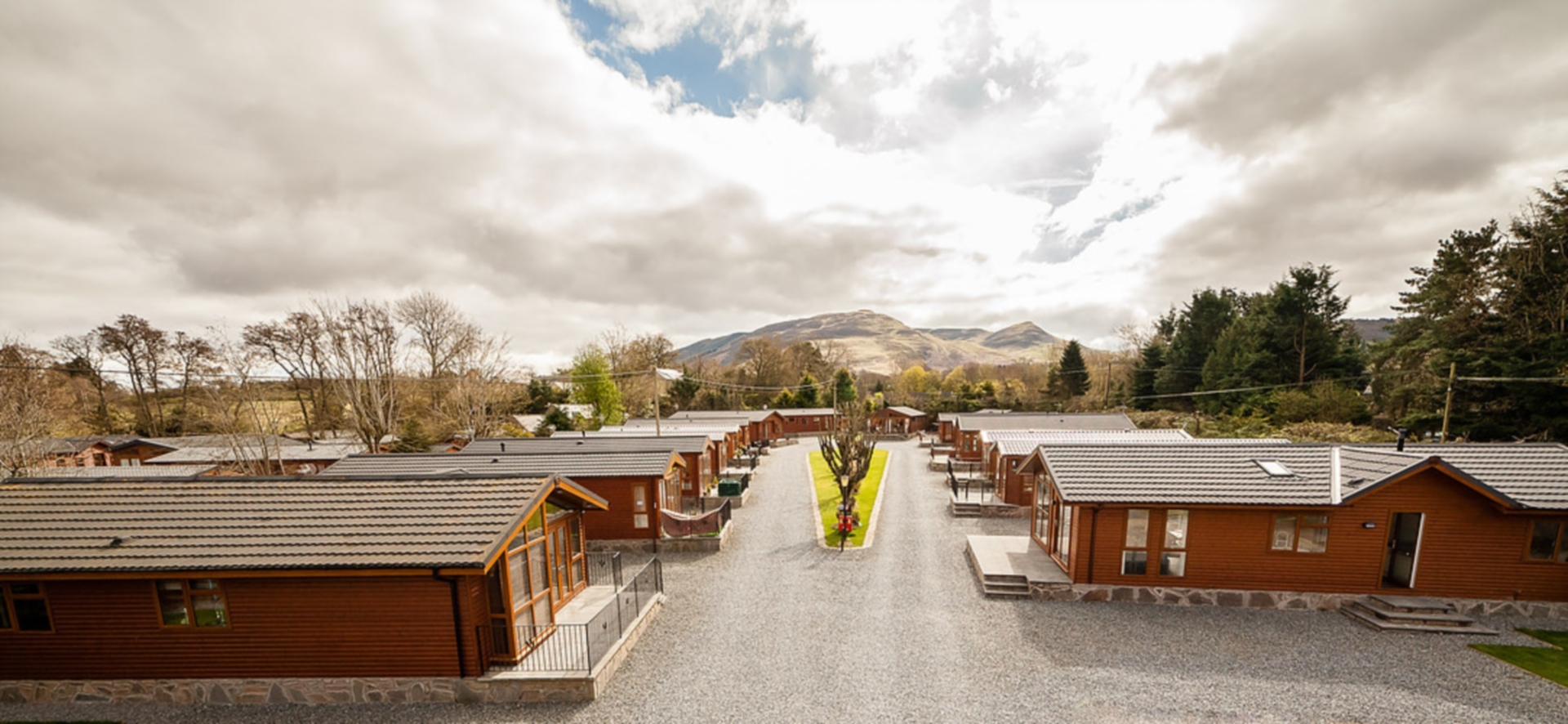 It's twilight on a warm Friday evening when I arrive in rural Perthshire for a quiet, relaxing weekend.
The drive up was straightforward, and my parents and I are hoping for somewhere peaceful to spend a few days together.
Pulling up to the Grand Eagles Luxury Lodge Park, we breathe a collective sigh of relief.
The modern lodges are tucked away off a quiet road, with dozens stretching across gravelled ground.
They look more like hotel suites than wooden cabins. Anyone wanting a weekend of roughing it and being in the middle of nowhere alone, look away now.
It looks like we're one of just a few weekend visitors to the site within our section of the park, and indeed most of the others appear to be full time residents rather than holidaymakers. 
You can see the appeal – easy to maintain, compact and bright. 
The wooden lodges, despite outside appearances, aren't akin to those you'd find in the Alaskan wilderness – they're well furnished, modern and comfortable. Overlooking one another, they are far more pleasant than might be imagined from a chalet-type experience.
We stayed in the Thistle Lodge, owned privately, with a twin room, en-suite double, shower room, and open plan kitchen/dining/lounge.
The kitchen facilities are more than sufficient to rustle together an evening meal, and a small path which works its way along a river is the perfect place for a post-dinner wander.
Returning back to the lodge, I was spoiled for choice in places to unwind. In front of the faux fire, on a beautifully comfortable couch, or one of the three beds throughout the property.
I opted for the living room, and spent the evening watching the sun come down with a good book.
The following morning, I noticed how quiet the park was. Very little noise carried from the quiet road than runs along its outer edge, and despite several inhabitants of the neighbouring lodges already being up and active, you wouldn't have known from the ambience.
After a slow start, we travelled to Auchterarder, a small village a short distance from the park.
Relative to its limited size, it is bursting with boutique shops and cafes to while away the hours.
After a morning of window-shopping, we got in the car and drove the 20-minute-drive to The Famous Grouse Experience on the outskirts of Crieff.
If you're a fan of Scotland's national drink – or even if you're not, like me – then this interactive tour is a fascinating way to spend the afternoon.
Following the barley from its cereal form to the end result, we worked our way around the distillery, before sampling two of the whiskeys at the end – with handy pots for the drivers of the group to carry their drink in until they're home safe.
Crieff itself is another great town to spend some time, particularly if you have a passion for crafts and more unique gifts.
A haberdashery attracted mum's attention for an hour or so, while the high street offered a host of coffee shops to be sampled.
After raiding the local convenience store for some tea, we drove back through the countryside to the lodge park. 
Now a Saturday, the park had more of a buzz to it. The lodge opposite ours was hosting a barbecue for friends and family, and it's clear to see the attraction of having somewhere to escape to for a few nights a week. 
For me, there was a slight lack of privacy which took away from the experience of the lodge. The glass fronting of the lodges, which so wonderfully allow the sunshine to fill the room in the morning, mean you are looking straight into your neighbour's home and vice versa.
This is no major issue, but when you're surrounded by some of the most beautiful landscapes in Scotland, it's hard not to wish you didn't have a better view.
In the evening we went for a walk around the site, which is essentially constructed of several cul de sacs full of the lodges. While all looking fairly uniform from afar, up close it is easy to see how they have been adapted to accommodate the various types of buyers and renters – young families, pensioners, busy couples wanting a holiday home.
In our final morning, we enjoy some locally sourced salmon and eggs in the lodge before taking one last wander through the park. 
Its biggest selling point, to my eyes, is its location. Consider it the diving board with which to leap into the waters of Perthshire.
For those on a golfing holiday, attending a business conference and wanting to see more of the countryside, or wanting a straightforward week away with the kids, it would be a great place to be.
Those wanting a weekend away from it all may be left disappointed.
 info
Ciaran stayed in Thistle Lodge, which can be booked through www.thistlelodge.me.uk – starting at £95 a night.
Other lodges can be booked by calling Eddie McCabe at Grand Eagles on 07734 055574 or by emailing grandeagles@btinternet.com.
For information about purchasing a lodge, contact Eddie on the above information.
The Famous Grouse Experience distillery tour can be booked at www.shop.thefamousgrouse.com and costs £10 per person.