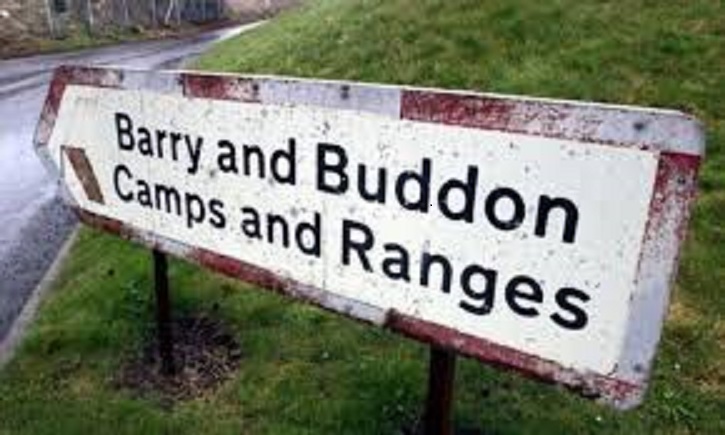 The Barry Buddon military firing ranges on the Angus coast have been branded a 'death trap' in the wake of look out warden withdrawals at military facilities.
The country's largest union, Unite, has highlighted the site near Carnoustie as one of more than 80 firing ranges across the UK where they say look outs have been removed in a cost-cutting drive.
Unite said the proposal to remove the range wardens formed a cornerstone of Landmarc's pitch when it was bidding for the national training estate prime (NTEP) contract in 2014.
But they now claim the public face the risk of "being blown to smithereens" if safety is compromised at the ranges.
Barry Buddon, the venue for the 2014 Glasgow Commonwealth Games shooting events, is a popular coastal spot with walkers, and adjacent to the world-famous Carnoustie golf links.
Unite regional officer Bob Middleton has demanded answers from the Defence Infrastructure Organisation (DIO) and claimed life-threatening incidents have already occurred.
"This important safety issue is no longer subject to discussion as Landmarc do not have enough employees to now cover all of the ranges that used to be covered under the Vanguard contract," said Mr Middleton.
"Earlier last week a group of Gurkha soldiers, who were using the ranges at Hythe in Kent, decided to walk down the range they were using to the foreshore.
"The range next to them was still being used. They were, therefore, in the arc of fire and could have been injured or killed. I have been informed that following this incident the affected ranges were closed for two hours whilst there was an investigation."
He added: "Had there been a range warden stationed at the range they would have been able to monitor the users' behaviour, as they have always done and stop any unsafe practices.
"This incident was formally recorded and is just one of several incidents that have happened over the past few months.
"I am requesting the DIO review the decision to remove the range wardens from the ranges."
Mr Middleton continued: "The firing ranges have become death traps because the wardens, who used to look out  for people inadvertently walking into the line of fire, have been withdrawn as part of Landmarc's cost-cutting agenda rubber stamped by the defence ministry.
"We wrote to defence secretary Michael Fallon on this issue, but received no direct reply.
"Yet, a family with young children out walking the family labrador could take a wrong turn and be blown to smithereens because of the government's privatisation agenda.
"Cost cutting can't come before public safety. We urge ministers to order a rethink on what is happening – the public demands no less.
"The warden rangers have been withdrawn from monitoring the firing ranges and have been renamed training area operatives doing a variety of jobs – but not  being wardens at the firing ranges."
The Landmarc website states: "Our operational DNA is further enriched by a decade long partnership with the Ministry of Defence in the UK to ensure their military training estates are safe, effective and sustainable places to train the armed forces. We are currently 1,300 people strong and active across 120 sites in England."