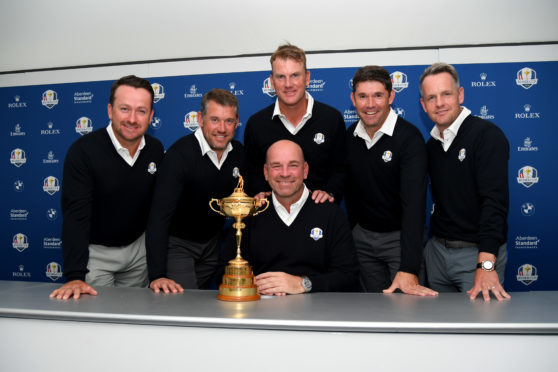 Four men with 56 Ryder Cup points between them – that's the quality of roster from which Thomas Bjorn can now pick his back-up team for Paris.
The Template – it doesn't sound as exciting as the USA's Task Force! but it's been more effective for longer – demands these days that future European captains serve their time in the backroom. Paul McGinley set in stone at Gleneagles in 2014 that they should number as many as five, and Bjorn isn't about to change that.
He'd already recruited his long-time friend Robert Karlsson. He's now added Padraig Harrington – already short-odds favourite for the next one in Whistling Straits in 2020 – Lee Westwood, Luke Donald and Graeme McDowell.
You can almost see the progression of future captains, although remember it won't be too long before Ian Poulter, Sergio Garcia and Justin Rose join the queue.
It's a formidable looking queue for certain, and bolsters whoever represents Europe, in Paris in September or in future, with quality knowledge on how to play and win this unique event.
For Scottish eyes, though, it makes for a curious thought. It seems now that Paul Lawrie, a vice-captain last time with Darren Clarke and twice a team member with distinction at Brookline in 1999 and Medinah in 2012, will not be a Team Europe captain.
That's understandable considering the quality of candidate coming through, who may not have Paul's major championship win but have vast experience of Ryder Cups – Donald, let's not forget, has played on four teams and never been on a losing side.
But it seems certain now that future generations will look back on this time and see Scotland's last two major champions of the 20th century did not captain Europe, while two Scots who didn't win major titles did.
It's easy to imagine our grandchildren looking down the list and being puzzled why double major champion and Ryder Cup hero Sandy Lyle was never captain, yet McGinley (for whom I have the greatest admiration as a captain and a man) and Mark James were.
There are some valid reasons why that happened and the Ryder Cup is a different animal, for sure. But it's still a curious thing.