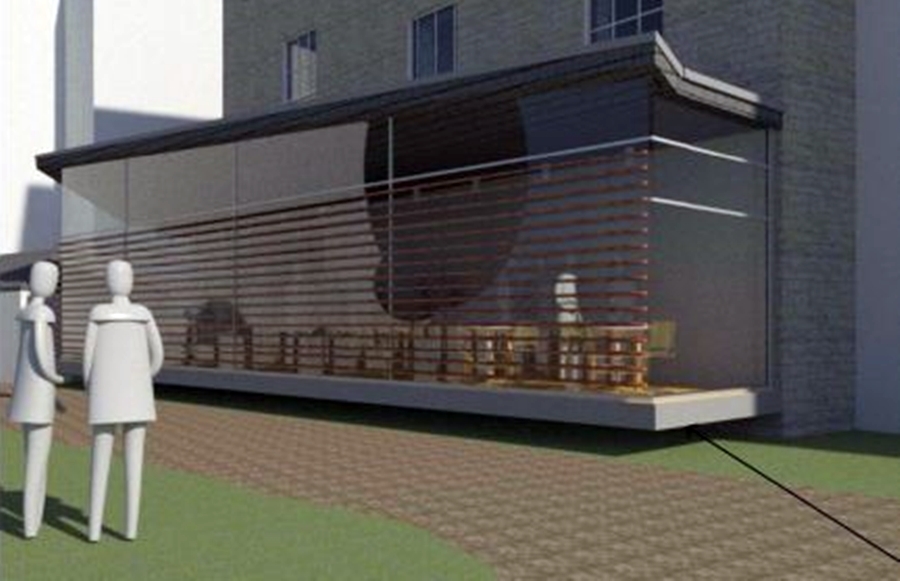 Bars put on windows to prevent Dundee's historic Howff cemetery from being used as an illegal gambling den could derail plans to create a glass whisky bar overlooking the cemetery.
Councillors in Dundee have been urged to reject plans for a new £300,000 restaurant boasting a glass seating area overlooking a historic city centre cemetery
West One Residential wants to turn premises at 5 Bank Street into a high-end restaurant, the rear of which would overlook the Howff.
The restaurant would seat about 70 people and host private dining and a whisky bar.
Planning officers have recommended councillors reject plans to turn the building into a licensed restaurant and to create a single storey glass extension that would "hang" over the cemetery.
The application stated the extensions would be built out over the ground of the cemetery rather than on it so not to disturb any human remains that may there.
But officers said: "The proposed extension to the rear of the property will have a detrimental impact on the tranquil character of The Howff."
The Dundee Howff Conservation Group also said the proposal would require iron stanchions on the ground-floor windows of Bank Street properties to be removed.
Although it may appear the bars are to protect the buildings that back onto the Howff, the Conservation Group says they are actually there to protect the cemetery from "individuals or groups breaking into The Howff for illegal purposes from the tenement blocks."
These activities included gambling as well as other "anti-social" practices.
The conservation group submission added, in their view, the stanchions "attached to the B-Listed building have a direct link with the history of The Howff and therefore should be protected from interference, damage or removal at all times."
Despite urging councillors to reject proposals for the restaurant and extension, officers have said it would be acceptable to turn 5 Bank Street into a cafe.
Councillors on the Development Management Committee will decide on the plans when they meet on Monday.
Other food and drink plans to be discussed at the same meeting could also be rejected.
Councillors will consider proposals for a drive-through Starbucks outlet and a Marston's pub/restaurant on land near Wester Gourdie Industrial Estate.
Developers say the plans — an updated version of proposals for a Starbucks that came forward early in 2015 — would give the area a major boost.
But councillors will be told that the proposals fail to satisfy the requirements of the local development plan and should be refused.
City planners also recommend refusing an application for a part-change of use at Downfield Juniors' football ground on Balgowan Avenue.
Plans have been lodged to create a community shop and beauty salon within the social club in a bid to widen use of the facilities and make the club money.
There has been widespread public opposition to the plan, which officials say goes against the local development plan.