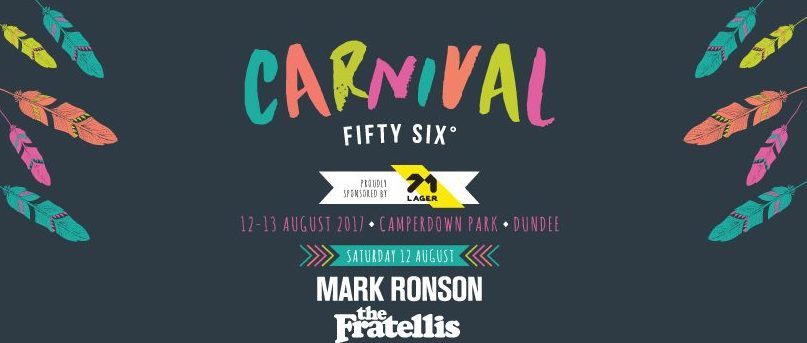 Fans from as far away as Frankfurt have snapped up tickets ahead of the biggest music festival to be held in Dundee in over a decade.
Carnival 56, which takes place over two days in August in the city's Camperdown park, will feature some of the biggest names in dance music with artists such Mark Ronson,  Hot Chip and Basement Jaxx set to perform.
More than 100 bands and DJs will perform at the event with other big names including Rudimental and Clean Bandit.
A host of Dundee bands will also entertain fans including Sinderins, The Law and Fat Goth.
Festival director Craig Blyth said preparations are going according to plan and that ticket sales have been "very strong" with four months left until the event kicks off.
"Planning for Carnival Fifty Six is going extremely well," he said.
"We are continuing to develop the working plans for the event along with Dundee City Council and partners around the table to guarantee fans one of the highlights of their summer.
"We got off to a fantastic start and the buzz around the festival continues to gather momentum.
"This is being reflected in the very strong ticket sales so far, increasingly with music lovers coming from Scotland's north east and central belt as well as north east England.
"We are also experiencing good sales from Manchester, Birmingham, London, Ireland, and even Germany.
"With four months to go until the festival, and more announcements still to come, we expect the interest to continue to build."
The festival's production manager, Steve Reynolds, said the site design is almost complete with a host of live stages, entertainment, street food and bars set to be incorporated.
He said: "Planning has been going really well. The stakeholders (Police, Council and Parks) and community have been very supportive.
"We've had a great response to be a supplier and have pretty much secured most production and site contracts now, with a mix of skill sets.
"We're now moving on to look at the creative look and feel of the show and those meetings are continuing over the next few weeks.
"We'll be testing contingency plans in June with the Police and Council along with our Security company G4S and safety company MRL. This will help support a safe and enjoyable event for people to attend."
The festival will take place on the weekend of August 12 and 13.