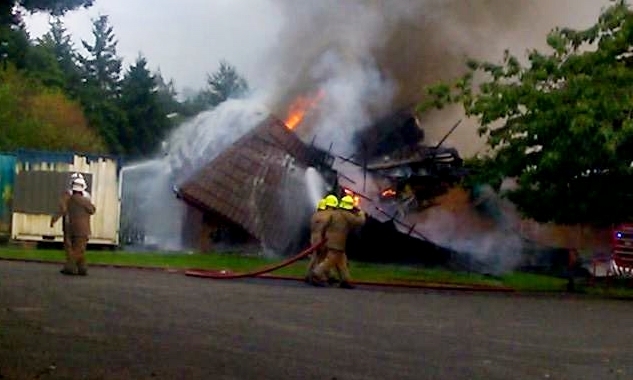 Dundee City Council will not be rebuilding a community centre which was destroyed by a fire earlier this year.
It was said there was "no funding" to provide a facility on the site of the former Mill o' Mains pavilion.
The centre, which had been a hub for children's clubs and fitness classes, was destroyed in a blaze in July.
Due to severe structural damage, the local authority was forced to demolish what was left of the building at a cost of around £15,000.
Speaking at Thursday's budget meeting, Jim Malone from Dundee People's Assembly said: "I was just told this morning that the council would not be rebuilding the complex at Mill o' Mains as they can't find the funding for it.
"It was a fantastic complex but we were only told this morning we were not getting a replacement.
"That was like a real home for deprived kids in that area."
Locals had blamed youths for starting the fire which destroyed the building and had complained of long-standing issues with anti-social behaviour and fireraising in the area.
Police presence was heavy in the weeks following the incident, but no one is believed to have been arrested in connection with it.
Local groups which had previously used the pavilion have attempted to keep their activities going by meeting in nearby primary schools, sheltered housing complexes and even outside on sunny days.
An action group to keep the community together was also formed amid claims that residents had been left feeling isolated and alone following the fire and were frustrated that more hadn't been done to help them.
Mr Malone said that in addition to his disappointment about the pavilion, he found it "utterly depressing" that the budget cuts were "hitting the poor the hardest."
He added: "It is utterly deplorable that Dundee has so much child poverty, poor mental health and poor life expectancy."
Other deputations at Dundee City Council's meeting included Margaret McGuire of Unison, who said the budget was based on "speculation and supposition".