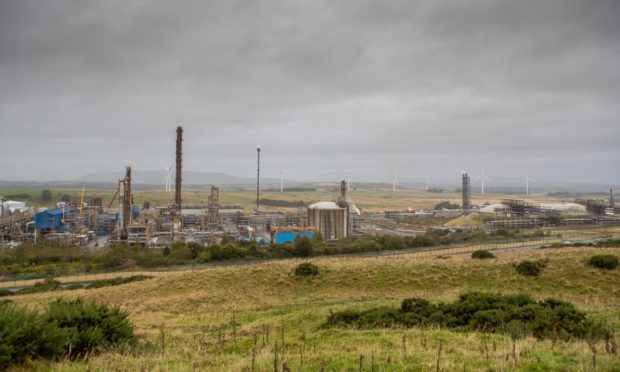 A prosecution could be brought against the operators of the Mossmoran chemical plant following the prolonged flaring which brought misery to neighbouring residents last year.
The Scottish Environmental Protection Agency (Sepa) revealed last night that it was  taking legal action over the episode.
A report will be submitted to the Crown Office in connection with seven days of unscheduled flaring in April 2009, which resulted in more than 900 complaints – the most Sepa has ever received over a single event.
It came after ExxonMobil had been sent a final warning letter in 2018 over "preventable and unacceptable" flaring at the petrochemical plant near Cowdenbeath the year before.
Sepa chief executive Terry A'Hearn said: "Compliance with Scotland's environmental laws is simply non-negotiable. Over a number of years, communities across Fife have repeatedly endured unplanned flaring.
"Whilst flaring is an important safety mechanism of such facilities, it must become the exception, rather than routine.
"People rightly expect that their lives won't be impacted by nearby industrial processes and yet again, over an extended period during Easter 2019, communities were impacted by unacceptable and preventable flaring.
"It's right that we take enforcement action. What is just as important is that ExxonMobil address the root-causes of 'unacceptable flaring'."
The plant was shut down for a time last year to allow for essential maintenance. ExxonMobil has said it has spent £140 million on upgrades.
Last night a spokesperson said: "Having only received the communication from Sepa late [on Wednesday] evening, we will now take the time to fully consider its content.
"Wherever we operate, we comply with all applicable laws, rules and regulations."
Sepa said the plant would continue to be kept under continual review during the coronavirus pandemic.
The environmental regulator will continue to work with Fife Council on issues such as monitoring and community liaison, as well as with the Health and Safety Executive.
Independent technical advisers will be brought in to help assess ExxonMobil's plans for new ground flare installations.
Scottish Greens environment spokesperson and Fife MSP Mark Ruskell welcomed the action.
He said: "I heard from so many constituents during this time, families who endured six days of hell and more since. I'm relieved that their voices have been heard and action taken.
"If we are serious about the health and wellbeing of our communities, we need this kind of rigour from our environmental watchdog."
Conservative councillor for Cowdenbeath Darren Watt said: "This is very welcome news. The first of the unscheduled flaring goes all the way back to 2017, so it's been a long time coming.
"The reluctance to accept responsibility or liability by ExxonMobil has been quite disappointing. I hope this is the beginning of the end of that attitude."