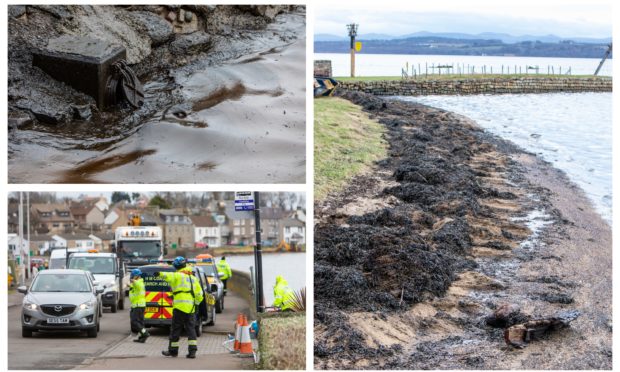 The Fife Coastal Path is being diverted at Limekilns and Charlestown as work to clean up an oil spill continues.
Experts believe around 500 tonnes of material has been contaminated as a result of Monday night's incident and will have to be removed.
A specialist firm has been brought in to carry out the disposal work, with the worst affected areas being dealt with first.
Fife Council said the source of the pollution is not yet known but investigations are continuing.
Sample testing by the Scottish Environment Protection Agency (Sepa) is also ongoing.
In the meantime, the affected beaches will remain closed to the public until further notice to ensure public safety and protect the environment.
A statement issued by Fife Council said: "Thankfully, there has been minimum impact on birds and wildlife."