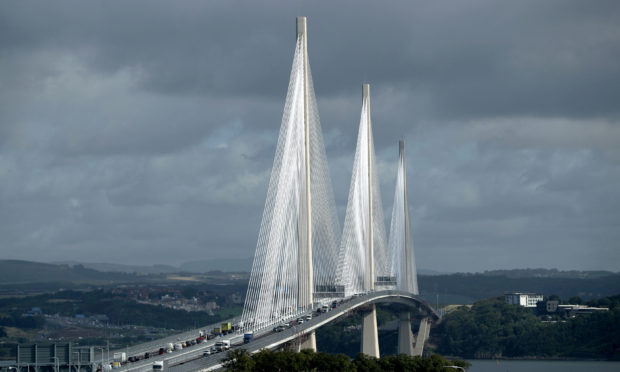 Calls have been made to reopen the Forth Road Bridge at peak times in a bid to ease congestion on the Queensferry Crossing.
It follows a move agreed by councillors summoning transport officers to face Fife Council and find a solution to traffic problems that continue to blight commuters.
Congestion on the approach to the Queensferry crossing is regularly having a knock-on effect on ancillary roads in Inverkeithing, Rosyth, North Queensferry and Dalgety Bay.
Jodie Killion, who commutes regularly to and from Edinburgh from Dalgety Bay for work, said congestion is particularly bad during the evening.
"The new bridge was hailed as the solution to chronic problems we all faced with the old Forth Road Bridge but it often doesn't feel like that," said Mr Killion.
"I know the bridge was a replacement but with increased speed limits it should have made a difference but in reality it's often more of a nightmare.
"Congestion on the bridge is affecting people's livelihoods and finding a solution must be made a priority."
A motion for representatives from Transport Scotland and sub-contractors working on the Queensferry Crossing to meet Fife Council to discuss finding a solution to the delays, has now been passed by councillors.
Councillor Dave Dempsey said: "There are two elements to this, the first being that congestion forms too frequently on the crossing, and it seems to be getting worse.
"More specifically there are a lot of complaints the B981 is an inferior road, so many people are avoiding that, adding to the congestion. It's not good, and we ought to find out what the situation is and what we can do about it."
Fellow Conservative councillor Dave Coleman added: "It might even be worthwhile looking into seeing if the old bridge can be used for crossings at certain points of the day."
Since October 2017, the Forth Road Bridge has been restricted to just public transport.
Speaking on the issue in Hollyrood,  Michael Matheson, the Scottish Government's Transport, Infrastructure and Connectivity Secretary,  said "good progress" was being made to complete snagging work on the Queensferry crossing.
He said: "The contractor has advised snagging works will be completed by the end of this year – weather permitting."