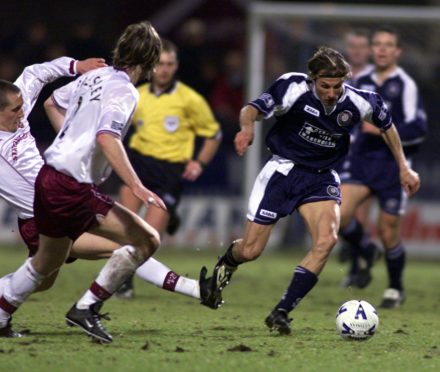 Today marks 19 years since Argentine World Cup superstar Claudio Caniggia signed for Dundee.
The audacious capture of Caniggia – which is documented in the recently-released book The Bird and the Feather: Caniggia and Ravanelli's Dundee Adventures – came just eight years after Dundee had signed gangly defender Garry Paterson for £1,000 and a set of tracksuits.
Dundee fans who could recall Paterson's capture were now left pinching themselves when Caniggia turned up with his catwalk model wife Mariana who was resplendent outside the rusty and chained up gates of Dens in a leopardskin coat and heels.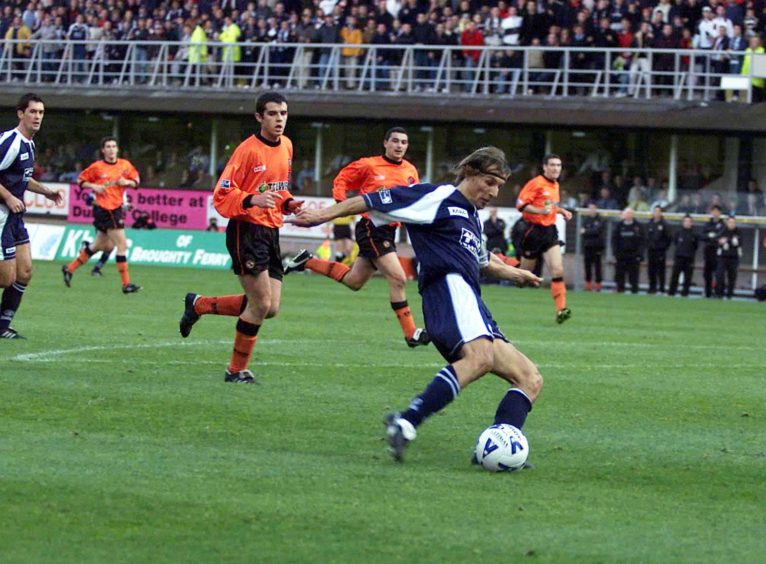 Former Juventus and Sampdoria midfielder Ivano Bonetti had just taken charge at Dens Park and knew Caniggia from his time in Italy's Serie A.
An injury to star striker Fabian Caballero in a derby game against city rivals United had prompted a search for a replacement and Bonetti asked the 33-year-old free agent if he would come to Dundee to help a friend.
Caniggia sensationally agreed and was unveiled at a press conference which had brought journalists from all corners of the country to Dundee.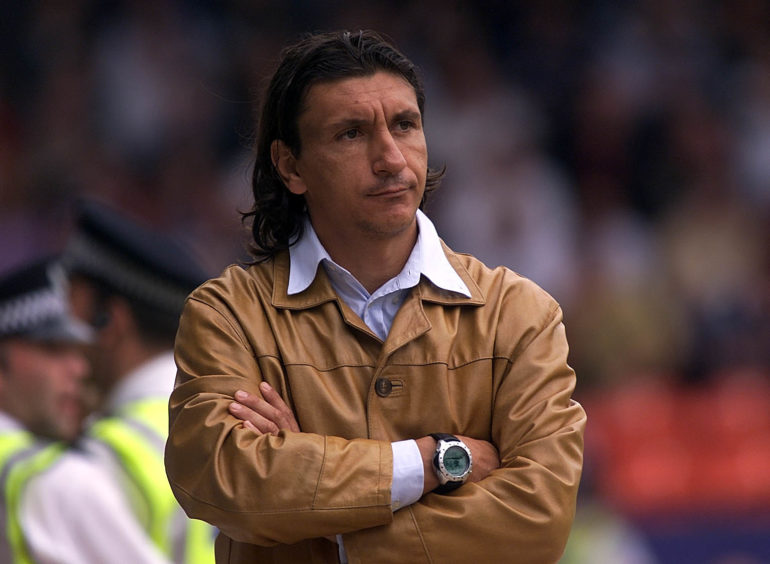 Bonetti said: "I have dreamed of bringing Claudio to this club and today my dream has come true.
"He is a great champion, a man with a wonderful reputation as a footballer who can do fantastic things not only for Dundee, but for all of Scottish football.
"When people like Caniggia play, everyone watches – not just Scotland, not just Europe but the whole world, for he is one of the very biggest names the sport has."
Sport became front page news as Caniggia arrived with a dream of making Argentina's 2002 World Cup squad.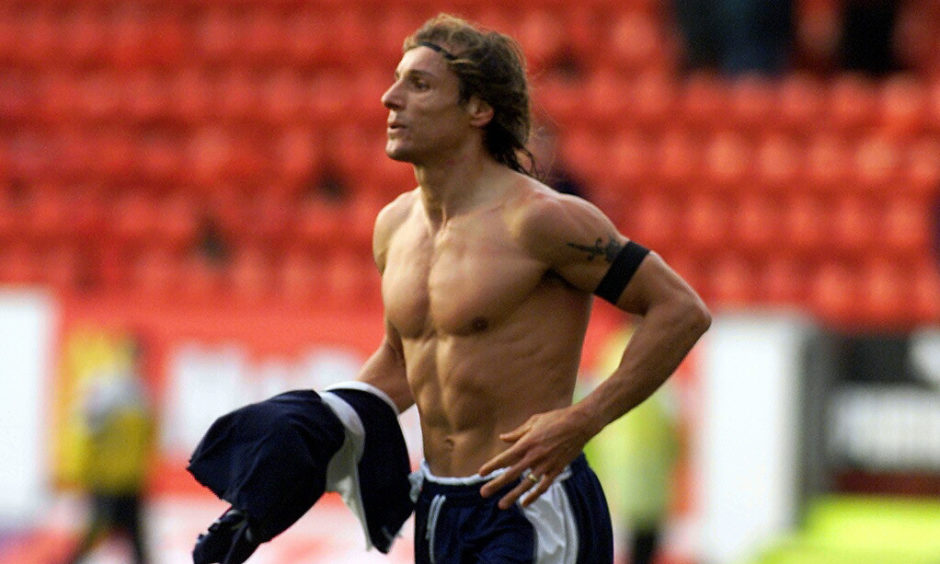 He quickly proved he still had pace to burn and was just as sharp in front of goal as he had been during the heyday of his famous partnership with Diego Maradona.
The huge demand for Dundee shirts with his name on the back left the club shop at a standstill as they ran out of letters.
He did his talking on the pitch with important goals in big games including a derby win at Tannadice where he famously pulled pints for Dundee fans in the pub afterwards.
Suddenly Dundee games against the likes of Dunfermline were being shown live across the world in places like Australia, New Zealand and even the West Indies.
Maradona himself later agreed to come over to play alongside his close friend and fellow countryman Caniggia in a glamour friendly against Napoli at Dens.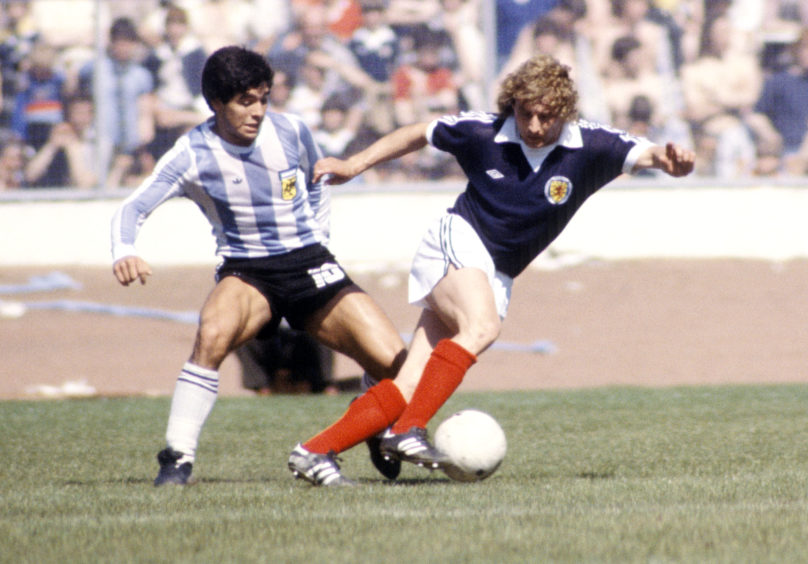 There was written correspondence between Maradona, his representatives and Dundee, which outlined both parties' desire for Maradona to play in the match.
The friendly "evaporated" after Maradona stepped off a plane and got involved in a row about a tax bill in Naples.
The Bird and the Feather: Caniggia and Ravanelli's Dundee Adventures lifts the lid on one of the most sensational periods in the history of the game north of the border.
The book also documents the subsequent capture of Italian Champions League winner Fabrizio Ravanelli in 2003 before the big-spending rollercoaster ride eventually plunged off the rails and ended in the near closure of Dundee FC.
Ravanelli had been brought in by controversial businessman Giovanni di Stefano who joined the board in August 2003.
Di Stefano was known as the 'Devil's Advocate' for representing high-profile criminals including Harold Shipman, Ronnie Biggs, Jeremy Bamber and Slobodan Milosevic but would eventually be revealed as a fraud with no legal training.
Along the way there were also crazy bids for Paul Gascoigne, Georgi Nemsadze, Peter Crouch, Edgar Davids and the Baggio brothers, Dino and Roberto.
Acclaimed sports writer Patrick Barclay – who has written biographies on Sir Matt Busby, Sir Alex Ferguson and Jose Mourinho – has described the book as a "rich read" and said it was "highly recommended".
The Bird and the Feather: Caniggia and Ravanelli's Dundee Adventures is available now for £9.99 with free postage from https://www.dcthomsonshop.co.uk/the-bird-the-feather or from DC Thomson headquarters at 2 Albert Square in Dundee.