Dozens of bees die on Perth street near a school after apparent poisoning
By
Sean O'Neil
May 4 2019, 8.29am
Updated: May 4 2019, 9.57am
Bee poisoners who appear to have wiped out a colony of the insects in Perth have been slammed by keepers.
Workers found the creatures dying on Oakbank Road on Thursday with scores of the bees scattered on the footpath near a school.
The UK bee population has been in steady decline over the past decade with one third of the nation's bees dying out.
The insects are extremely important to the environment and it is believed they are responsible for pollinating one-third of food crops and 90% of wild flowers.
Bruce Fletcher, who found the creatures along with his father, said it appeared as if the bees had been poisoned.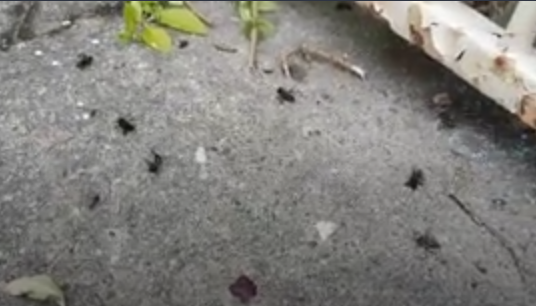 Bruce said: "It looks like they've been in the wall and they've used ant killer.
"I was horrified in this day and age where the bee population is rapidly dwindling that someone would carelessly poison bees and let them struggle with a slow death."
Enid Brown, the Kinross-based head of the Fife Beekeeper Association, agreed that the bees looked as though they had been harmed deliberately.
She believes the insects might be masonry bees, as opposed to honey bees, who like to live in cracks in walls.
Enid said: "It does look as though they have been poisoned.
"People should be encouraged to appreciate them and enjoy seeing them.
"They won't do you any harm – good pollinators though. Bees are all useful in some way or another.
Gavin Ramsey, Bee Health Officer at the Scottish Beekeeping Association, believed that the dead creatures may have been chocolate mining bees, but agreed that there was no reason to kill them
Gavin said: "It's sad to see. They're quite harmless because there's no sting.
"They're great for pollinating fruits and flowers.
"They are important to have around as pollinators but they are also important for the diversity of life.
"They're normally great things to have."
Gavin said that to the untrained eye, chocolate mining bees and honey bees look very similar so it is unlikely the person responsible for their deaths would have been able to tell the difference.
The beekeeper also explained the deaths were even more tragic as the small insects only live for a short period of time.
Gavin said: "Someone has taken a dislike to them.
"You can get quite a lot in the same wall which can worry people but they are only around for a few weeks."