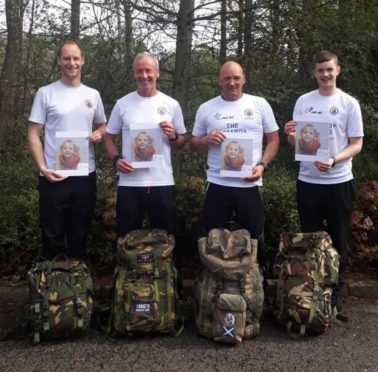 Hardcore Kirkcaldy runners are to race 10 miles carrying 35lb rucksacks in memory of a tot who lost her life to cancer.
Tackling the gruelling PARAS 10 in Colchester, the foursome will raise money in the name of Megan Clarkson, whose photograph will be pinned to their Bergens.
Two-year-old Megan, of Kirkcaldy, died in January just three weeks after being diagnosed with a rare and aggressive form of lung cancer, known as pleurpulmonary blastoma.
Mark Buchan, 27, Jimmy McIntyre, 49, Dave Morton, 40, and James Stewart, 51, will boost the Miles for Megan fund for causes which supported Megan and her family during her final days.
Children's football coach Mark said knowing they were raising money to help families like Megan's would help the team with the motivation to complete the physically-demanding race.
He said: "I want to raise awareness and support other kids and parents who are going through this or any kind of illness.
"I've coached so many kids in the past and if I see them smiling and having fun, that makes me happy.
"All the money raised from this will go to Ronald McDonald House, in Glasgow, The Teapot Trust and also the children's ward of the Victoria Hospital, in Kirkcaldy."
The military-style endurance event on May 18 is over undulating land and competitors must wear long trousers and military-style or hiking boots.
Megan's parents Kelly and Martyn were given accommodation by Ronald McDonald House while she was being cared for at the Royal Hospital for Childen, in Glasgow.
The Teapot Trust provides art therapy for children and young people with chronic conditions, to help them express emotions, overcome challenges and make hospital less frightening.
Mark and his fellow runners, who are all members of Kirkcaldy Wizards running club, have a JustGiving page to raise money.