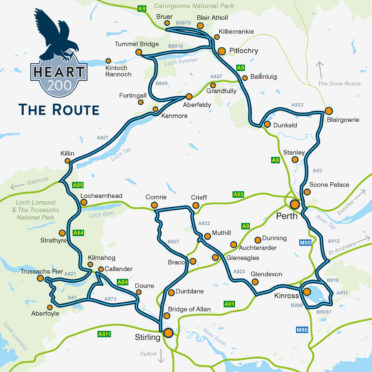 Perth and Kinross Council has come under fire for awarding £45,000 to a private tourism project without conducting any environmental or economic assessments.
The local authority's 2018 budget awarded the funds to the Heart 200 in tranches without receiving any formal impact analysis of the visitor drive.
Heart 200 was launched in July as a road trip route spanning Perthshire and Stirlingshire to boost the number of tourists stopping off at attractions in the area.
The plans have been met with fears over roads across the route not being able to cope with the influx, as well as concerns over waste.
A council spokesperson said: "The funding was allocated as part of the 2018/19 budget, following a motion from elected members, to establish 'Heart of Scotland' touring routes around Perth and Kinross that link into existing road, cycle, and rail routes and promote the historical, cultural and environmental attractions across the area.
"Support for Heart 200 was on the basis of a total of £45k over a series of staged payments to assist the development of the initiative.
"This was put through as part of the full council 2018/19 budget meeting, and then passed to the council's economic development officers to deliver the initiative."
Heart 200's board have said the route is merely a guideline to see the best of the area and that any issues affecting sections of the route would be posted on its website.
They have confirmed they could not afford to conduct an environmental assessment beforehand and said there would not be valid data to work out how much money the venture could generate.
A company spokesperson explained: "A small private business would not have the capacity or resources to conduct full environmental impact assessments for public roads and surrounding areas.
"Economic impact studies only review the impact of something that has already happened. Since Heart 200 has only been launched for a month, there would be no valid data for studying.
"Heart 200 continues to meet with local councillors along the proposed route and engagement with community councils is in progress. As the route covers a significant geographic area, this process takes time.
"As Heart 200 uses existing infrastructure for no other purpose than what they were originally intended, there is no requirement to contact residents who may live on, or near, these public roads."
Councillor Grant Laing, who says concerned residents in his Strathtay ward have contacted him about the initiative, has asked why the money was handed out without detailed prior analysis.
He said: "There has been no economic impact assessment here and no environmental impact assessment. I don't know what criteria was needed for this.
"I'm supportive of anything that boosts tourism but this could have been put out to tender to find someone with more experience or who could do it for less money.
"This is public money and not an insignificant amount. There has not been enough consultation with residents or within the council."