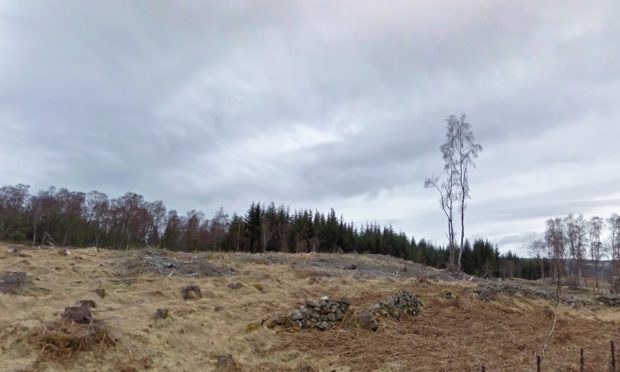 A flock of lost sheep spotted wandering through a Highland Perthshire forest face being culled.
Around 20 unmarked strays were discovered living together in remote woodlands around Drumnakyle, near Tummel Bridge.
And now the Forestry Commission has launched an urgent appeal to track down their owner.
The Perth-based authority says the rogue sheep need to be removed within the coming weeks to make way for a major tree replacement operation.
And because the sheep are regarded as a "biosecurity risk" and are highly unlikely to be marketable, they will be culled if they go unclaimed.
A spokesman for Forest Enterprise Scotland (FES), the government agency responsible for managing the country's forest estate, said: "The sheep are still in the forest and although none of them are marked, we are liaising with seven local neighbours, tenants and landowners to try and determine whose sheep they are."
He added: "We're due to carry out some restocking in that area soon but sheep would make short work of anything we plant. That's why we'd like to see them removed as soon as possible.
"If no one comes forward to claim them by the end of next week, we will write out again advising that we will take steps to remove them, ideally by the end of December."
The appeal follows the launch of a new Forest Enterprise strategy, which encourages a better dialogue with farmers to manage stray sheep.
FES worked with Police Scotland and the Scottish Government to produce guidance with industry bodies including the National Farmers Union of Scotland.
In a statement issued at this year's strategy launch, FES agricultural advisor Robin Waddell said: "For the vast majority of cases we work very well with our neighbours and can resolve sheep trespass issues pretty quickly.
"This is how we would like to continue – keeping an open dialogue throughout and working together to get the animals back to their owners. Unfortunately, it doesn't always go that way and the guidance will help our staff manage the times when action is needed."
In recent times, the FES has dealt with 190 cases involving 1,500 animals, mostly in the Borders, Galloway and Dumfries areas.
The new guidance offers a consistent approach to recording incidents.
The NFUS has warned that feral or stray sheep can pose a health risk and could spread diseases like sheep scab.
The sheep at Drumnakyle have no identifying tags or markings. Anyone with information is urged to call the Forestry Commission's Tay office on 0300 067 6380.