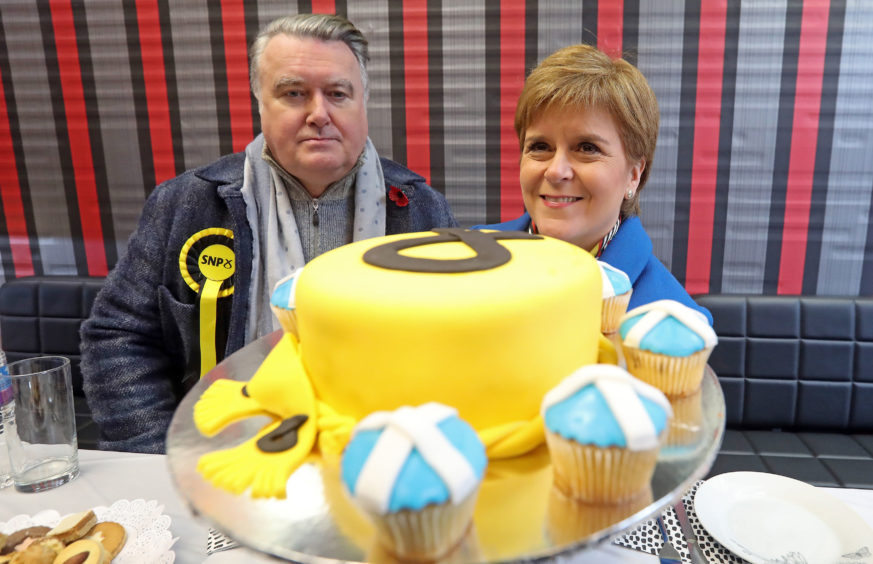 The Tories have accused the SNP of "parachuting" a "reject MP" into Perthshire ahead of the general election.
The nationalist's candidate for Ochil and South Perthshire is John Nicolson, a former MP and journalist who lost his seat to Lib Dem leader Jo Swinson in East Dunbartonshire in 2017.
Mr Nicolson has registered his address ahead of December's vote as being in East Dunbartonshire, leading to claims by the Scottish Conservatives of a "chicken-run" to the east coast.
The SNP said Mr Nicolson had been chosen by the local branch earlier this year.
Mid Scotland and Fife Scottish Conservative MSP Murdo Fraser claimed Mr Nicolson had "no local connections whatsoever."
He said: "Nicola Sturgeon has parachuted a failed ex-MP in to the Ochil & South Perthshire seat, one who has no local connections whatsoever.
"We now know that he lives in the East Dunbartonshire seat which he lost to the Lib Dems two years ago.
"He clearly thinks that the voters there won't want him back, so has joined the chicken run to the east of Scotland.
"If the SNP think that voters in Ochil & South Perthshire will put up with a reject from East Dunbartonshire then they need to think again.
"This constituency has an excellent local champion in Luke Graham who lives here and isn't going anywhere."
An SNP spokesperson said: "The Westminster parties are clearly running scared of the momentum behind the SNP campaign, with a team of formidable candidates selected by local branches who will be strong voices for Scotland at Westminster.
"This is one of the most important elections in Scotland's history, where a vote for the SNP is a vote to escape Brexit and protect Scotland's right to choose its own future."
Mr Nicolson previously told The Courier the most pressing local issue facing constituents in Ochil and South Perthshire was Brexit.
He denied he would be incapable of beating Jo Swinson at the upcoming election, describing her and the Lib Dems as "also-rans"
He said: "(Brexit and independence) are local issues. If you are a farmer to be hit with 40% tariffs its disastrous. It is vital we do not find ourselves in a position we are dragged out of the EU against our will.
"Three or four years ago people were not really focussing on the dangers of Brexit but now we look over the cliff edge people know just how disastrous it will be."
Ochil and South Perthshire was won in 2017 by Conservative candidate Luke Graham, who ousted Alex Salmond Show producer Tasmina Ahmed-Sheikh.
Mr Graham obtained more than 41% of the vote, with a majority of 3,359.