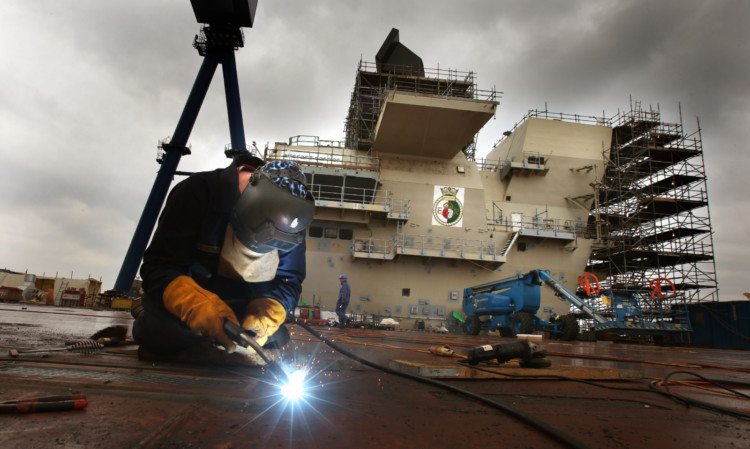 A major trade union split has emerged over threats to let flagship Navy super-carriers "rust at Rosyth".
Glasgow-based GMB Scotland officer Gary Cook vowed to do "whatever it takes" to ensure his job demands are met over Type 26 frigates being built at BAE yards on the Clyde.
That included putting the £6 billion project by the Forth in doubt through strike action but the Unite representative for Fife workers has claimed local employees were never contacted about such radical action.
Raymond Duguid, Unite convener at Rosyth, said: "I've never met Gary Cook. I don't know the man. As far as I'm aware he's never bothered to contact the Rosyth branch about this matter.
"I understand why he is making statements to support his membership on the Clyde but he has membership at Rosyth and elsewhere and he needs to speak for them all. I can understand the anger but we at Rosyth have been dragged into something we have never been connected with."
Mr Duguid stressed that none of his members would cross a GMB picket line if one was to be set up at the Fife site but added the Clyde dispute had no knock on effect for local employment.
The split emerged as Ruth Davidson came under pressure to secure a timetable from her Westminster Cabinet colleagues for the warship work to begin.
The Scottish Conservative leader was urged by the SNP and Labour to use her position to push UK ministers to begin work imminently amid fears of a year-long delay could cost up to 800 jobs.
Mr Cook has said the GMB would effectively hold the HMS Queen Elizabeth and HMS Prince of Wales in Fife, the largest Navy ships ever built, to ransom if a single Glaswegian is out of work.
Defence Minister Philip Dunne has accused the Tories' opponents of making political capital over a "routine meeting" between BAE and the unions ahead of the Scottish election next week.
First Minister Nicola Sturgeon and Scottish Labour leader Kezia Dugdale have both visited the Clyde yards to listen to workers' concerns.
Labour did not respond when asked if strike action in Rosyth was an appropriate response to the Glasgow dispute.
Douglas Chapman, the SNP's Dunfermline and West Fife MP, said: "We cannot allow the UK government to backtrack on pledges – it should not get to the point of industrial action anywhere – the UK government must fulfil the orders in full and on time."
Ms Dugdale said: "Ruth Davidson has to use her position to push Tory ministers to get these ships built with no delay, not simply defend every position they take."