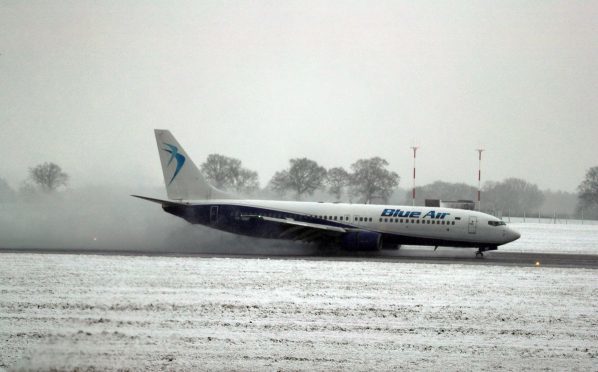 Flights to and from Scottish airports have been cancelled as freezing weather moves into the UK.
Arrivals and departures at Aberdeen, Edinburgh and Glasgow airports have been called off due to the conditions as the country prepares to be hit by a blast of cold air from Russia, nicknamed the Beast from the East.
British Airways (BA) has cancelled a string of flights to all three of the Scottish airports, however the firm has not confirmed if all of these are weather related. A statement on the firm's website said its services would be affected by the "adverse weather conditions" for the rest of the week.
Four services in total – three between Glasgow and Heathrow, and another from the city to Stornoway – have been affected by the weather, as have others between Aberdeen, Durham and Sumburgh.
Easyjet has confirmed two flights between Edinburgh Airport and Munich have been cancelled due to "snowy conditions".
Aberdeen and Edinburgh airports have not confirmed if all the cancellations affecting passengers today are weather related.
Parts of Courier Country could be hit by thundersnow, blizzards and up to 8in of the white stuff on Wednesday, with an amber Met Office weather warning in effect from Wednesday until Thursday.
Full list of cancelled flights so far:
Glasgow to Heathrow (3.25pm) – BA – WEATHER
Heathrow to Glasgow (2.30pm) – BA – WEATHER
Heathrow to Glasgow (6.20pm) – BA – WEATHER
Stornoway to Glasgow (12.10pm) – Flybe –WEATHER
Heathrow to Edinburgh – 12.55pm – BA
Munich to Edinburgh – 3.40pm – Easyjet – WEATHER
Heathrow to Edinburgh – 4.35pm – BA
Edinburgh to Munich – 10.25am – Easyjet – WEATHER
Edinburgh to Heathrow – 1.50pm – BA
Edinburgh to Heathrow 5.35pm – BA
Manchester to Aberdeen – 8.05am – Flybe
Norwich to Aberdeen – 9.50am – Flybe
Heathrow to Aberdeen – 1.50pm – BA
Aberdeen to Manchester – Flybe – 8.50am – Flybe
Aberdeen to Durham – 8.50am – Loganair – WEATHER
Aberdeen to Sumburgh – Logainair – WEATHER
Aberdeen to Heathrow – 2.40pm – BA
A spokeswoman for Aberdeen International Airport said flights between the Granite City and Heathrow had been "advanced cancelled".
BA and Edinburgh Airport have both been approached for comment.
An Easyjet spokesman said: "Like other airlines easyJet is experiencing some disruption to its programme today as a result of snowy weather conditions. As a result We have had to cancel two flights to and from Edinburgh.
"We are doing everything possible to minimise the disruption for our customers including providing hotel rooms and meals for those passengers affected by the cancellations.
"Customers on the cancelled flights have been provided the option of transferring their flight free of charge or obtaining a refund.
"The safety of our passengers and crew is easyJet's highest priority. Whilst this situation is outside of our control we would like to apologise for any inconvenience caused as a result of the weather.
"We would strongly advise that all passengers due to fly with us over the next 48 hours check the status of their flights on its Flight Tracker page at www.easyjet.com/en/flight-tracker for real-time information before going to the airport."
A statement on BA's website said adverse weather would be behind many flight cancellations from Monday, February 26 until Friday, March 2.
It stated: "We are expecting adverse weather conditions across parts of the UK and Europe from Monday 26 February to Friday 2 March and at various times of the week it is likely to affect some of our short-haul and domestic flights.
"We recognise the uncertainty that the bad weather may be causing customers and have therefore introduced more flexible re-booking options for all customers on short-haul flights flying to/from London Heathrow or London Gatwick airports.
"If you are due to travel on a short-haul service between Monday 26 February and Friday 2 March (inclusive), regardless of whether your flight is currently showing as operating or not, you can re-book your flight to a later date and travel on dates up to including Wednesday 21 March. All re-bookings are subject to availability."