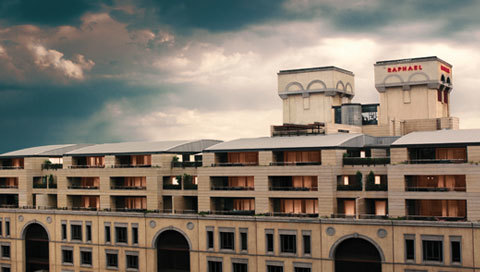 A British banker has been found dead and tied up at his home in an upmarket region of South Africa.
The body of James Starkey, 36, was found at the Raphael Penthouse Suites in Sandton, north of Johannesburg, on October 8.
A worried friend had raised the alarm. Mr Starkey, of Woolwich, south-east London, had been working in South Africa for two months.
Colleagues at Catalyst Development, the London-based financial services consultancy where Mr Starkey worked, have been "shaken and shocked" by the death of their friend.
South African Police spokesman Colonel Lungelo Dlamini could not confirm whether Mr Starkey had invited someone into his home or if he had been burned and strangled.
He told the Press Association: "He was found dead at his apartment with his hands tied up.
"At this stage we do not know what the motive was for the killing.
"No one has been identified as the suspect. We have made no arrests.
"He was found by his friend."
A post-mortem examination has taken place but the police are still waiting for the results.
A Catalyst Development spokesman said: "We regret to confirm that one of our staff, James Starkey, was found dead in his apartment in Johannesburg on 8th October. He had been in South Africa for two months.
"His death is being investigated by the South African police service. We are deeply distressed and offer our most profound condolences to his family. Our staff are shaken and shocked.
"We have offered our full assistance to the authorities. We will not comment on any matter affecting the official investigation into what has happened; our concern is for our colleague's family and friends and for our own staff in dealing with this dreadful event.
"We are all mourning the loss of our colleague James Starkey. On behalf of the entire company, I offer our deepest condolences to his family and friends."
Mr Starkey had family ties in Australia. In a statement to the Sydney Morning Herald, the family said: "Words cannot describe how devastated we are.
"James lived life to the full and certainly had everything to live for, having recently become engaged and planning to return to settle in Australia in the near future."
Police said they are waiting for confirmation of the cause of death and to pass on the details to Mr Starkey's family.