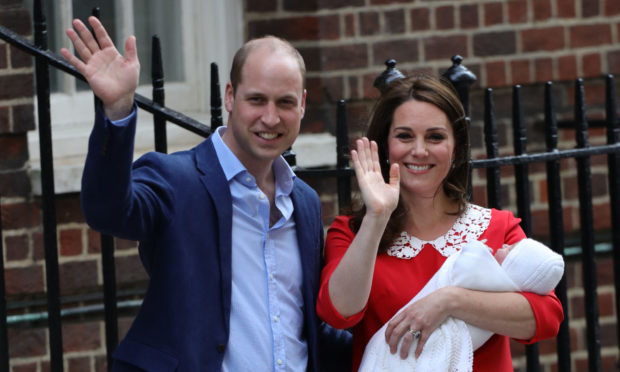 These are the first images of the Duke and Duchess of Cambridge's third child.
Emulating the birth pattern of the Queen and Philip's first three children, William and Kate have had a son, a daughter and now another son.
The couple, known as the Earl and Countess of Strathearn in Scotland, smiled to the press as they emerged from the Lindo Wing of St Mary's Hospital in Paddington, London, just before 6pm.
Hundreds of royal well-wishers gathered at the gates of Buckingham Palace this afternoon, as news of the new prince's arrival was announced in a tradition which stretches back to the 19th century.
The crowd waited patiently for the formal notice of the arrival of the fifth in line to the throne, which involves the presentation of a bulletin, placed on a golden easel in front of the palace.
The ritual dates back to at least 1837, when Buckingham Palace became the sovereign's official residence.
At 2:30pm senior footman Olivia Smith and footman Heather McDonald strode across the gravel at the front of Buckingham Palace to the roar of a delighted crowd, and placed the notice on the easel.
The bulletin had details of the birth, including the 11:01am delivery time as well as the signatures of the senior medical team who cared for the Duchess of Cambridge.
The notice read: "Her Royal Highness the Dutchess of Cambridge was safely delivered of a son at 11:01 today. Her Royal Highness and her son are both doing well."