VIDEO: Last moments of Perthshire climber killed in Himalayan avalanche captured on film
The last moments of Perthshire climber killed in a Himalayan avalanche have been captured on film.
Rupert Whewell, whose family is from the Aberfeldy area, was among eight climbers swept away from a ridge between two glaciers, at an altitude of 17,650ft, near Nanda Davi in May.
Rescuers have recovered seven of the bodies and also discovered a GoPro camera, which was carried by the final climber in the line, buried in the snow nearby.
An edited version of the footage captured by the camera has been released by the Indo-Tibetan Border Police (ITBP).
The video, above this story, shows the group preparing for a climb in the semi-darkness before cutting to a shot of the team of four Britons, two Americans, an Australian and their Indian guide roped together in bright daylight on a snow-covered mountainside. The screen then goes black.
'It was mesmerising for us to see the footage,' said A.P.S. Nambadia, the border police inspector general who planned the operation to retrieve the bodies.
'Suddenly we noticed a loud noise. The video went blank and stopped.
'It will help us to analyse what went wrong with their mission. The GoPro has proved to be like the black box of an aircraft giving an insight into the last few moments of the climbers.'
It is believed the avalanche may have been triggered by the weight of the eight climbers walking on fresh snow.
Seven bodies were spotted by a military helicopter on June 3 and the ITBP sent a team of rescuers in on foot after attempts to airlift them from the mountainside failed due to poor weather.
The eighth climber, British team leader Martin Moran, is still missing.
Mr Whewell's body is set to be returned to the UK in the coming days.
His sister Lisa Anson  has previously said that the wait for news had been "devastating" but praised rescuers' efforts.
She described her brother, who lived in London and was managing director of executive search firm Bateman Gray, as an experienced climber who was "on the trip of a lifetime" to mark his 50th birthday.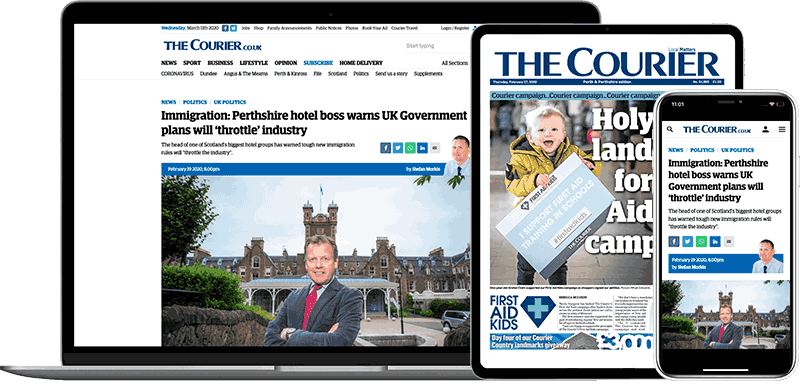 Help support quality local journalism … become a digital subscriber to The Courier
For as little as £5.99 a month you can access all of our content, including Premium articles.
Subscribe