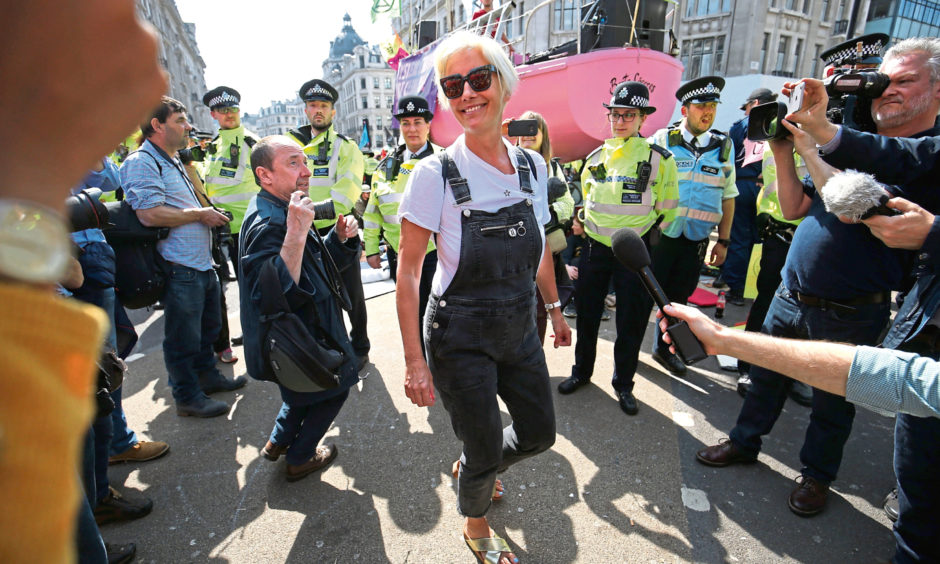 Of all the dubious causes raising hackles over the hot Easter holiday, perhaps the climate protesters, mainly in London but also popping up in Edinburgh, were the least obviously obnoxious.
Unlike shouty Brexiteers, or rude Scottish Nationalist bloggers, who demand independence from their safe havens in Bath, Extinction Rebellion, the latest green breakaway group, is mostly mild mannered.
And when we are affronted by threats to life and liberty – from the New IRA or the Islamic terrorists who struck Sri Lanka on Easter Sunday killing more than 320 people – a ragbag of eco doom merchants seems a bit of harmless fun.
By most accounts, the London blockaders are courteous and when the police arrest them, they go quietly. They prefer mindfulness and meditation, yoga and dancing in the streets to hurling missiles (as Yes campaigners did at then Labour leader Jim Murphy in 2014).
They perform classical music after their sit-ins or die-ins and, as I write, they are planning a feast at Marble Arch – "bring blankets, cushions and throws".
Their figureheads are a molecular biophysicist, an Oscar-winning actress and an Olympic rower called Etienne. What's not to like?
For an answer to that we should go first to the officers of the Metropolitan Police, who had to cancel all leave over Easter.
As Mayor of London Sadiq Khan said, overstretched Scotland Yard resources have been diverted from tackling violent crime.
Some 9,000 police officers have been deployed over the past week, to Oxford Circus, Waterloo Bridge and, on Monday, the Natural History Museum, and more than 1,000 arrests have been made.
The cheerleaders of Extinction Rebellion would call that a triumph, as getting themselves arrested is a ploy to raise their profile.
However, drawing attention to a cause does not necessarily advance its aims, which in this case include getting the government to declare a "climate emergency".
Hundreds of thousands of commuters blocked from public transport routes, and the owners of shops and restaurants, who lost millions in takings over the Easter break, have every right to be angry.
Today show host Nick Robinson spoke for many ordinary working people when he clashed with the co-founder of Extinction Rebellion, Gail Bradbrook, after she said she was having an "awesome time" and implored people to skip work to join in.
People trying to go about their daily lives were not having a good time, said Robinson. "They don't, frankly, have the privilege to choose when they can go to work. They may not have that privilege and they may not really appreciate you telling them they'd have fun doing it."
On the whole, Britons are a forgiving lot, and even maverick movements, provided they are benign, are normally afforded some respect.
But tolerance for the climate mob must be testing the patience of the majority of the population – people without a private income, with bills to pay, families to feed, children to collect from school, meetings to attend, and bosses to please.
Only the largely white, middle-class protesters, possibly with little else to worry about, would insist the government prioritises greenhouse gases over, for instance, homeland security, the health service, or the future of our trading relationship with Europe.
And only very rarefied celebrities such as Emma Thompson, "far too old" at 60 to handle long haul in economy class, would have the brass neck to fly 5,400 miles from Los Angeles to London to save the planet, and then say they carry wooden cutlery to offset their carbon emissions.
As former Labour MP and shadow environment minister Tom Harris pointed out in a newspaper article on Saturday, the Extinction Rebellion activists are picking the wrong target. The UK leads G7 nations in reducing its carbon footprint.
Britain's emissions over the past century are the equivalent of less than a single year's emissions from modern-day China, he wrote.
Greens risk losing the public's sympathy for the environmental agenda when their grievances are overplayed and their tactics disruptive.
The Green MP Caroline Lucas spoke of the "moral courage" of her fellow eco warriors, but they are hardly pushing against oppression or challenging social convention.
British politicians tend to trumpet their green credentials as American politicians boast their religious observance.
A little bit of green goes a long way, but it is only the precious few who can afford to make it their main preoccupation. That is why the Green Party garners a dash of votes in elections, but comes nowhere near threatening the mainstream parties.
If Extinction Rebellion represented public opinion in this country, the self-styled neo pagan Bradbrook might be a Downing Street contender.
Because she isn't, by some considerable distance, she is dismissed as dotty, but not dangerous. However, enough is enough.
Parliament is back this week, as is Brexit, and there is serious work to be done. It's no place for a rebel.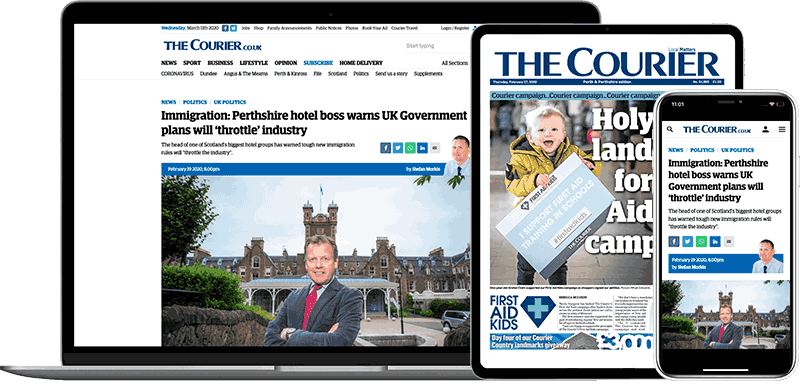 Help support quality local journalism … become a digital subscriber to The Courier
For as little as £5.99 a month you can access all of our content, including Premium articles.
Subscribe