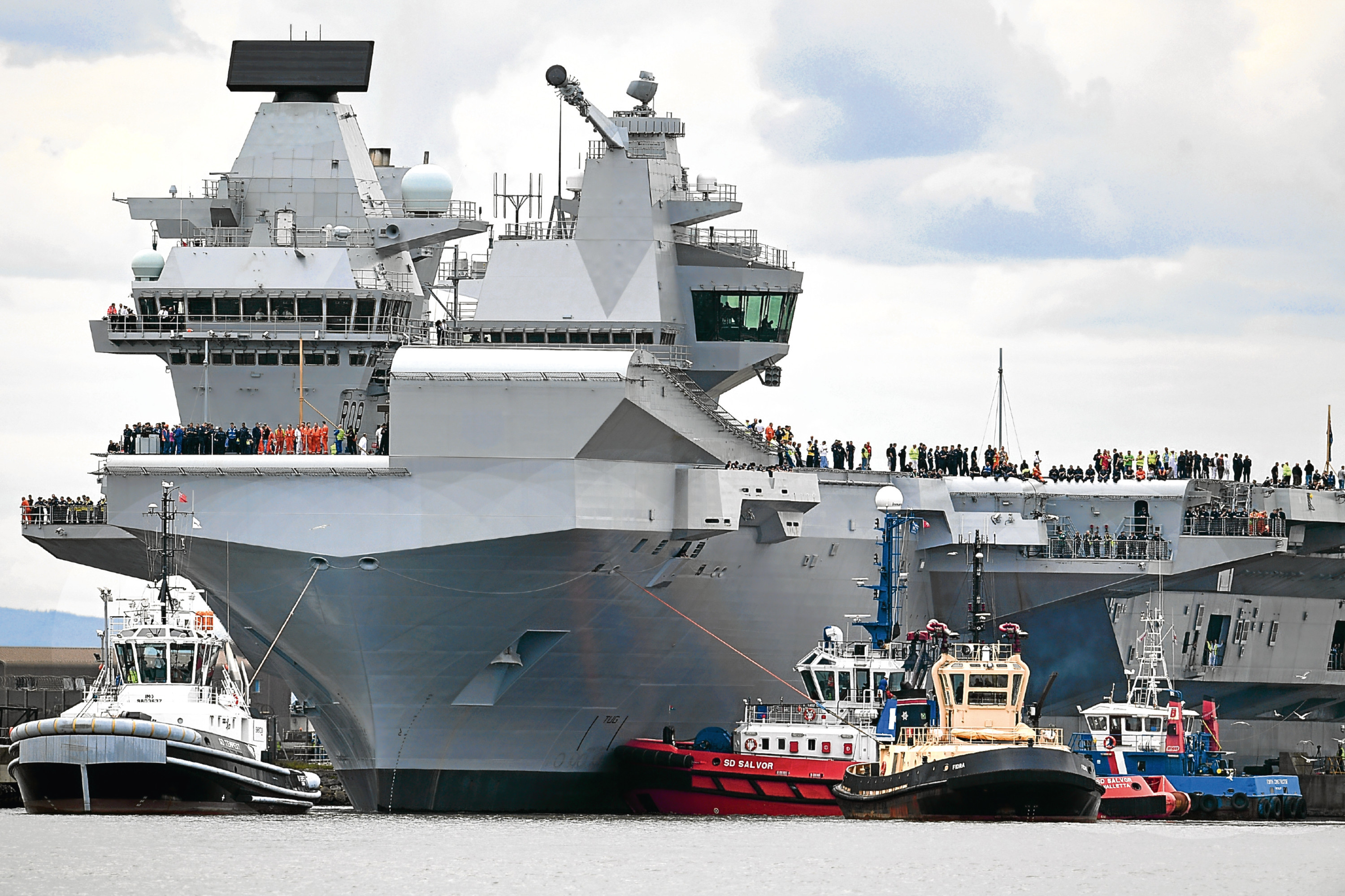 Sir, – BBC Reporting Scotland made very little of the start of the sea trials of one of the largest aircraft carriers in the world, and which was partly built in Scotland.
On June 30 and July 1, Sally Magnusson and Sally McNair briefly reported that the Scottish Government expected to avoid being fined by the EU for not meeting the EU rules on payments to farmers.
On July 2 Ms McNair, in a couple of sentences delivered in almost funereal tones, announced that three Royal Navy warships were to be built in Scotland.
There was no mention of how much of a boost these ships would be to the Scottish economy, with thousands of shipyard workers' jobs being guaranteed as well as many thousands more in the supply chain and the local communities.
There was no mention that the avoidance of the EU fine regarding late farmers' subsidy payments will be due to UK, the member state in which Scotland is included, having met 99.2% of payments.
The warships would not have been built in an independent Scotland, and if it was a member of the EU it wouldn't have escaped the fine.
These are simple and obvious examples of the advantages that come to Scotland by being part of the UK, and it troubles me that there appears to be a reluctance in the BBC in Scotland to report in full aspects of the news that simply tell the whole story.
Donald Lewis.
Gifford,
East Lothian.

Maybe tomorrow they'll get it right
Sir, – I find your correspondent Keith Howell's comment on Scotland and the economy nonsensical.
If Scotland while in the UK is near to recession then that's a good reason for independence as it shows the union doesn't work.
Scotland can't be judged on its economic performance until it controls all economic levers.
The Scottish Government can't lower corporation tax to entice business to locate here, it can't lower VAT to bring in more tourists, it can't reduce fuel duty to help haulage firms and businesses transporting their products.
In fact, from the 16 economic levers required to run a country, Scotland has control of two of them.
The cause of Scotland being in a mess is more likely because we are attached to the UK, which was recently named the worst performing major economy on the planet.
Perhaps Keith Howell thinks we should give Westminster another 300 years at the helm to see if they get it right eventually.
Rod Selbie.
45 Silver Birch Drive,
Dundee.

Time for action against big six
Sir, – The energy market has been viewed year upon year as a rip-off.
Successive governments have agreed it needs regulation and change – strong on words but weak on action.
Indeed, it appears that the big six suppliers have become something of a cabal that sets tariffs and which one of them will raise their prices first – almost as if they are on a rota.
That it is how it is currently perceived.
Ofgem has done little to address what is agreed by all as excessive charging, and inevitably it is the weaker and poorer members of society who suffer, to the extent that heating has become more of a luxury, than a necessity.
It seems Ofgem's only action at the moment is to plan a cap on prices to help the most vulnerable.
The level of this capping is, of course, vague at this juncture and may well prove to be a mere token gesture.
Surely if Ofgem cannot be trusted to implement radical change then it must be replaced by a more proactive, reactive and robust body, backed fully by whatever government is in power.
However, in the interim there are far better deals out there from smaller utility companies waiting to be accessed.
Switching to the latter and the loss of customers therein will do much to concentrate the minds and actions of the big six and curb their obscene obsession for perpetual price increases in the interests of shareholders.
David L Thomson.
24 Laurence Park,
Kinglassie.

Time to move on over Iraq
Sir, – Why did Sir John Chilcot decide to criticise Tony Blair in a television interview about his report on the Iraq War(Courier July 7)?
It seems that the BBC wanted to stir some further controversy on the first anniversary of the publication of his report into the matter.
It was a report that he took seven years to produce, told us very little about the conflict that we did not already know, and even failed to give Mr Blair's detractors enough ammunition to take him to an international court.
It was in many ways a pointless exercise. A report of this kind could not possibly bind the actions of a government that felt it necessary to take the nation to war. Trying to be too prescriptive about how the government should act would simply play into the hands of a potential aggressor.
That aggressor may indeed have little respect for the international codes of how war should actually be prosecuted.
SNP foreign affairs spokesperson Stephen Gethins wants to see 'accountability' for the way Mr Blair acted. He has already been held accountable, firstly to parliament who approved intervention in Iraq in 2003, secondly to the voters who gave him a majority in the general election of 2005, and thirdly to his party who decided to ditch him in 2007 with singular lack of foresight.
Even Mr Gethins' predecessor Alex Salmond has conceded that there is little prospect of using the Chilcot report to litigate against Mr Blair. It is time to move on, learn some lessons certainly, but to reject the pointless posturing about whether an elected prime minister acted wisely in taking the country into conflict.
Bob Taylor.
24 Shiel Court.
Glenrothes.

Start blaming the real culprits
Sir, – Like Karen Heath (Letters, July 3), I also think it is shameful that the Royal Bank of Scotland is closing down jobs in Scotland and creating "Business Banking" units in India.
That being said, this bank has long destroyed any credibility in small-business banking support, having centralised all decision-making in data centres that rely on computer-based quantification for any decisions and where it is well-nigh impossible to find any one person to talk to, who understands who you are, where your business is based or what it actually does.
It is also the same bank that is busy closing all of its branches in the East Neuk of Fife, leaving small businesses and shopkeepers unsupported, despite the East Neuk being trumpeted as a key tourist attraction by the Scottish Government.
However, Karen makes the common error of blaming the Tories for the dire state of UK banking that led to the crash of 2008.
In fact, it was a Labour government that deregulated the banking system and removed regulator controls from the Bank of England for purely political purposes, giving a watered-down version instead to the Gordon Brown creation, the FSA that was totally useless and which no longer exists.
Banks are an essential part of our national economy.
The great mistake that was made, following the Labour government's intervention, was that banks ignored their UK domestic market in favour of the various international "get-rich-quick" schemes favoured by Fred Goodwin and others like him, and which were never regulated by the FSA, and in which our domestic bankers had absolutely no experience.
They were playing poker with card-sharps.
Such are these misconceptions, that pretty soon, we'll be blaming the Tories every time it rains in Scotland!
Derek Farmer.
Knightsward Farm,
Anstruther.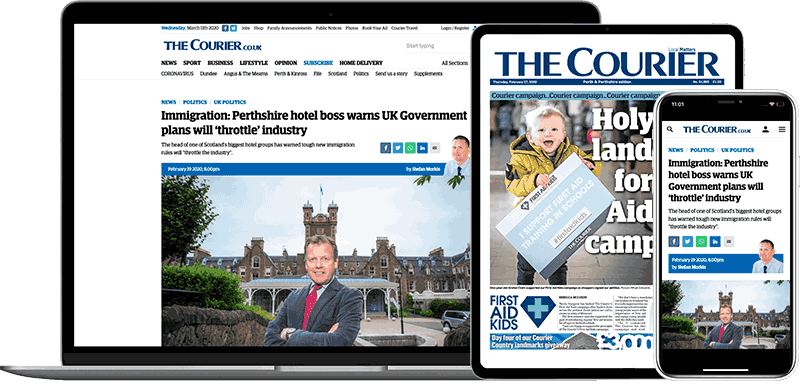 Help support quality local journalism … become a digital subscriber to The Courier
For as little as £5.99 a month you can access all of our content, including Premium articles.
Subscribe