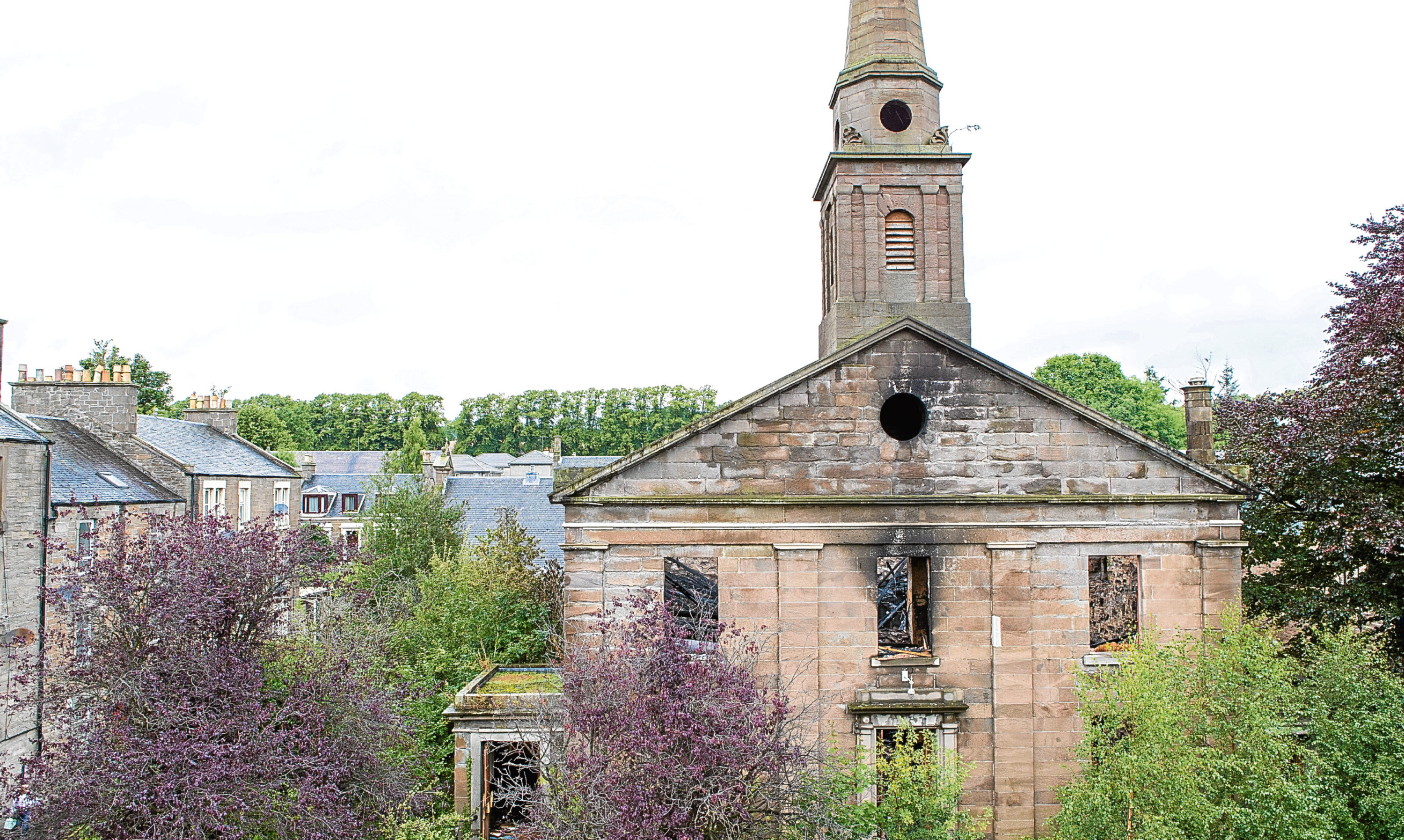 Sir, – The fire on Monday evening at a prominent Lochee church building is a devastating end to the history of a building which began life in 1830 as Lochee Chapel of Ease.
During its history, it accommodated worshipping Christian congregations under several names.
Most recently, from 1985 to 2006, it was known as Lochee Old and St Luke's Church. The congregation then merged with that of Lochee West Church to become Lochee Parish Church.
The loss of Lochee Old Church will be felt by many members of the current congregation, and others in the Lochee community who will have memories of events which took place in that splendid building.
For those who would like to share and record their memories there will be an opportunity do so on September 16 and 17 when Lochee Parish Church, at 191 High Street, will be taking part in Doors Open Day.
Visitors will be able to find out about Lochee Parish Church building's past and the plans for its future.
Photographs of old Lochee and events in Lochee churches will be on display. All visitors will be very welcome.
Una Milne.
Elder,
Lochee Parish Church,
3 Eassie Terrace,
Dundee.
Mixed blessings from clergy
Sir, – Regarding the opening of the new Queensferry Crossing over the Forth on Monday past, I am constantly surprised by the apparently obligatory appearance of clergy at the official opening or hanselling of a huge variety of things.
In recent years clergy across the United Kingdom have "blessed" bridges, tractors, fields, pets, a circus big top, a Great Yarmouth ale and even a Cumbrian sewage plant but still they seem to have a problem blessing two gay people who love each other.
It seems their Lord does indeed move in mysterious ways.
Alistair McBay.
National Secular Society,
5 Atholl Crescent,
Edinburgh.
Make antidote more available
Sir, – I have already written about the problem with adders in Scotland and the damage they do to working dogs, sheep and cattle.
Last weekend was a classic. I had three working dogs bitten on the same day in the same area and there was a lack of antivenom.
I had a dog bitten two years ago and could not find any antivenom because the EU banned the Zagreb vaccine and the replacement antivenom, ViperaTab, was in short supply and only available to the NHS in the UK.
I purchased an adult dose in Sweden as a future insurance and had my vet get an import licence. This has been held in a controlled environment since.
It was all used on Saturday morning and none available for the third working dog in the afternoon. It went to Glasgow for intensive care.
The NHS hold ViperaTab antiserum at all accident and emergency departments. I believe they then destroy most of the product as it passes its sell-by date.
They will not release to a vet and the use-by date is challenged by many. The product can be kept in a temperature- controlled environment.
Why can our medical services not get together and work out a way forward? It might even help to fund some of the NHS shortfall and stop unnecessary suffering or death of working dogs and pets.
George Sangster.
Woodlands,
Logie,
Montrose.
Foxes must be controlled
Sir, – I refer to the letter from James Davie of Dundee concerning his abhorrence of field sports (September 1) that reads as more of a rant against "posh boys", than a reasoned argument for wildlife conservation.
He omits to mention a number of things.
Firstly, the birds that are shot are not thrown away. They are consumed by diners in hotels and restaurants which contribute to the tourism industry on which the Scottish Government relies on.
What is the difference between eating birds that are shot and the cattle, lambs and pigs that are similarly despatched in abattoirs?
In supporting Jim Crumley's position which seems to be to turn Scotland into a ramblers' paradise, there was no mention of the fact that the landscapes of Scotland, so admired by tourists and ramblers, are sustained by the landowners of whom Mr Davie is so critical.
The maintenance of landscape is expensive, so if we ban field sports and the landowners suffer drops in income, who is going to oversee and pay for the landscapes we enjoy?
It will not be the Scottish Government, already running a £15 billion deficit to fund public services.
On the fox-hunting issue, this is a further emotive outburst that ignores the fact that foxes have to be controlled, otherwise their predation of ground-nesting birds, domestic poultry and new-born lambs will grow apace.
Derek Farmer.
Knightsward Farm,
Anstruther.
Will SNP take credit for fibre?
Sir, – So the UK Government is to spend £10 million on piloting full-fibre broadband in Aberdeenshire and five areas in England.
So how will the SNP manage to take credit for this in Scotland?
Or will First Minister Nicola Sturgeon somehow or other manufacture it into another anti- Westminster, anti-UK grievance? Come on Miss Sturgeon and your team of taxpayer-funded spin-doctors, put your backs into it, you can do it.
Martin Redfern.
Woodcroft Road,
Edinburgh.