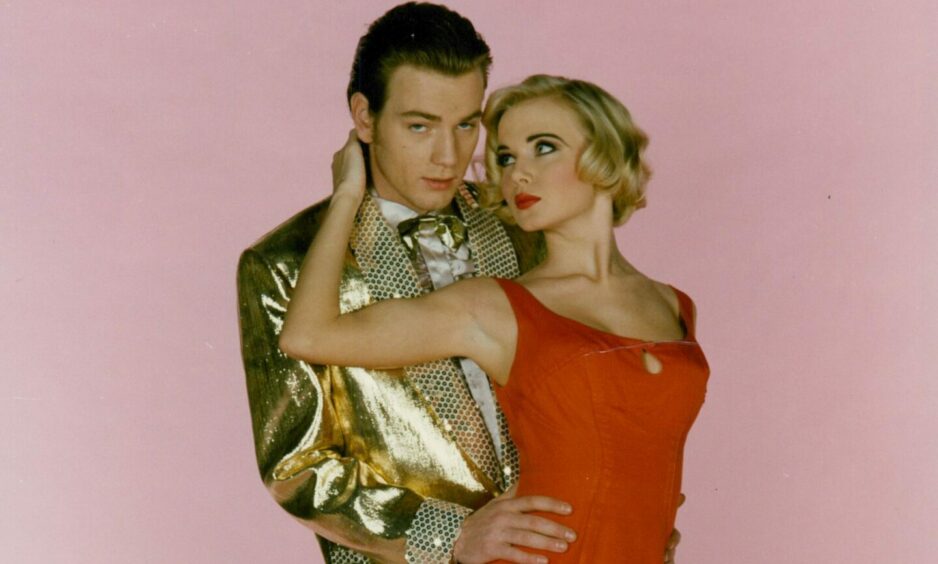 Star Wars icon Ewan McGregor used to do Elvis impressions for his parents when he was a boy in Crieff.
So it was no problem for him to swivel his hips and curl his lip when he was cast in TV's Lipstick On Your Collar.
The Scot channelled the King, same as before, just with a far bigger audience.
The Dennis Potter show was a huge hit in 1993.
The aspiring actor had left the building and a star was born — one destined for a galaxy far, far away.
How did it all begin?
The Crieff-born actor —as he is always known in Scotland — landed his first starring role when he won the part of David in a church play of David and Goliath.
There was just one problem.
He was aged four and couldn't read his lines!
Parents Jim — a teacher at Crieff's Morrison's Academy — and Carol — deputy head of King's Park School in Dundee — helped him memorise little shepherd boy David's lines.
McGregor went on to wow the audience at the local church.
He wanted to be an actor from an early age because his uncle Denis Lawson would cruise into Crieff from London wearing a sheepskin coat and driving a Cadillac.
McGregor was starstruck by his "hippy" relative.
Little wonder.
Here was one of Scotland's best actors.
Lawson was X-wing pilot Wedge Antilles in all three films of the original Star Wars trilogy and played Gordon Urquhart in Bill Forsyth's 1983 film Local Hero.
Lipstick On Your Collar big break for Ewan McGregor in 1993
Jim and Carol let their son leave Morrison's Academy at 16 with four O-Grades to become an actor and he joined Perth Repertory Theatre as a humble stage hand.
McGregor was paid £50 per week and there was plenty of opportunity for him to analyse and people-watch the actors stage-side before he began in earnest himself.
With guidance from his famous uncle, McGregor took a one-year acting course at Kirkcaldy College of Technology.
Then, aged 18, he left Scotland for London's Guildhall School of Music and Drama and got his big break as Private Hopper in Channel 4 series Lipstick On Your Collar.
Set during the Suez Crisis of 1956, it follows Hopper and Francis, two young clerks at Whitehall's Foreign Office who yearn for girls, rock music and romantic entanglements.
To stave off the boredom of translating Russian documents, Hopper ends up creating daydreams in which his work colleagues burst into song.
One stand-out-scene was McGregor lip-syncing and dancing to Elvis.
McGregor the actor was now about to take the great leap forward in his career — with a turn in the show that saw his father Jim looking back to McGregor the youngster.
Jim said afterwards: "Ewan never put on plays or anything when he was younger.
"But he was always a great mimic – he loved doing Elvis.
"So it was funny to see him in Lipstick On Your Collar on Channel 4 when he gets up on the desk in a gold lame suit and does Elvis.
"I've been seeing him do that since he was a wee boy."
The Courier reviewed McGregor's acting debut in what was Dennis Hopper's final serial and suggested "stardom could be on the cards" for the-then 21-year-old.
It read: "Acting, singing and even impersonating the greats of the fifties showcase the talents of a young actor with the profession in his blood.
"Ewan has the great advantage of being able to play several musical instruments, including the guitar, French horn and drums, so much of the music for Lipstick On Your Collar was well within his capabilities.
"One of his earliest appearances on television, before acting became his profession, was as a young musician on Grampian TV's A Touch of Music, while he was a pupil at Morrison's Academy in Crieff."
From Grampian to Graceland — McGregor never looked back.
He next emerged on the big screen as a young Edinburgh journalist in Shallow Grave.
He followed this up by appearing in several films including a career-defining role in Trainspotting, Brassed Off, The Pillow Book and A Life Less Ordinary.
Taking Potter's advice, he didn't always go for the big role.
He seemed to go for the role he could make into something big and was becoming Scotland's first major movie star since Sean Connery stirred audiences as James Bond.
Acting masterclass in Crieff
Morrison's Academy pupils asked him for acting advice in February 1997.
Who better to call?
He was happy to take the time to come home and delivered a drama masterclass to the cast of the school's upcoming production of The Adventures of Tom Sawyer.
The visit attracted swarms of national newspaper and TV reporters with McGregor being hotly tipped to play a young Darth Vader in the prequel to the Star Wars trilogy.
There were no airs or graces and McGregor was notoriously down-to-earth.
The Evening Telegraph reported: "The scene the star and his proteges were rehearsing this afternoon was the graveyard murder scene where Injun Joe stabs Doc Robinson.
"Teacher and play producer Patrick O'Kane joked Ewan is particularly suited to helping out, because he appeared in a very similar and equally gruesome scene in Shallow Grave."
McGregor spoke about his own first role in Lipstick On Your Collar, which gave him a "major foot in the door" and where he "learned about cameras and being on film sets".
He said: "Dennis Potter gave me some really good advice about looking after your talent and how not to rush into things and not always pick the first thing that comes your way.
"When I was a kid I spent a lot of my time being Elvis Presley.
"There's something about his movies, the fact that they're so bad.
"But he was this cool guy that always had a good time and beautiful women."
Ewan McGregor spoke about Crieff childhood
McGregor described being back at his old school as "weird – really weird" and said the buildings seemed smaller than they used to be and the atmosphere much more relaxed.
McGregor said his fondest memories of Crieff were of the countryside – playing SAS games and getting up to no good with his friend Eric Strickland in the summer holidays.
They would leave home at 8am in the morning and stay out until 6pm at night.
The whole day was spent building dens, catapulting fir cones at people and hanging up dead rabbits where they would hit pony trekkers in the face who were riding past.
He stressed the fir cones were mushy ones!
One thing he said he was not likely to do was move back to Crieff from London, although he did have a fantasy about buying Keillour Castle in Strathearn.
McGregor said he would get his parents to run the place!
He was destined for a setting light years away from the stunning landscapes of Perthshire when he took the role that helped turn him into a global superstar.
McGregor played Jedi Master Obi-Wan Kenobi in the prequel trilogy of the hit movie series from 1999 to 2005, a role originally made famous by Sir Alex Guinness in 1977.
He returned to the role in a new Star Wars TV series for Disney+ in 2022.
In between he has enjoyed a career of real variety with movies like Velvet Goldmine, Little Voice, Moulin Rouge!, The Ghost, The Impossible and Christopher Robin.
One thing has never changed — his love for Crieff.
For McGregor, it's still a home fit for a King.