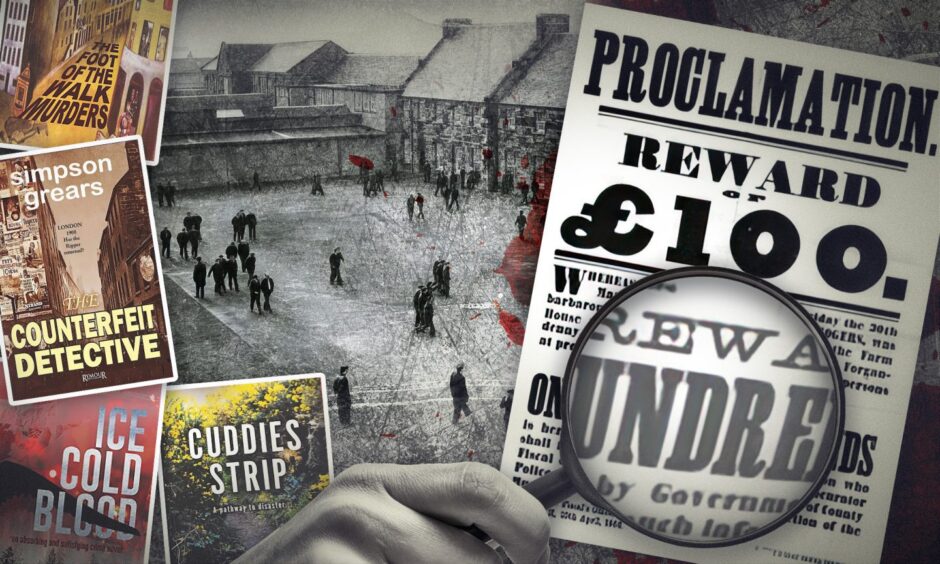 There are grim episodes from Perth's past which show the Fair City can be no mean city.
Perth prison housed Napoleon's lost legions and some of Scotland's most notorious criminals.
Safe-cracker Johnny Ramensky and murderer and rapist Robert Mone are but two of the many infamous convicts who were penned in Perth.
An axe killing and a rape and murder are just some of the shocking and violent crimes lurking in the city's dark past.
And they make Perth the perfect setting for a mini crime-writing festival.
Rymour Books and Tippermuir Books, Perth's two publishing companies, will jointly host Perth Noir on Saturday November 18 at the Subud Centre, St Leonard's Bank.
The best-selling book, No Fair City, was written by Gary Knight, who runs History & Horror Tours, and will also feature in a bonus session at the festival.
In that book, published by Tippermuir in 2017, Gary describes how gangs armed with small lead coshes tied to their wrists would roam the Perth streets after dark.
These gangs would lie in wait, ready to pounce on anyone merrily making their way home from the city's drinking establishments unaccompanied.
Young boys who sold pies around the various inns and taverns would act as paid informants to the gangs.
They would tell them who was in the tavern, how much they were drinking, and when they were getting ready to leave, making them suitable prey for the robber gangs.
Thankfully, improved street lighting was introduced in 1782, making the streets of Perth much safer.
Napoleon's lost legions in Perth
The £130,000 Perth prison was built between 1811 and 1812 and its original purpose was to accommodate 7,000 French prisoners from the Napoleonic wars.
By December there were 4,626 prisoners in Perth and by January 21 1813 there were 6,788, which was only 12 less than the building was designed for.
The sailors, who included privateer captains and crews, were, by the nature of their calling, a daring and resourceful bunch.
There is only one recorded instance of a successful getaway from the country by sea, when three men got out over the wall on a foggy January morning.
They reached Broughty Ferry and, down at the waterfront, the trio on the run managed to steal the fishing boat Nancy and sailed away to possible freedom.
The prison was converted into a general prison in the 1840s.
Among the list of famous prisoners housed there over the years was Johnny Ramensky, a Lithuanian war hero, safe-cracker and escapologist who was there from 1971-1972.
The most infamous murder to have taken place in or near the Fair City was the axe slaying of Janet Rogers at Mount Stewart Farm near Forgandenny on March 30 1866.
Janet, who was a married mum-of-five, travelled to the farm of her brother, William Henderson, to help with chores while he looked for a new domestic servant.
Three days later she was dead.
Henderson's ploughman James Crichton was suspected of the murder but the evidence was only circumstantial.
The trial jury in Perth took just 12 minutes to return a verdict of "not proven".
The investigation into Janet's death went cold and it remains one of the UK's oldest unsolved murders.
Rob McInroy has taken some of Perth's true crime history as inspiration for his series of crime novels featuring Inspector Victor Conoboy, a veteran officer, and Constable Bob Kelty, a new young recruit.
The true crime in question, a shocking rape and murder, took place on August 14 1935 at Cuddies Strip, a lover's lane on the outskirts of Perth, the title of McInroy's first book.
Two young sweethearts, Danny Kerrigan and Marjory Fenwick, walk home along the Cuddies Strip. Suddenly, two shots ring out.
Eighteen-year-old Danny slumps to the ground.
Seventeen-year-old Marjory flees, but is chased, caught, and brutally assaulted.
What follows is an investigation which shook the quiet city of Perth.
The local rural police force treat Marjory with suspicion, subjecting her to humiliating medical and legal inquiries.
The community shun and ignore her.
Only two policemen believe and support Marjory – together, they conduct a dogged and determined investigation, navigating the weeds of ingrained prejudices and bias to pursue the offender and catch him before he strikes again.
Cuddies Strip vividly envisions the beautiful Perthshire countryside, the city itself as it was in the 1930s, and the final dramatic denouement set in a grand Edinburgh court.
His second Perth-based crime novel, Barossa Street, is the sequel to the Crime Writers' Association Dagger long-listed Cuddies Strip.
He is one of the five writers who will feature at Perth Noir.
Rymour Books, on the other hand, has published Scottish Canal Crimes, in which author, T A Stewart, a journalist and historian who has studied the social history of crime in the 19th and early 20th centuries, takes a murky look at canals, from the Highlands to the Lowlands.
He reveals how assailants and thieves, and even kidnappers and terrorists, have been drawn to the waterways to practise their black arts.
From Yorkshire Ripper to Sherlock Holmes
The award-winning journalist and successful novelist, Ajay Close, will chair the sessions at Perth Noir.
Ajay is well-known for her novel, A Petrol Scented Spring, about the suffragettes held in Perth prison and was the Perth Writer-in-Residence from 2005-2010.
Her latest novel, What Doesn't Kill Us, which is based in Leeds at the time of the Yorkshire Ripper murders, is published by Saraband in February of next year.
Simpson Grears is a Perth-situated crime writer who has chosen to locate his Gothic literary crime thriller, The Counterfeit Detective, in late Victorian London and in 1970s England, Scotland and the US.
An American professor discovers the diaries of John Ledbury, known as the counterfeit detective, a minor poet who, in Victorian London, is employed to reply to the mail that comes addressed to Sherlock Holmes at 221b Baker Street.
Through the diaries he unearths a series of baffling unsolved murders.
Grears is also known for his collection of detective short stories set in Edinburgh.
Also on the bill at Perth Noir is David W Millar, a retired physics teacher with many years' service at Perth High School.
Millar has published two books with Tippermuir, the thriller, A Chocolate Soldier, and the crime novel, Ice Cold Blood.
In an earlier existence, Millar made a living out of writing greeting card copy and has over 300 cards to his name.
Ice Cold Blood concerns a naked woman's body being found in the remnants of a snow-hole dug on Ben Nevis with an ice axe embedded in her skull.
Alongside traditional crime writing, Perth Noir will feature some poetry from poets associated with Perth and Kinross, through birth, residence or inclination, each of whom were commissioned to write a poem about a classic crime movie.
Several of the poems will feature in a session entitled, The Poetry of Crime, which will be hosted by Andy Jackson, who recently edited a collection of poems about the county, Perthshire 101, which was published by Tippermuir.
Themes ranged from Schiehallion to the Broxden Roundabout; from Neil Gow to Ewan McGregor; and from the Meikleour Hedge to the Murray's Pie.
---
Perth Noir takes place on Saturday November 18 from 3-6pm, at Perth Subud Centre, St Leonard's Bank, with tickets costing £7.50, available from Eventbrite (Search 'Perth Noir').