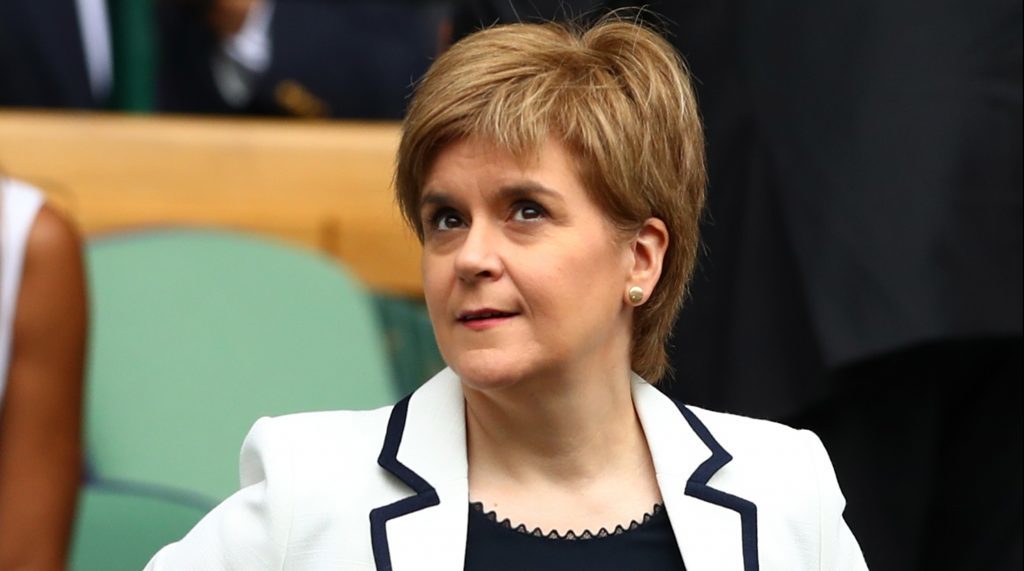 Nicola Sturgeon pilloried the Tory Government's "cloud of secrecy" over Brexit as she warned the Prime Minister not to water down Scotland's role in negotiations.
The First Minister told MSPs she refuses to be "window dressing in a talking shop" for the UK-wide development of its bargaining position with Brussels.
Theresa May said earlier that she would not offer a "running commentary" over the UK Government's position on Brexit when the SNP's leader in Westminster Angus Robertson asked her twice if she wanted to stay in the EU's single market.
Delivering a statement to Holyrood on the EU, Ms Sturgeon said: "The Scottish Government will not be window dressing in a talking shop to allow the UK government to simply tick a box. We expect to have – along with other devolved administrations – a role in decision making.
"We expect our engagement to be meaningful. That was the commitment given by the Prime Minister and one I am sure this parliament expects to see delivered in full."
One of Theresa May's first actions as Prime Minister was to visit Ms Sturgeon at Bute House and tell her she would be "fully engaged" in developing a UK-wide approach for Brexit objectives and negotiations.
Mrs May was asked by Mr Robertson at Prime Minister's Questions yesterday if she favoured staying in the single market after she distanced herself from her Brexit minister's comment that continued membership of the free trade zone was "very improbable".
The PM told MPs that she was seeking "the right deal", but added: "We will not take decisions until we are ready, we will not reveal our hand prematurely and we will not provide a running commentary on every twist and turn of the negotiations."
Speaking in Edinburgh, Ms Sturgeon hit back saying it is unacceptable to have a "cloud of secrecy hanging over the UK Government's negotiating position".
The SNP leader said independence was one of the options available to protect Scotland's place in the EU and that taking it off the table would be to accept that "we are at the mercy of Westminster decisions no matter how damaging or destructive" the Conservatives are.
Conservative MSP Jackson Carlaw described the First Minister's statement as being "belligerent and self-defeating". He said: "Is she just, to paraphrase her own words earlier this afternoon and as her tone today suggest, destined to define herself as a window shopper in these negotiations?"
Meanwhile, an aide to UK Labour leader Jeremy Corbyn suggested he might rule out full membership of the European single market unless Britain can negotiate exemptions from EU rules he sees as "damaging" to working people and public services.
Ms Sturgeon tweeted: "What? Labour surely not advocating withdrawal from single market? Assume this is not (Scottish Labour leader) Kezia Dugdale's position?"
Ms Dugdale, the Scottish Labour leader, wrote to Ms Sturgeon last night saying Scottish Labour is an autonomous party and that she backs the SNP leader's efforts to find a way to retain our EU membership.
She also called on the First Minister to consider releasing legal advice obtained on Scotland's relationship with the EU, as well as details of meetings she held with European figures over Brexit.
"The Scottish people deserve absolute transparency in all of this," Ms Dugdale said.
gmcpherson@thecourier.co.uk