 Cammy Kerr was on cloud nine a week ago at Dens Park — and the young defender aims to make that a regular occurrence.
Kerr played his part as Dundee came back from two goals down to snatch an injury-time 3-2 victory over Hearts.
The life-long Dark Blues fan admits it was an unbelievable feeling at the final whistle and is one he wants repeated over and over again.
And having picked up 10 points from a possible 12 in the last four home games, he sees no reason why there can't be more repeats.
"After last Friday against Hearts it was a great feeling. We've got the taste for that and we want more," said the 21-year-old.
"Being 2-0 down and coming back was a great way to win a game. The boys showed great spirit and we got the result.
"I think we've picked up a bit at home and shown we can win there, so this game can't come quick enough.
"At the start of the season, we couldn't get a win under our belts at Dens and we had some really tough teams there.
"In the last few months we've been getting results and we will be looking for another good one, even against a tough St Johnstone team."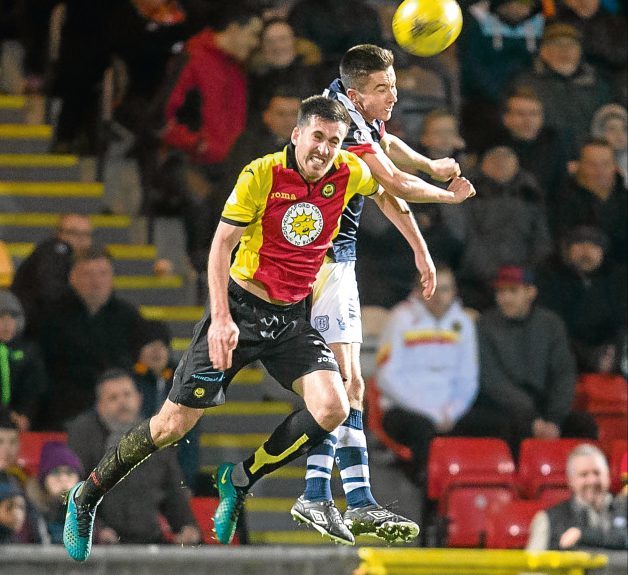 Kerr concedes the feelgood factor from that Hearts win did take a knock on Wednesday night as Paul Hartley's team went down at Partick Thistle.
But he believes the spirit in the squad means Dundee are more than capable of bouncing back immediately with a win over Saints.
"After the Hearts game, we went into Wednesday night with a wee bit of confidence and the result did knock us back a wee bit.
"Looking at the table before it, we were thinking if we could have taken even a draw we would be opening up a gap on the teams below us.
"It's frustrating we didn't do that and the boys were down in the changing room afterwards.
"We've lifted ourselves and we know we have to remain positive because, although it's another hard game, we are capable of winning it.
"And we stick together. The boys always do, even when things don't go our way like on Wednesday, and that can see us through.
"The group of boys in that dressing-room, that's the way we are and we will always give everything. I think today is the perfect opportunity to go and put things right again."
According to Kerr, that will be the case if Dundee can improve just a touch in front of goal.
"I think the other night we were maybe not clinical enough in front of goal and that was the difference.
"Overall, we did OK. We didn't do enough to win the game outright but, if we'd made more of our opportunities, we could have taken something.
"We didn't, and it's always frustrating to come away from places with nothing but we move on."
After today, of course, the Premiership takes a break and it will be three weeks before the Dee's next competitive game, a Scottish Cup clash with St Mirren at Dens.
It's a first for Kerr and he admits he's been trying to work out what to do with his time off.
"I'm not too sure how to approach it, it's the first one for me. People have been saying am I going away to get a bit of sun but I probably won't.
"I'll put my feet up for a few days and have a bit of a rest because it's been a busy time with games coming one after another quickly.
"But the main thing is we go into it with a win and come back ready to get another."