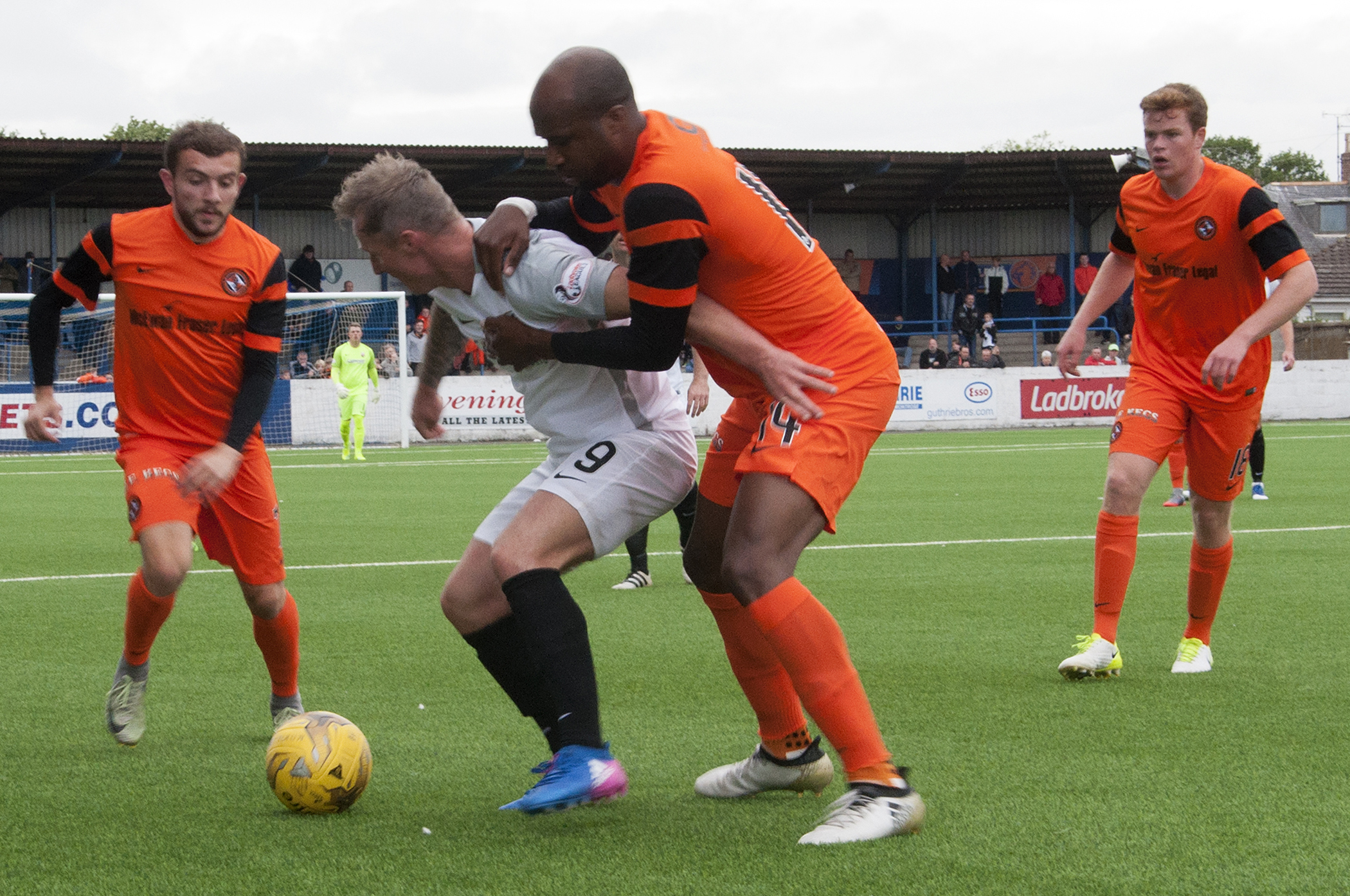 United eased to a comfortable victory in last night's friendly against Montrose at Links Park, a win which delighted manager Ray McKinnon.
"I'm really pleased with the performance tonight considering we've only had barely a week's pre-season so it's really early for us to play a game.
"There were a lot of pleasing aspects to tonight's display.
"We looked really good going forward and there was excellent movement off the ball and I also thought that we looked really solid defensively as well.
"We were also able to put on a number of youngsters towards the end of the match and I was delighted at how well they performed."
The Tangerines boss fielded three of his summer signings – Paul McMullan, Billy King and James Keatings – in his starting line-up along with three trialists, goalkeeper Denis Mehmet, defender Paul Quinn and midfielder Jordi Brieles with places on the bench for Tam Scobbie and Patrick N'Koyi while former United skipper Sean Dillon lined up in defence for Montrose.
United grabbed the lead in the 15th minute when McMullan did well to weave his way into the Montrose box before firing in a shot which was blocked but the ball rebounded back into the path of the ex-Celtic midfielder whose drive took a slight deflection on its way into the net.
James Keatings had an opportunity to make it two five minutes later when he forced his way past a couple of defenders into the home penalty area but he was crowded out by the Montrose defence before he had a chance to fire in a shot.
Montrose hit back and they had a half-chance in the 25th minute when ex- United midfielder Ryan Ferguson crossed from the right for Terry Masson who managed to get in a header but it lacked power and United's trialist keeper saved easily.
However, the visitors were forcing the pace and they doubled their lead 10 minutes before half-time when William Edjenguele blasted the ball home from close-range following a corner.
United started the second-half with Ballantyne, Scobie and Durnan replacing, Quinn, Murdoch and Edjenguele while Montrose replaced Dillon, who had picked up an injury in the closing stages of the first-half, with Rohan Terrell.
United began the second-half strongly and they increased their advantage only three minutes into the half. Keatings collected the ball at the edge of the Montrose box and swung in a cross for Matty Smith who powered a header past Jordan Millar.
United then replaced Smith and Keatings with Appere and N'Koyi and the Congolese striker almost scored within a minute of coming onto the park when he headed over the bar after a King free-kick had been blocked.
United were continually pushing forward and they almost made it 4-0 in the 73rd minute when Louis Appere drilled in a drive which went narrowly past Millar's left-hand post.
Montrose almost scored a late consolation with five minutes remaining when Durnan was short with a pass-back giving Gary Fraser a great chance but the striker fired the ball wide.
Montrose boss Stewart Petrie said, "It was a really good work-out for us tonight and the guys worked extremely hard but Dundee United are a really good team and deserved their victory."
Attendance: 1,143
Montrose: Millar, Webster, Callaghan,Dillon, Watson, Thomson, Johnston, Masson, Fraser, Ferguson, Hay. Subs: Cavanagh, Glennie, Terrell, MacLeod, Hunt, Fleming
Dundee United: Trialist, Murdoch, Trilaist, McMullan, Trialist, King, Edjenguele, Robson, Allardice, Keatings, Smith. Subs: J. Donaldson, Durnan, C. Donaldson, Scobbie, N'Koyi, McMeekin, Ballantyne, Appere, Chalmers, Taylor, B. Smith.
Referee: Mike Roncone