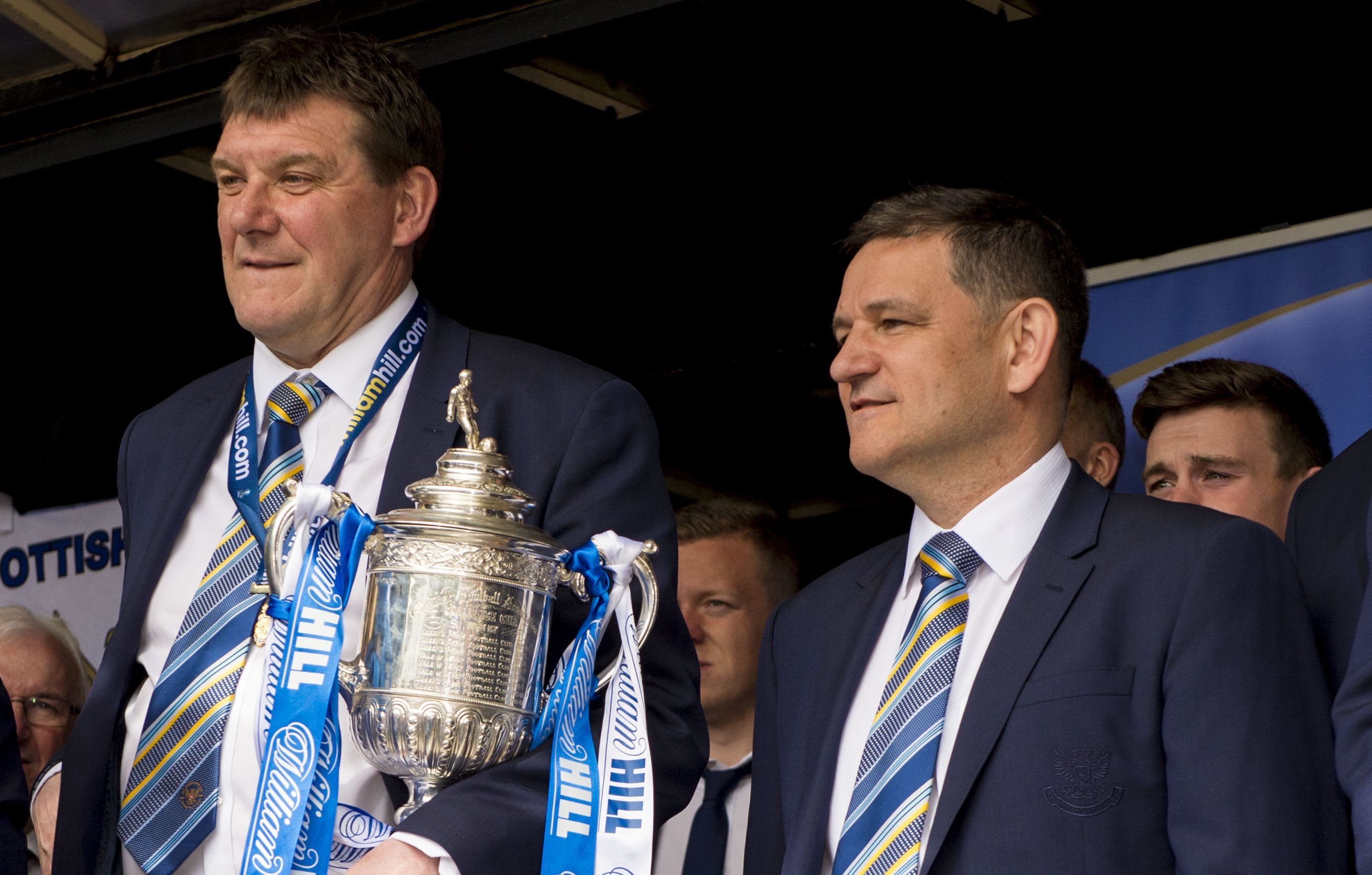 St Johnstone Chairman Steve Brown insists he will not sacrifice long-term financial stability for short-term success – even if that makes him the "bad guy".
Since taking over from his dad Geoff as McDiarmid chief in 2011, Brown has overseen several seasons of success, combining European adventures and top-six finishes with the icing on the cake being the unforgettable Scottish Cup triumph two years ago.
He is determined that St Johnstone will continue to enjoy winning football on the pitch while off it, he will keep a tight rein on finances.
Brown is fully aware that latter desire is something which may be at odds with what his manager Tommy Wright wants.
Despite that potential conflict of interests, Brown insisted he and the Northern Irishman continue to have a good working relationship, saying: "We do but the manager gets frustrated and I get frustrated.
"I want the best team possible on the park and to win most of our games.
"The frustration comes when you try to get players.
"The difference is, I know our finances inside out.
"Like most managers, they just want that player and they want us to push the boat out to get them.
"But wait a minute, I have seen others pushing the boat out and sadly Scottish football has a whole list of clubs who have gone into financial difficulties paying wages they cannot afford.
"I have to look at it in the long term. I have to look after the club whereas managers come and go, players come and go.
"If a club goes into administration, a manager just gets a job at some other club.
"So I always have to be the bad guy. I have to be the guy who says, 'No'.
"That's the role I have – I always have to be the bad guy."
Brown added: "I could identify players but I know full well, I could not afford them.
"So that will not change and most chairmen or chief executives will be the same.
"They will always be the bad guy in the manager's eyes or the fans.
"So you either have to put up with it or get out, it's as simple as that.
"It doesn't faze me. I know my role is to ensure this club stays on an even keel and if we can't afford to pay wages for a certain player, then we won't. It is not that complicated.
"It is not getting any easier but we just have to try to identify players.
"That's what the manager has been really good at. We won the Scottish Cup with a very moderate wage bill.
"They weren't on big wages but they were good team players with more than enough ability.
"That's why we won the cup."
Brown insists that recipe for success is one he will not be changing any time soon.
He said: "We will stick with what we are good at – identifying players, team players that can deliver and then pay them bonuses for success.
"That's the only way it can work. We certainly can't pay big wages.
"We don't want to get into a position where we have a huge wage bill and you have to finish fifth or in the top six, you need a run in both cups and then you fret thinking, 'That's us just lost another three points'.
"You don't sleep and then you think, 'Wait a minute, whoa! No.'.
"I certainly don't want to put the club in that position.
"That would be a failing on my part if I just thought fingers crossed we will be OK.
"The league is so tight and it doesn't take much to get sucked in there.
"I know there are huge expectations and rightly so because we have achieved so much in the last five or six years but you should never get away from the fact that you are still in the mix.
"History doesn't mean anything when it comes to current.
"We have to keep the sensible head on and go about things the way we have always done.
"There is no lack of ambition but what we have got are financial restrictions.
"I want to win every game we play in and I am a bit crabbit if we don't.
"After five years I still have that desire to take the club forward but I am a businessman and in football I know the decisions that have to be made or we will end up in trouble."
In his annual report to shareholders recently, Brown revealed that Saints had made a near £100,000 profit.
However, he warned that if the club had not sold Michael O'Halloran to Rangers then they would have suffered a substantial six-figure loss.
Now, while acknowledging that expectation levels have risen because of the club's recent success, he has to be a financial realist.
He said: "It is getting harder and harder.
"We have benefitted from the sale of players but unfortunately there is nothing on the horizon.
"But that's just a wish list – it's not how to structure your business.
"When you get a sale and a wee windfall, everybody is delighted but selling your best players weakens your team.
"It is going to get more and more difficult as time goes on.
"Perth has never had a great football mentality, if you like.
"Even from the time I was a punter, there was still the same hard-core of 3,000.
"Going forward, there is only one thing that can happen, you have to cut your cloth.
"That doesn't mean you can't be as competitive as you have been previously.
"You don't have to spend a fortune either, it is about getting the right type of players.
"There are examples all over the place."
He added: "I know Leicester spent a few quid but the multi-millionaires down south didn't cut it and they won the league.
"So it isn't necessarily the amount of money you spend – you can end up with more expensive failures.
"Giving a player an extra £200 to £300 a week doesn't make him a better player. It makes him better off, not a better player.
"It is about identifying the right ones and incentivising them to produce.
"That's the only way this club can do it. There is no other way.
"It can be really frustrating as you may like a player but you know fine you would have to sacrifice something else to get him.
"It is always a balance but overall, financially it will get harder and harder.
"There is no getting away from that but how you manage expectation . . .
"I have said before that the vast majority of people are switched on. It is not as if they are oblivious.
"You just need to look at the crowds. You don't need a degree in economics.
"We are only managing through the sale of players."
Businessman Brown admits his "second job" as club chairman devours him on occasion.
However, it is a position he feels privileged and honoured to hold.
He said: "There are times it can be a real burden.
"That's because in other businesses you are involved in, you have an element of control.
"A lot of things happen at a football club that you don't really have control over.
"Results matter to all sorts of aspects to the club – bringing in fans, selling season tickets, generating revenue. All these things are attached.
"But results are a key element you cannot control.
"In any other business, you can control your income, you can control your expenditure.
"In football, your employees i.e. players, you are committed to them for the whole year or two years.
"Whether they work or don't work you have to give them full wages.
"It doesn't happen in any other business and at times, it is quite strange.
"But that's just the way it is.
"I love football so I still enjoy it apart from when we get beaten.
"But it does take over your life, there is no getting away from it.
"My wife says I am obsessed but I'm not – it just devours you totally.
"You can't switch off. When you finish your work, that is it but football although it is not 24 hours a day is certainly from early in the morning until early in the night.
"Nobody sees timelines saying. 'That's five o'clock, that's football shut'.
"No, it is constant. Not just during the week but Saturday and Sunday all my calls are football related whether it is the manager, to do with the club or a journalist.
"In the summer, people say you will be all right because there is no football for six weeks.
"But depending on the size of squad we have assembled, that is normally the busiest time.
"I have been away on holiday and spent most of my time on the mobile wandering about the pool or the beach with the missus going nuts.
"But if you are in for a player you can't say something like, 'I am back a week on Wednesday. Is that OK?'.
"It doesn't work like that, you have to deal with it there and then.
"However, it is still a huge honour to be the St Johnstone chairman.
"You have to give that the respect it deserves because not many people have either been chairman or had that opportunity."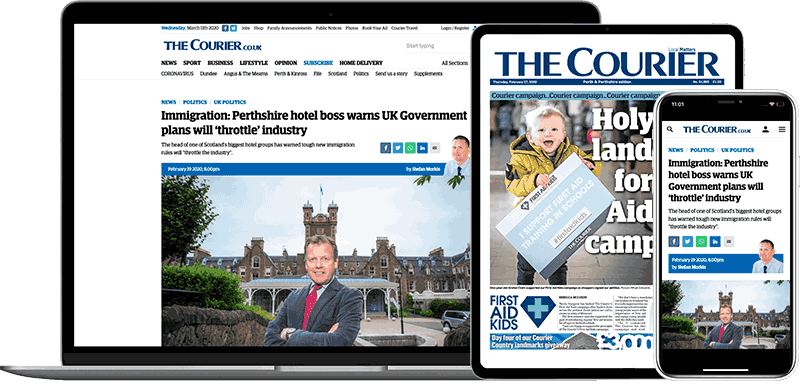 Help support quality local journalism … become a digital subscriber to The Courier
For as little as £5.99 a month you can access all of our content, including Premium articles.
Subscribe