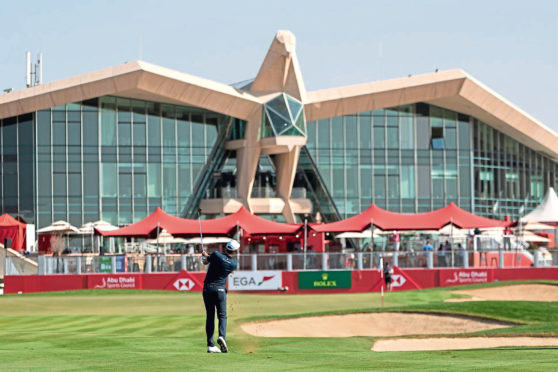 The European Tour season has been underway for some time now, but we all know the truly serious business starts this week in Abu Dhabi.
It's a vital stretch. We've heard many times – although never officially – that the Tour would probably not exist but for the riches that staging the Ryder Cup bring every four years.
One can assume that a significant proportion of the rest of the cash that keeps the Tour thriving comes from its regular visits to the Middle East.
Dubai and Saudi Arabia follow Abu Dhabi, Qatar and Oman come a little later, and at the end of the year they're back in Dubai for the season finale.
Of these, only this week's AD Championship and the season-ending DP World Championship pay the Rolex Series millions.
But the long established Dubai Desert Classic and the newer Saudi event flash plenty cash under the table to secure top names, while Oman and Qatar are important events plugging a gap in the playing schedule that used to be filled with Spanish tournaments, for those with long memories.
But for all their many Western trappings, the UAE is still in the Middle East. Iran is only 50-odd miles away across the Strait of Hormuz, which even in times of peace is one of the world's potential flashpoints.
Therefore any sabre-rattling going on between Iran and the world at large is hugely destablising for the UAE's vast leisure empire. It doesn't matter that the actual threat is light; the fear is enough.
Bryson DeChambeau, the defending champion in Dubai and due in AD as well, threatened last week not to show up, saying it wasn't safe for any American to be in the Middle East after the escalation of tension between the USA and Iran caused by the assassination of General Qassim Souleimani.
Once again this shows Bryson's self-proclaimed brainiac abilities are overrated – he's probably safer in AD than he is in gun-toting Texas – but he's merely reflecting what American tourists, and a good few European ones, think about the situation.
Brooks Koepka – in his first event back since knee surgery – and Patrick Cantlay are two other prominent Americans coming to Abu Dhabi. DeChambeau is supposed to be defending in Dubai next week, while Dustin Johnson, Patrick Reed, Tony Finau and Phil Mickelson are due to be in Saudi.
They're not all minded like Bryson. But you can bet that there will be words of encouragment from PGA Tour offices saying "guys, that foreign stuff's all a bit too complicated. Phoenix looks great this time of year…" or something similar.
Without the big names, the money being ploughed into events by the Emirati and the Saudis doesn't look quite as attractive an investment. The rank and file of the European Tour might be all very well for Oman and Qatar, but it's not good enough for these guys.
The Tour has ridden out crises in the Gulf before and continued on their merry way making money with and from the sheikhs.
But this kind of instability is bad for business, and potentially critical for the European Tour.
No pressure, Charlie
We've known for a little while that Tiger Woods' younger child, 10-year-old Charlie, has been playing kids' golf events in the US.
Twitter was agog at the weekend as Golf.tv, amongst other outlets, posted film of the young Woods' rather decent swing.
Tiger was caddying for Charlie at a nine-hole junior event near Tiger's home. He finished T-9, and has done even better at other junior events, in and around central Florida.
The reaction on Twitter and social media, unsurprisingly, was borderline hysterical. It fell short of pondering what Charlie would serve at his first Masters champions' dinner, but only just.
One supposes this was inevitable. From the event itself, there were a few Instagram posts from starstruck fellow competitors and their parents, and while Tiger didn't seem to be posing smiling for selfies, neither did he seem to be giving the patented death stare.
But the film of Charlie's swing seemed not quite right – not a bit right, actually.
It was during what appeared to be a warm-up on the range, taken from some distance, framed by palm leaves, as if someone had surreptiously and sneakily turned their phone camera on without the knowledge or permission of those involved, before distributing it to one and all.
Again, this is the modern world of communications we live in. But no matter how famous his Dad is, Charlie is only going to be 11 next month. He should be allowed to enjoy his fun golf – which is what it is – without the scrutiny from people lying in the bushes taking videos.
Who knows what his future in the game is, if any. That's for many years hence, and for future attention when he's of an age that makes the scrutiny halfway acceptable.
You have to imagine with his avid desire for privacy off the course, Tiger is at least uncomfortable with this sudden splash of attention.
He'd have every right to be.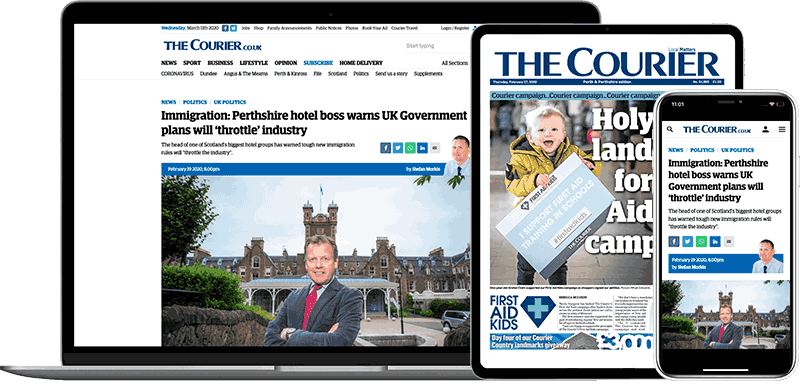 Help support quality local journalism … become a digital subscriber to The Courier
For as little as £5.99 a month you can access all of our content, including Premium articles.
Subscribe