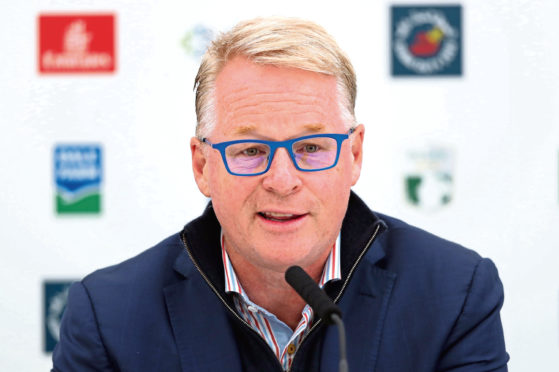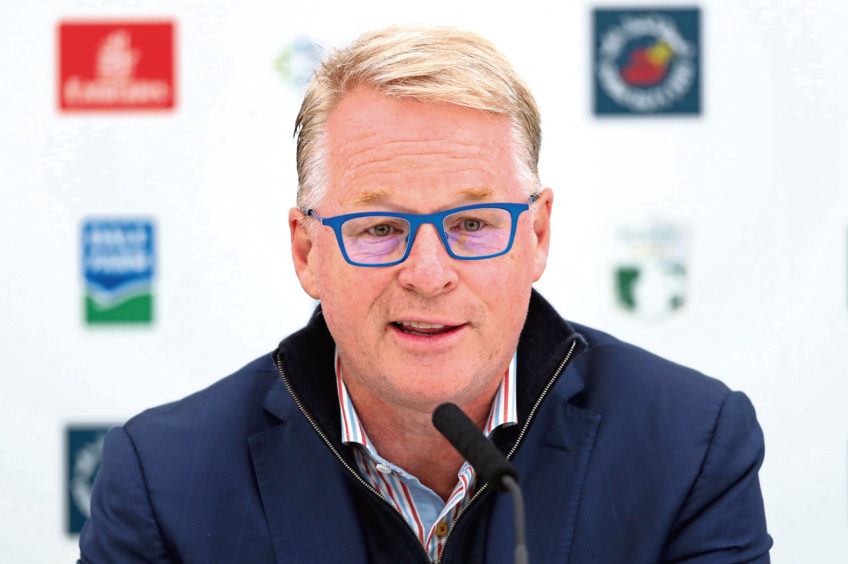 Keith Pelley, the European Tour's chief executive, has probably been underestimated for his entire career.
Short of stature, with his various coloured spectacle frames, sharply cut suits and a showman's style, he's not your average golf administrator – something which, in T2G's opinion, is a very good thing.
But Pelley's style doesn't sit well with some folks. They see a flamboyance that makes them roll their eyes and indicates he's not a serious player.
In addition, they perceive e a certain recklessness that doesn't fit with golf's conservative, mind-how-you-go attitude to business.
"He is, at heart, a marketing guy", an anonymous tour "insider" told my colleague John Huggan in Golf World.
"Marketing guys spend money, which is what he has done. £850k went on rebranding the tour. When you look at how desperate the tour are now, it looks like extravagance."
Well, Pelley produced a plan last week to get the Tour out of that "desperate" situation. Taken at face value, he refuted just about every accusation levelled at him in the past six months.
The Tour will relaunch with six events in July, funded by themselves, clearly mostly to get the product on screen and rescue the Sky Sports TV contract.
They will be without fans – unlike is planned on the PGA Tour, although there seemsto be room for some backtracking there – and players held in isolation. With a fair wind and the virus contained – not a given result in this country, it has to be said – we should be running a decent schedule into December.
The Tour has built what appears to be a robust medical process for isolation and testing, moved 30 events with, it appears, only the Dunhill staying in the same place, and saved most of the Rolex Series at the full $6 million rate.
They've also build six events from scratch. And done it all in seven weeks.
If it all comes off – that's a big if, and not wholly in the hands of the Tour with second waves of COVID-19 a constant threat – Pelley deserves enormous credit for his leadership.
He's not made rash promises like the PGA Tour did. He's presented something that is realistic and achievable, at least for all that is in the Tour's control.
Those who underestimated Pelley had it all wrong anyway. In his previous job he ran Canada's biggest TV sports operation, working with millions more than the European Tour will ever go through.
In addition, far from splashing the Tour's nest-egg on frippery, he revealed that the they had been squirrelling away cash in a development fund for three years, based on the trend that big-name banner sponsors are a thing of the past and the tour had to fund more tournaments themselves.
No-one's pretending this is an ideal situation. Pelley's good at presentation, of that there is no doubt. But this proves he's also very good at the detail.
Fans ARE optional
In announcing the reschedule, Pelley confirmed the gist of T2G from last week – spectators aren't that big a deal in elite tournament golf now.
In fact, he even put a figure on it. Fans AND hospitality – the latter is a huge moneyspinner in all sports, or so we thought – account for about 2% of the Tour's revenue, he said.
I suspect it is much, much more at The Open and at some other events; for example, the John Deere Classic in the US, which was on the PGA Tour's sruviving schedule, has cancelled rather than face playing without fans.
But for reguar tour events, it's no biggie behind closed doors.
They'd like to have fans – "for the optics" – and Pelley held out the prospect of hospitality and "VIP ticketing" for the Rolex events later in the year, but there will be no three-deep down the fairway ropes at Wentworth this year.
These we have lost, part two
The empty schedule because of lockdown is starting to bite. This week, T2G would be in our annual spot covering the St Andrew Links Trophy, the premier amateur strokeplay event in Europe.
Our promitory position is a corner of the Links Clubhouse restaurant, with a glorious panorama stretching from the West Sands across to the Road Hole tee. Might be my favourite view anywhere.
Front and centre of this view, just below the window, is Scotland's – and golf's – most underappreciated national monument, the St Andrews Ladies Putting Club, known to all as the Himalayas.
Recently, the Himalayas came 25th in National Club Golfer's list of the 100 most enjoyable golf courses in Britain and Ireland. It should be higher, because in my experience when the weather is fine, it's always packed with players, of all ages and abilities.
In fact, when you think about it, is there a golf facility anywhere in this country – anywhere in the world in fact – that gives as much joy to so many people as the Himalayas does?
The club is still closed for lockdown but will open to members only in the next 10 days, I'm told.
When the greatest putting green in golf is teeming with players again, we'll know for certain this is nearly over.