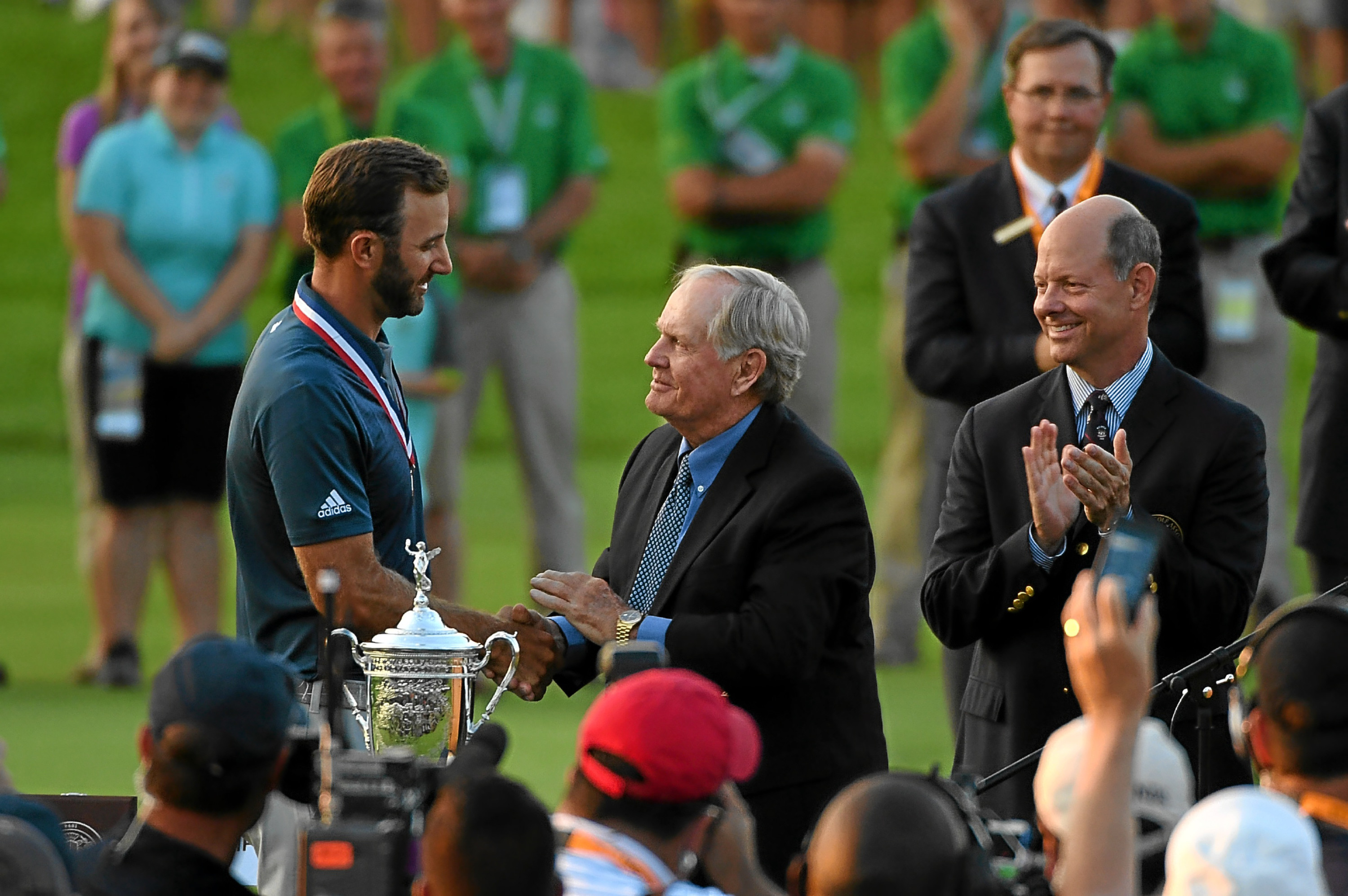 Carry On Blazers we used to call it.
We often would amuse ourselves in long weather delays in the pressrooms with our own "edition" of the classic comedy franchise, using stories compiled from years of seeing pompous golf officials clumsily make idiots of themselves in a host of hilarious ways.
In the end, actually scripting such a film, we agreed, was pointless; the truth was beyond parody.
The cliche of the blathering, accident-prone, over-officious, self-important, often well-oiled and invariably sexist golf official is supposed to be a caricature. We laugh at it in the game, as we recognise it.
However, the uncomfortable truth is outside of the game, in the wider world, people are laughing at us.
Muirfield last month, and to a lesser extent Royal Troon, made me particularly uncomfortable. The pictures of tweedy, crusty members doddering about the premises on the day the Honourable Company rejected women members made my heart sink every bit as much as the decision itself.
And what happened to Dustin Johnson at Oakmont on Sunday, as he finally got the monkey off his back and won the US Open despite USGA officials unnecessarily attempting to derail him, is further fuel for those who laugh at our sport.
Nothing could underline the pointlessness of golf's often internecine regulations than a player storming to victory in one of the sport's greatest championships with the organisers walking beside him with an axe wavering over his head.
Why? Three witnesses – two in Lee Westwood and his caddie Billy Foster with absolutely no axe to grind – agreed that Johnson's actions had not resulted in his ball moving on the fifth green.
Yet by the 12th tee, just as Shane Lowry was fading to allow Johnson to proceed to the major title that had eluded him in so many excruciatingly frustrating ways, USGA rules officials decided they knew better and told Johnson he was under notice of a possible shot penalty.
Unforgivably – this is so infuriating one can hardly imagine the officious arrogance involved – they'd actually already decided that Johnson, his brother/caddie, Westwood and Foster were effectively lying and that the penalty would be imposed.
They could have used one of their little iPads which make them appear so hi-tec and modern and got what they thought they needed from Johnson on the 12th tee. A boneheaded, wrong decision would still have been made, but at least the player – and his opponents, who were also informed – would have clarity for the final run of holes.
The USGA let nobody forget who is running the US Open.
Their monogram is everywhere on the premises. Fox Sports happily give up all branding for the week on TV. The set-up of the course, usually ludicrously penal and often unfair, has their imprint. But usually they eventually have to give up the limelight to the people we really want to see; the players.
This time, they couldn't even bear to do that. The USGA barged their way into a prime-time sector of a major championship as if to say, don't you forget who is really important here.
They'll say they were protecting the integrity of the game. Don't believe them, and don't ever trust anyone above schoolboy age that wears a blazer.
Johnson: He had it coming
There's a few players who could shrug off the mess the USGA made of the finale on Sunday. Rory McIlroy would have refused to play until it was sorted, others like Jordan Spieth would have mentally redoubled their efforts.
And "DJ", as well. Famously and cruelly described by writer Rick Reilly as "so dense, light bends around him", Johnson doesn't dwell on things generally; in fact he tunes out regularly.
His sabbitical from the game a couple of years ago is, despite his denials, generally thought to have been because he tested positive for recreational drugs.
It seemed as if at times the weekend was a final eliminator for major wobblers – DJ, Westwood, Sergio, we only needed Monty. It is to Johnson's eternal credit that he was able to ditch this baggage and all the additional burdens the USGA attempted to heap on him.
Might he saunter languidly to more mjaors titles now? Possibly. Equally, he could easily be one of those guys who gets what he wants and decides it's not all it's cracked up to be.
It's not just rules the USGA mess up
Dustin Johnson won the US Open because he hit it longer than anyone in the field. His first five drives on Sunday added up to nearly a mile in length, an AVERAGE of 340 yards.
But of course we know that he intentionally would hit 30 yards less on his remaining eight drives, to stay within the cast-iron average of 312 the USGA and R&A insist is the upper limit of distance hitting in the game. The governing bodies' data on distance is again shown to be ludicrously flawed.
Even their defence against distance failed. The 15-strimp greens were so extreme they were no advantage to better putters. Johnson could be 30th in putting and still win easily.