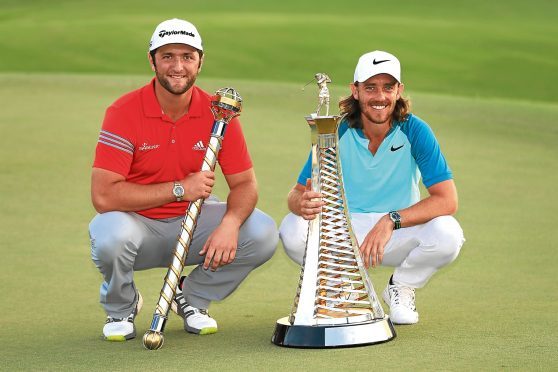 In these days where the golfing "close season" amounts to just four days, it barely gives your poor columnist any time to stop and take stock.
I'd considered advancing annual ratings of the Scottish European Tour pros by a week, simply because one of them might do something at the Hong Kong Open and render my next column obsolete.
Yes, no sooner had Tommy Fleetwood staggered to the Golden Tower Trophy and Jon Rahm won the Scary Mace at the DP World Championship on Sunday to haul down the curtain on 2017, then we're off to Hong Kong Golf Club and its pleasingly old-fashioned 6703 yard layout to launch the 2018 season.
We'll take the risk on the Scots, because there's enough to round up from 2017 before we even begin to get excited about 2018.
Tommy enters the top echelon
As I remarked last week, Formby's Tommy Fleetwood had the best season of any European in 2018, although in the end it was just by a short head over a late contender.
I've watched Tommy since he was in boys' golf, and he's always been a super competitor. There was a time when we thought of him as Rory-lite – must have been the curly hair and modest build – but he had a better amateur career than McIlroy and hasn't been that far behind him in settling into Tour life.
A run in a major or two in 2018 will see him properly enter the top echelon, and there's no reason why he can't recapture his 2017 form.
Since taking a break for the birth of his first child, he's been inconsistent but scoring spectacularly at times, not least when he smashed the course record at Carnoustie. Perhaps we can expect him to make a run there in next July's Open, although don't expect the same Carnoustie then as we saw in the Dunhill.
Rahm aims for Paris
Some people – vocally – thought that Jon Rahm shouldn't have won the European Tour's Rookie of the Year when it was announced at the beginning of the week in Dubai.
Naturally, his response was to win the tournament. With two Rolex Series wins and a PGA Tour victory, he arguably had a better season than Fleetwood.
He was certainly Rookie of the Year, no matter how well the admirable Jordan Smith did.
Rahm's continuing development also makes the "clickbait" from Alan Shipnuck's column on Golf.com already look a bit shopworn a week after it was published.
Shipnuck's been blowharding about the USA's certain future domination of the Ryder Cup for some time, only this time some people seem to have actually read it. It caused an amusingly outraged reaction from some Europeans but I'm sure that wasn't Shipnuck's intention. No, not at all.
Anyway, his reasoning was laughably flawed. The Task Force! has made the US invincible, apparently, on the evidence of one edition, which the US were probably always bound to win anyway.
Shipnuck insists Europe are going to be reliant on rookies, when it's perfectly plain the US will have more in Paris – maybe as many as six – in September. I like Fleetwood (the French Open champion on the Ryder Cup course, remember) and Rahm as rookies as much as anything the US have.
Europe are over-reliant on some top players, but so are the US. Both teams have a core that is ageing and less likely to be involved going forward.
It's an opinion, though, and it might even turn out to be right. Although it's far more likely – in my opinion – the Ryder Cup is going to settle into a pattern like its little brother, the Walker Cup, where home advantage proves to be nearly overwhelming.
Pelley's report card
The honeymoon's well over with the European Tour's chief executive Keith Pelley (I'll stop calling him "colourful" because we all know he is) and the reviews are in.
Mostly they are still very positive. Pelley's shaken up the European Tour and in mnay ways the rest of golf as well. It's interesting that even the PGA Tour are talking about mimicking his shorter, sharper versions of the game.
They've even subtly released a few social media stunts which of course are nowhere near as skilfully pitched and amusing as Europe's are.
Modern media was one of Pelley's failures with the disaster of the new tour website. But he owned that completely and backtracked skilfully.
Not all reviews are absolutely positive. The Rolex Series has effectively separated the European Tour into a Premier League and lower divisions.
I'd certainly like to see a better way for young players like our two new tour rookies Bradley Neil and Connor Syme to find their way through to the big money events rather than being coralled in those with €1 million prizefunds where they have to win to even get promoted.
But what's the alternative? It's brought back Europe's top players from the US far more often than otherwise.
More tweaking this year may help. But the flow of new talent into the Tour has to be better encouraged.