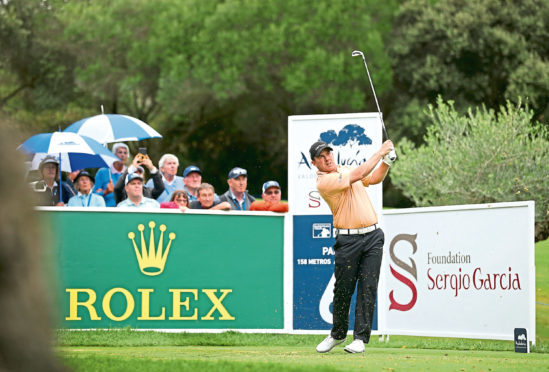 Okay, it wasn't the worst European Tour season ever for Scotland in the end. But we got too close for comfort.
After the complicated and soggy shakedown at a reduced and delayed Valderrama Masters yesterday, the mist lifted to reveal that three Scots in danger had been saved to retain their playing rights for 2019.
Scott Jamieson had opted not to play in Spain, correctly – if somewhat brazenly – judging that he'd be okay. The small fact that his third child, a boy named Max, showed up on Friday may have had some justifiable influence on this decision.
David Drysdale entered the weekend "on the bubble" but burst it by making the cut, leaving no question he'd retain his Tour card yet again.
The arch-survivor, who really should be an exemplar to every young Scottish golfer who turns pro, has now played 15 successive seasons on the European Tour and earned £4.5 million in that time.
He doesn't have a win – yet – but if there's a single Scot not on the tour the least bit sniffy about that, they really need to take a long, hard look at themselves.
Finally, Richie Ramsay, with a gutsy final round 68 on one of the toughest courses on tour, lifted himself into a tie for 11th on the weekend.
It meant he got over the line in 115th position on the Race to Dubai – the final barrier raised from 110 qualifiers to 116 when affiliate members were discounted – with just 5000 ranking points to spare.
Too close to call for a three-time tour winner, no doubt. But rather than just a lucky escape, Ramsay certainly has the apllication and willingness to grind to turn it into a pivotal moment in his late career. Still only 35, he should have plenty more peak years left.
So with Stephen Gallacher having pulled away from danger, four Scots have survived the most brutal cut of the season, five if you count Russell Knox, who looks set to be Scotland's only representative at the tour's finale in Dubai should he choose to compete.
It now looks likely four will be promoted from the Challenge Tour this season, easily Scotland's best on the satellite circuit since it started.
Grant Forrest, Liam Johnston and David Law were all safe ahead of the Ras-Al-Khaimah Grand Final at the end of this month, and now it's likely Robert MacIntyre has joined them after just being edged in a play-off for the Foshan Open in China at the weekend.
MacIntyre, a lefty from the tiny Glencruitten club in Oban, shot -15 on the weekend and eagled the 72nd hole with a monstrous putt. He's always been capable of outrageous scoring, and I think he'll do well on Tour.
There's still an outside chance – very outside – that we could have a fifth qualifier from the Challenge Tour, but it would probably need Ewen Ferguson or Calum Hill to finish in the top two at the Grand Final in Oman.
That's the positive side of the ledger. The negative is that Marc Warren – despite a decent week at Valderrama – plus the rookies Connor Syme and Bradley are all headed to Q School.
Warren's plight remains the most perplexing. A player possessed of his ability and swing, and at the peak of his career in his mid-30s, should not be failing to retain his playing rights.
Really, a player of his quality should be challenging for the World's Top 50, as Warren was doing just three years ago.
There's often been questions about his attitude – sometimes justifably, sometimes not – and that he seems to consult too many coaches.
He's fallen off tour before, in 2010, but he got a number of invitations and won his rights back thanks largely to a fifth place in the Dunhill Links the following year. He was never in danger again until his slump this year.
I'm not sure how he'll cope with Q School, or the Challenge Tour if he needs to go there. There will be invitations to top tour events, and maybe Marc will find a route back that way again.
I'd be more optimistic about the rookies' chances in the six-round grind at Lumine in Spain starting on November 10. Connor came through that ordeal last year, Bradley nearly made it on another occasion.
A year on the Challenge Tour – a second in Bradley's case – would not be a bad thing for either of them, given their young ages, although so many of their friends from amateur days graduating from that tour this year will no doubt prove a huge incentive to push on.
Sergio's back
With a nod to Thomas Bjorn, who correctly presumed Sergio Garcia would screw the nut if he gave him a Ryder Cup wildcard, it seems the mercurial Spaniard has delivered a "get it right up ye" to all his doubters, including T2G.
That's okay, because we love Sergio as regular readers will recall. He was excellent at Le Golf National, and now has retained the Valderrama Masters.
Sergio wouldn't be the first to be slightly thrown by becoming a father, indeed given his emotional nature it was probably almost certain.
However after a sticky spell when life was just too lovely to be over-concerned with golf, he's back on track.
More majors? Why not?