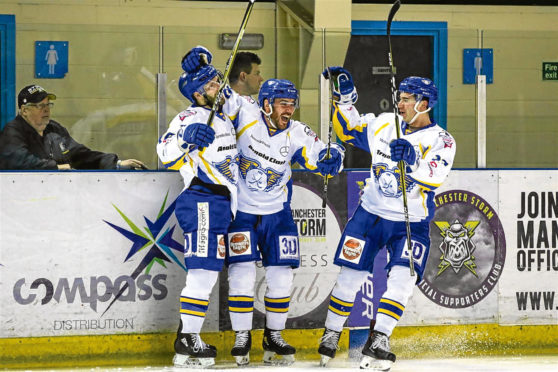 Home-grown hero Josh Scoon last night warned No 1 seeds Cardiff Devils: "We're coming to win."
Fired-up Flyers knocked out second seeds Manchester Storm from the Elite League play-offs last weekend.
And Scoon and his Fife team-mates are confident they can do the same to the newly-crowned league champions at Nottingham today (1pm).
It's a tough ask but Scoon said: "There is no pressure on us. We're in there with three so-called big teams, the big boys from big arenas.
"But we are all excited to be going to Nottingham, we are confident in our abilities and we're not going there to take second place, we're there to win."
The Kirkcaldy-born forward, however, acknowledged that to achieve their aim of making tomorrow's Grand Final for the first time they have work to do.
One-club man Scoon, 26, who joined Flyers in 2010 and has now made over 400 appearances for the club, said: "We have to give it 100% in every shift, win every battle and we can't afford to take a second off.
'Anything can happen': Hundreds of Fife Flyers fans head to Nottingham for huge playoff final weekend
"One mistake at this level can cost us.
"We also have to stress to the North American guys that this is a different format to what they are used to – it is not a long play-off series, it is straight knockout."
Fife forward Charlie Mosey is relishing his first taste of Finals Weekend action.
Mosey signed in the summer on a short-term basis, but has become a key man, sealing Flyers' first silverware in the Elite League with an equalising goal with 16 seconds remaining against Dundee to secure the Gardiner Conference title.
Mosey said: "Everyone tries to elevate their game when it's play-off time.
"Many people thought the series was over after Saturday night, but this team has proven it's resilience many times this season.
"We have maintained a great mentality throughout the year, which has been one of the reasons for our success.
"There are going to be ups and downs including injuries and deficits within a game or series, but you have to treat every game and shift the same, no matter the situation.
"That comeback on Sunday was a prime example of this team's toughness, and I am very proud of all the guys.
"We have re-adjusted our focus to Cardiff's systems.
"The coaches and players did a great job of focusing on some systems that made us successful against Manchester. We have done the same this week in practice."