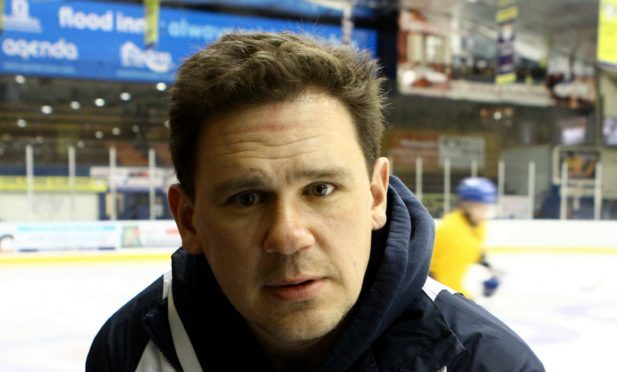 Hundreds of Fife Flyers fans have made the journey to Nottingham to back their side's bid to be named this year's play-off champions.
The team clinched a slot in the Elite Ice Hockey League's British Championship semi-finals in dramatic fashion against Manchester Storm storm last Sunday following a 5-1 victory, progressing 6-5 on aggregate.
On Friday morning buses packed with a legion of fans departed Kirkcaldy ahead of the first game of the play-offs, with Fife Flyers facing off against Cardiff Devils at  Nottingham's Motorpoint Arena at 1pm.
And Flyers head coach Todd Dutiaume said the past week had been an "extremely exciting time" for the players.
He said: "I think after the remarkable comeback in Manchester last weekend spirits have been obviously extremely high, and it is an exciting time.
"This is the third time our organisation will be going to the 'final four' in Nottingham in the last seven years and a first for many people in our room.
https://twitter.com/Kristin_444/status/982177564218114048
https://twitter.com/mcoops0408/status/982160296331456512
"They are incredibly excited about it. We've been managing their emotions all week.
"We want to keep these guys in their usual routine, keep the hype and the mania around it kind of dampened down and allow them to go out, soak in the moment, enjoy themselves and perform at the highest level they can this weekend.
On pesky train to Nottingham. COYF pic.twitter.com/ybAp3f4ZBN

— Baz&Gail (@barryhaxton) April 6, 2018
"I think that what we've done this season is take it one game at a time I think that's important, I think we've needed to do that."
He added that Flyers fans had been scrambling to secure for tickets for the Nottingham event since last weekend.
Mr Dutiaume said: "I know that people, certainly when we secured our place, people were clambering around for tickets.
"They are passionate, they are loud and they have been down there before. They've seen us lose in two semi-finals. We want to advance that, (to) win on Saturday and then once you get to that final game anything can happen."