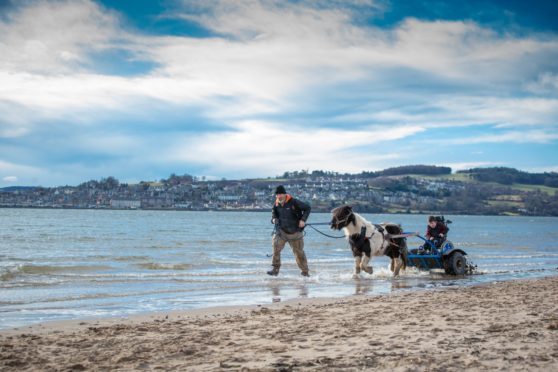 Simon Mulholland and his pony Obama are opening up the world to disabled people who can go anywhere in a wheelchair chariot he invented. Gayle Ritchie meets the talented duo
Beaches, stubble fields and rutted tracks are thought to be a no-go area for wheelchairs, but with Simon Mulholland's invention, they're entirely accessible.
The specially-designed chariot, which Simon claims is the "only wheelchair-enabled, all-terrain, pony-drawn vehicle in the world", is enabling disabled people in Courier Country to enjoy the rugged outdoors safely.
Simon, who has been based down south for decades but describes himself as of "no fixed abode", and has previously worked as a metalworker and "cook for the Hell's Angels", is planning to permanently relocate his organisation, Pony Axe S, to Scotland.
He fell in love with the area after travelling to Glamis to meet Jessie Probst of equine therapy charity Saddle Up Ranch.
Jessie had spotted a feature on Simon and his trusty rescue pony Obama on BBC One's Countryfile and got in touch to see if he fancied making a new chariot for the charity's users.
"I've had no backing in England but organisations in Scotland, such as Saddle Up Ranch, Scottish Natural Heritage and the charity PAMIS (promoting a more inclusive society) have been totally supportive," says Simon.
"I invented this wheelchair carriage, the iBex, in 2009, and it can take any person, including people in wheelchairs, amputees and stroke victims, absolutely anywhere – there are no restrictions.
"It's about access for everyone; Obama will take anyone anywhere, whether beaches, into the sea, stubble fields or across uneven tracks."
Anyone wondering about safety – there's always a remote chance that Obama could get spooked – can be reassured because Simon has invented a quick release system, operated by a pull cord.
He also has a back-up radio-controlled release system if the user is unable to activate the cord quickly.
"It's vital to ensure safety but the chariot experience can be challenging and daring as well as safe," he added.
"There's no discrimination about ability or disability with horses; Obama doesn't care."
Obama usually wears what Simon describes as a "Hannibal Lecter" mask when he's working. That's not be because he's vicious, but he might chance a cheeky nip.
"He came to me as an abused pony in 2009 and had a lot of problems," says Simon.
"He's terrified of hosepipes and you can't put a saddle on his back.
"We get on well and while he might try to bite on occasion, he cooperates where he thinks it matters. I trust him in the sea, on busy roads, and on beaches where dolphins and whales are close."
The bond is so strong between man and pony that Obama follows Simon around, even when he's not on a lead rope.
Using Forfar as a base, the pair have been travelling across Scotland bringing joy to many disabled people.
They've been enjoying treks along Broughty Ferry, St Cyrus beach, Portobello and Aberdeen beaches, in and around Perth and Perthshire and along the busy A94 to Forfar. They've also had fun in the grounds of Glamis Castle and round Forfar Loch.
None of this fazes Obama, who has been through the streets of Central London, Winchester, Exeter and Birmingham. But he much prefers Courier Country.
Simon has worked as a metalworker, zookeeper, writer and cook – "I roasted a peacock for the Hell's Angels once" – says the activity is "fun, daring and challenging".
And while brought up riding ponies, he prefers to drive them.
"if you want to make friends with a pony, you need to me sympathetic to their needs," he says.
"Kicking, whipping and screaming don't seem to get the best out of them, believe it or not. I'm definitely not a horse whisperer – I'm more of a horse swearer – but I know if you're nice to a pony, they'll want to come back and be in your company."
Anyone interested in meeting Simon and Obama and going for a spin in the wheelchair chariot should contact Simon at ponyaxes.com