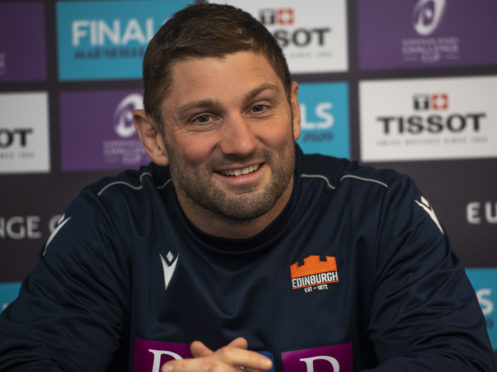 It's Edinburgh's strong start to the season will allow them to be a little more discerning about the personnel they play in Europe this season, rather than the fact they're in the Challenge Cup instead of the Champions' Cup.
Last year Richard Cockerill rode his best XV right throughout the gruelling pool in the Champions Cup  campaign to victories at Newcastle and Toulon and a home semi-final, but the rigours of that run may have had a debilitating effect on the tail end of the season when they missed the Guinness PRO14 play-offs and therefore a place in this season's main tournament.
Forwards coach Steve Lawrie accepted playing in the Challenge Cup starting at Agen in France this week offered a chance "for a bit of a change-up in the squad" but that was due to re-integration of Scotland players after the World Cup and that their back-ups had performed so well, rather than taking the lesser competition lightly.
"It is a different focus compared to what we do in the PRO14, and we're in this 13-game stretch at the moment where we have to utilise the squad," said Lawrie, who took over the assistants' job from Roddy Grant this year.
"The league is absolutely the priority, but it doesn't affect how we approach it. That fans get excited about playing in Europe, as do we as coaches and players, so our preparation hasn't
changed.
"I think there is maybe a perception that these players started for a period and then we'd make wholesale changes, but the way we've opened the season in terms of guys taking opportunities has allowed us to keep playing them.
"We've got to be able to trust the guys to get the job done. We recognise the depth of our squad, and that will be represented in the team we pick to go to Agen, and then Bordeaux and Munster back in the PRO14, which is a massive game for us."
Four wins from their six games so far has been about establishing that depth, he added.
"With the numbers that have been away from the pack in the RWC the guys who have come in have really stepped up," continued Lawrie. "Guys like (Pietro) Ceccarelli who's held up the scrum really well, Mikey Willemse who's come in at hooker, there's a whole host of guys who have added value to the pack.
"Luke Crosbie, week on week he's been outstanding in terms of how he's approached things and played, he's near the top of list in the league for turnovers. Lewis Carmichael is a bit of a new player for us because he was out injured for so long last year.
"They've come in and done well. We've got quality through the squad."
Playing French clubs in Europe is always a venture into the unknown as one never knows how seriously the team will take it, and Agen's focus is clearly on retaining their Top 14 status, as they lie second from bottom.
"They had a tough result against Bordeaux at the weekend but I also recognise in their results that they're very tough at home and they're very proud," said Lawrie.
"So we'll be expecting an extremely strong team and then potentially less so for their second game because that gives them a down week before they go back into fighting for their lives in the top 14. I expect them to be very strong at home this weekend."